This is champions week and conference player of the week and special honors week for many local college athletes and lots of trophies and honors were earned.
Cross-Country
The NCAA Division II National Cross-Country Championship was run on Saturday at the Abbey Course in Saint Leo, Fla., and some of the bibs belonged to local athletes.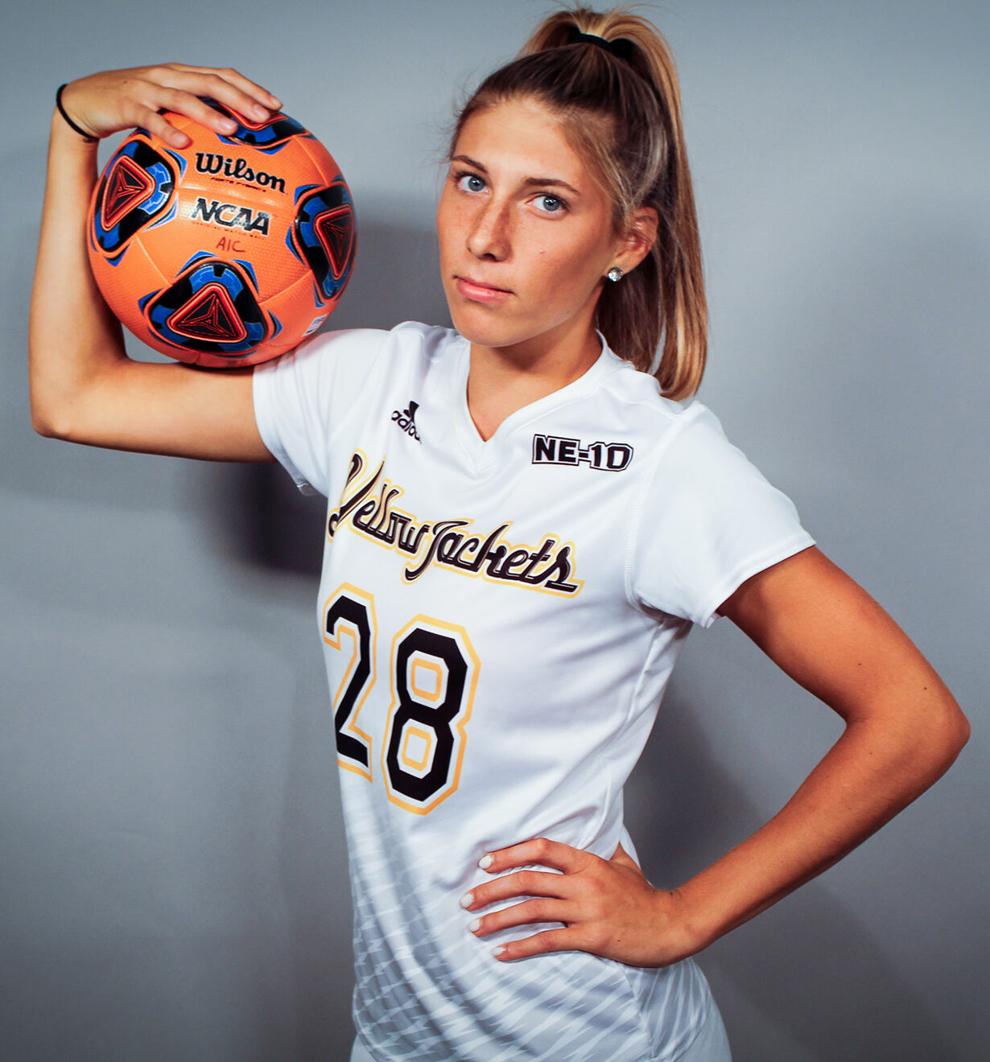 American International College grad student Haley Wheeler (Oxford) was there, having earned her spot and All-Region honors by finishing sixth overall (21:17.4) at the NCAA East Regional on Nov. 6 in Rochester, N.Y., helping to lead the Yellow Jackets to an overall team win. 
In the national final, she placed 49th (21:37.2) overall and was the second AIC harrier to cross the finish line.
*  *  *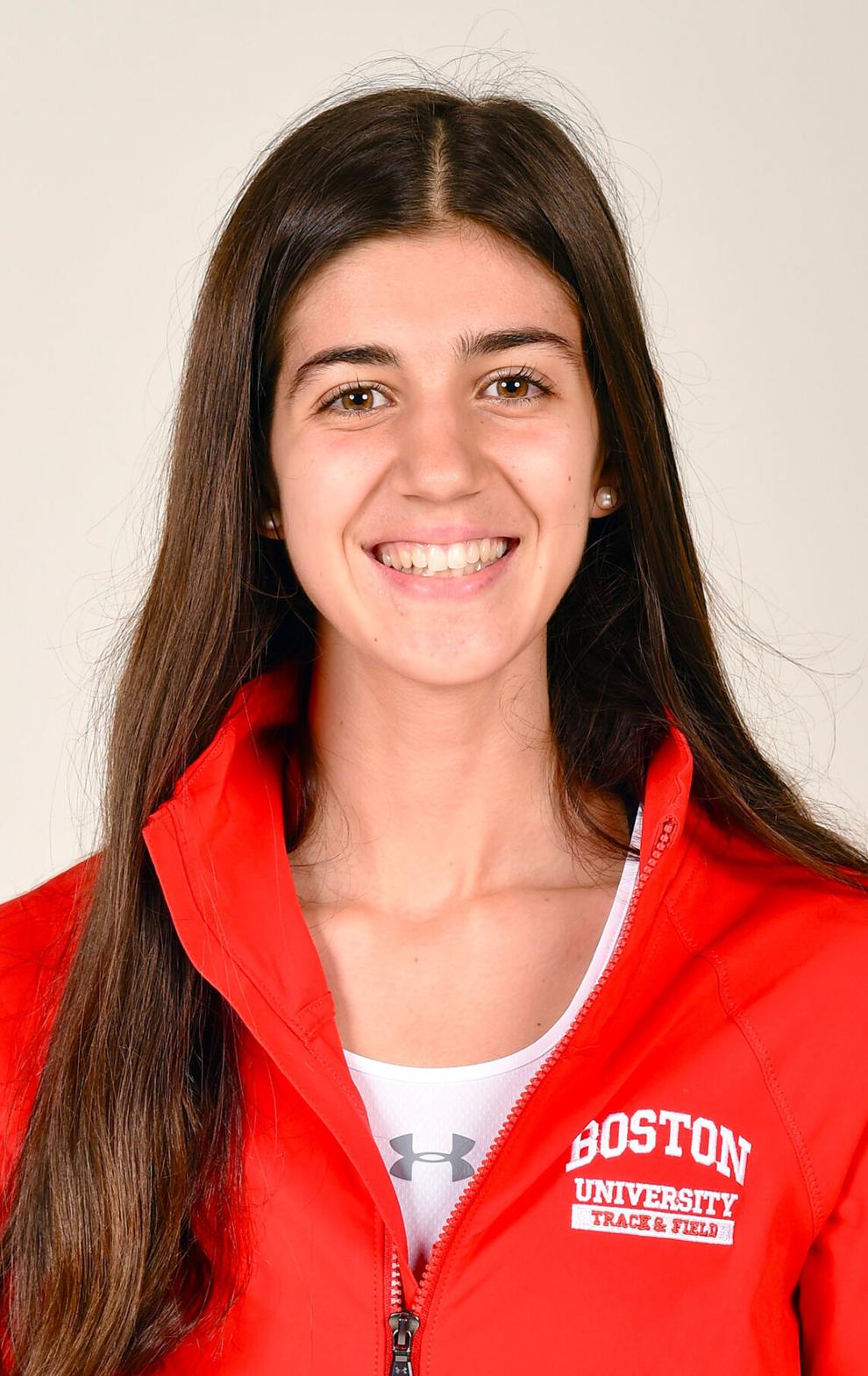 Boston University grad student Corinne Batsu (Masuk) led the Terriers across the finish line at the NCAA Division I Northeast Regional in Boston's Franklin Park on Nov. 12. 
She finished 38th (21:37) in the 6K event.
"Corinne finished on a high note," coach Jordan Carpenter said. "After a huge fourth-place finish at the Patriot League Championship, she posted her best-ever regional finish to lead our team to our best finish since 2010. We couldn't be more proud of what Corinne has given to this program."
The Brown University women finished 18th out of the 36 teams in the regional. Senior Mary Bibbey (Nonnewaug) was the sixth Bear to finish, in 115th place (22:50.3).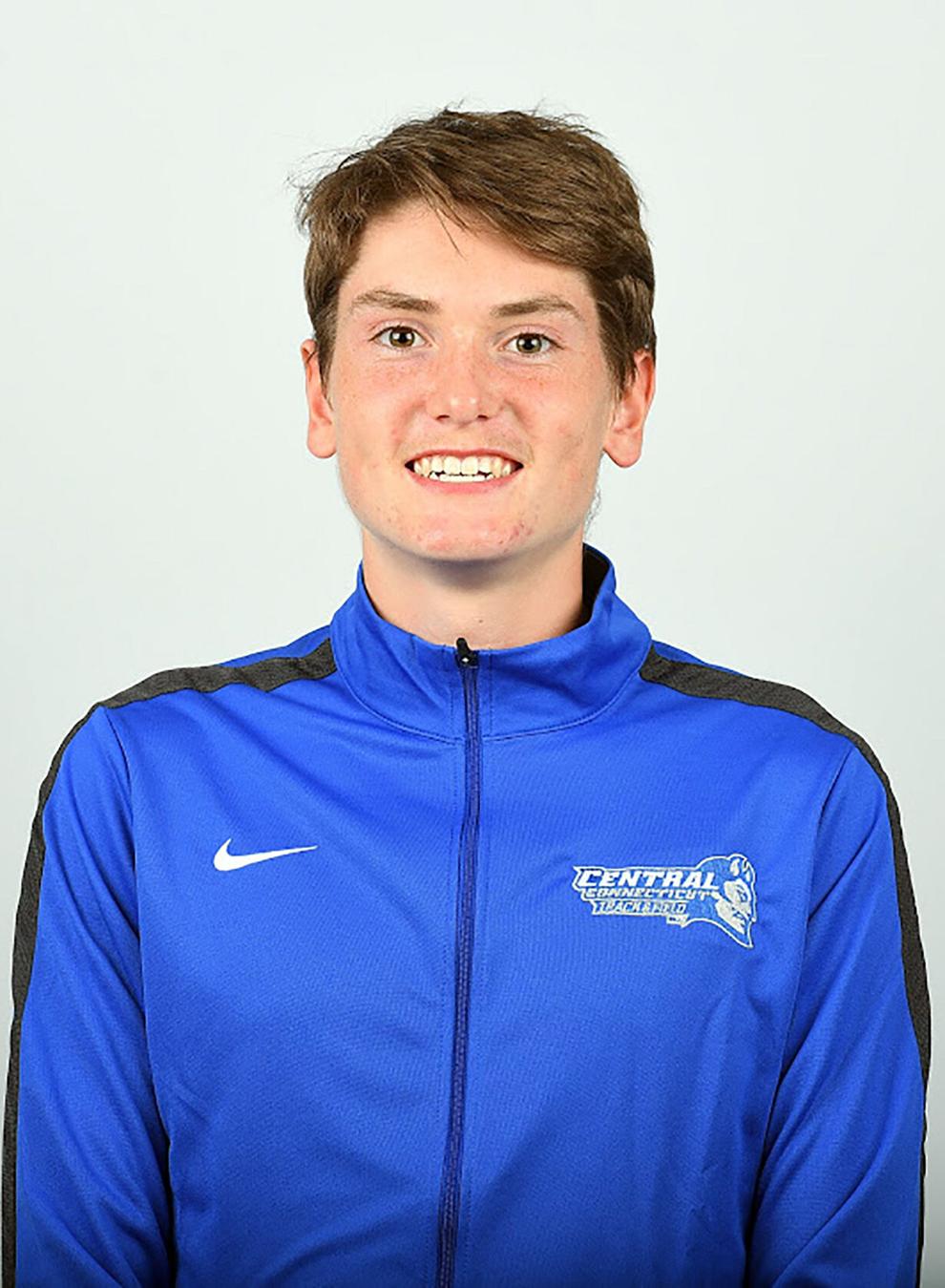 Central Connecticut State junior Eddie Nicholas (Nonnewaug) led the Blue Devils with a 62nd-place finish (32:08) and CCSU finished 16th out of the 35 teams. 
Next stop for Eddie was the IC4A/ECAC Championships in New York on Saturday; he finished sixth overall (25:32) in a field of 132 Division I runners.
Sacred Heart University grad student Moetiz Shilleh (Masuk) was also at the IC4A/ECAC Championships with a contingent of Pioneer teammates. 
He was the first to cross the finish line for SHU, coming in 76th overall (27:46), as the men claimed 12th place in the team standings.
*  *  *
For the 17th of 18 career races, Eastern Connecticut State senior Ryan Escoda (Newtown) led his teammates to the finish line at the NCAA Division III Mideast Regionals at Harkness State Park in Waterford on Nov. 13. 
He finished 47th overall (26:41) and the Warriors were 11th in the team standings.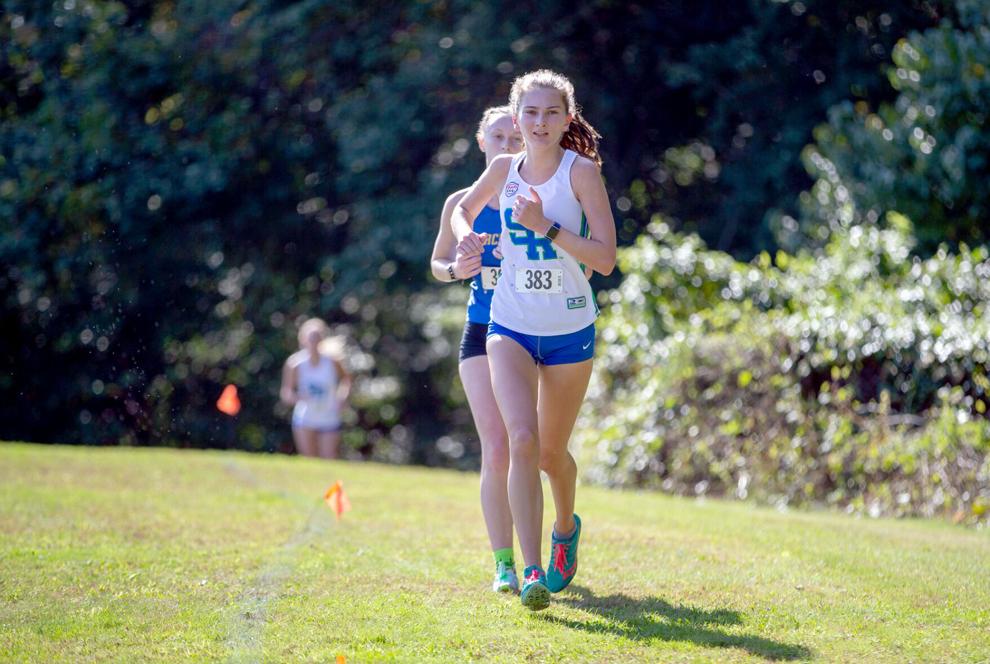 In the women's 6K, Salve Regina University senior Cate Norton (Newtown) was the top runner for the Seahawks in her final collegiate race, finishing 92nd (24:56.3).
*  *  *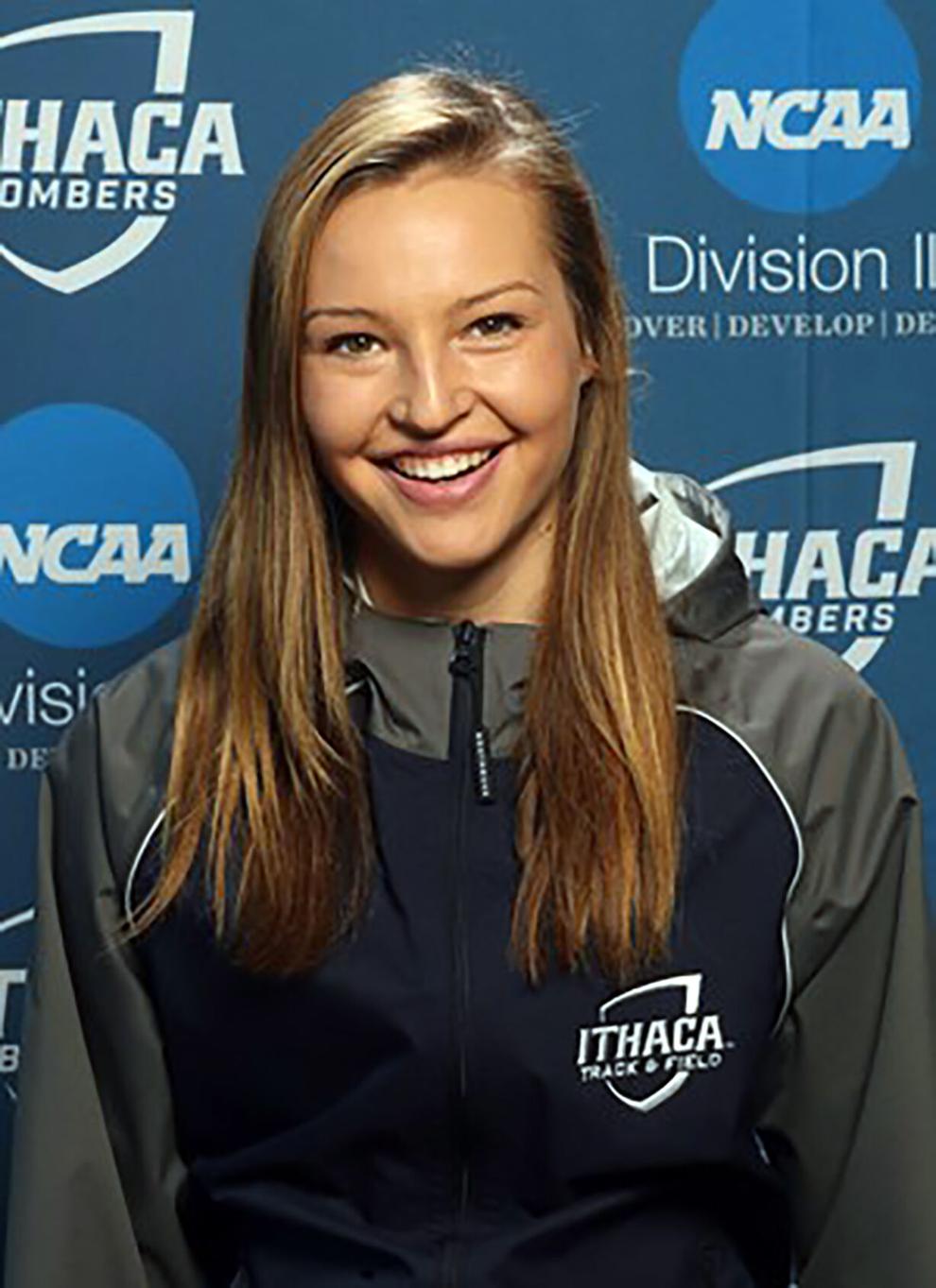 Ithaca College senior Lindsay Scott (Pomperaug) was the fourth finisher for the Bombers at the NCAA Division III Niagara Regional at Geneseo State on Nov. 13. 
She completed the 6K course in 26th place overall (24:22.0), and Ithaca came in third in the team rankings, hoping for an at-large bid to the national championships, which did not come. With her finish, Lindsay earned All-Regional honors.
*  *  *
St. Joseph's College of Maine freshman Terry Cassetta (Newtown) joined the rest of her Monks teammates at the NCAA Division III East Regional at Franklin Park in Boston on Nov. 13. She placed 197th (32:07) and her team finished in 22nd place.
*  *  *
University of New Haven freshman runner Jacob Carson (Seymour/Notre Dame) was the second finisher for the Chargers at the NCAA Division II East Regional at Roberts Wesleyan College on Nov. 6. 
He came in 82nd overall (35:23.8) and he and his teammates were 19th overall among the 21 teams competing.
Football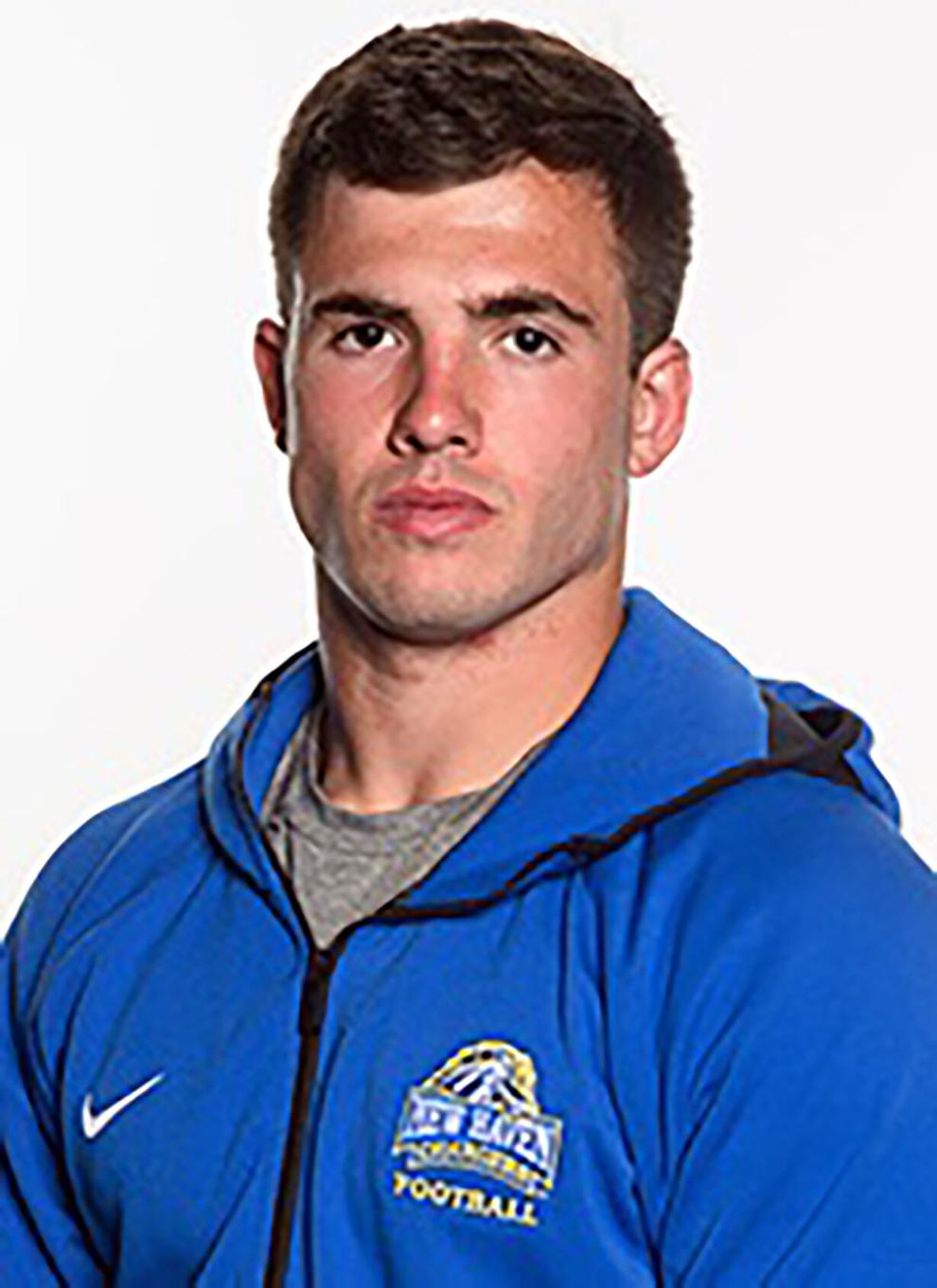 Two weeks ago, Bentley University and New Haven University met in the Northeast-10 Conference championship game, with Charger running back Zach Mauro (Nonnewaug) plowing through the Falcons behind his talented offensive line for a 31-14 upset (New Haven was ranked 24th in Division II – Bentley was ranked ninth).
On Saturday, the teams met again in an incongruous NCAA Division II playoffs scheduling decision, and once again, Falcon defenders got tired of seeing Zach Mauro coming at them – he rushed 33 times for 119 yards and the Chargers took home a first-round NCAA win, 38-13. That's the third time in the last four games that Zach has run for at least 100 yards.
For Bentley, sophomore defensive lineman Herve Tshibamba (Naugatuck) made two tackles. His Falcons finish their season 9-2.
New Haven, 10-1, now looks forward to taking on Pennsylvania State Athletic Conference champion Kutztown University on Saturday. The team will have Thanksgiving on campus preparing for that contest.
* * *
In the NCAA Division III football tourney, heavyweights Endicott College and 18th-ranked Rensselaer Polytechnic banged heads on Saturday on the Gulls' home field. RPI scored first and held onto a lead throughout, winning 200-14 despite a late-game rally by the gulls, who finish their season with an 8-3 record. Gulls' sophomore defensive end Colin Meropoulos (Masuk) made one tackle and had a seven-yard sack.
RPI senior linebacker Cole McGrath (Pomperaug) made five tackles in the win, one for loss. The Engineers suit up for a second-round game against SUNY Cortland on Saturday. RPI is 10-1.
Johns Hopkins University junior linebacker Matt Dubois (Newtown) had a huge game Saturday when the Blue Jays entered the NCAA Division III playoffs against Salisbury University. Johns Hopkins scored 35 points in the first half and left a dust trail over the Sea Gulls, 45-20.
Matt made seven solo tackles, assisted on two more, and caused a two-yard loss on one grab for the 10-1 Jays, who move on to play perennial powerhouse Mount Union College in the second round.
* * *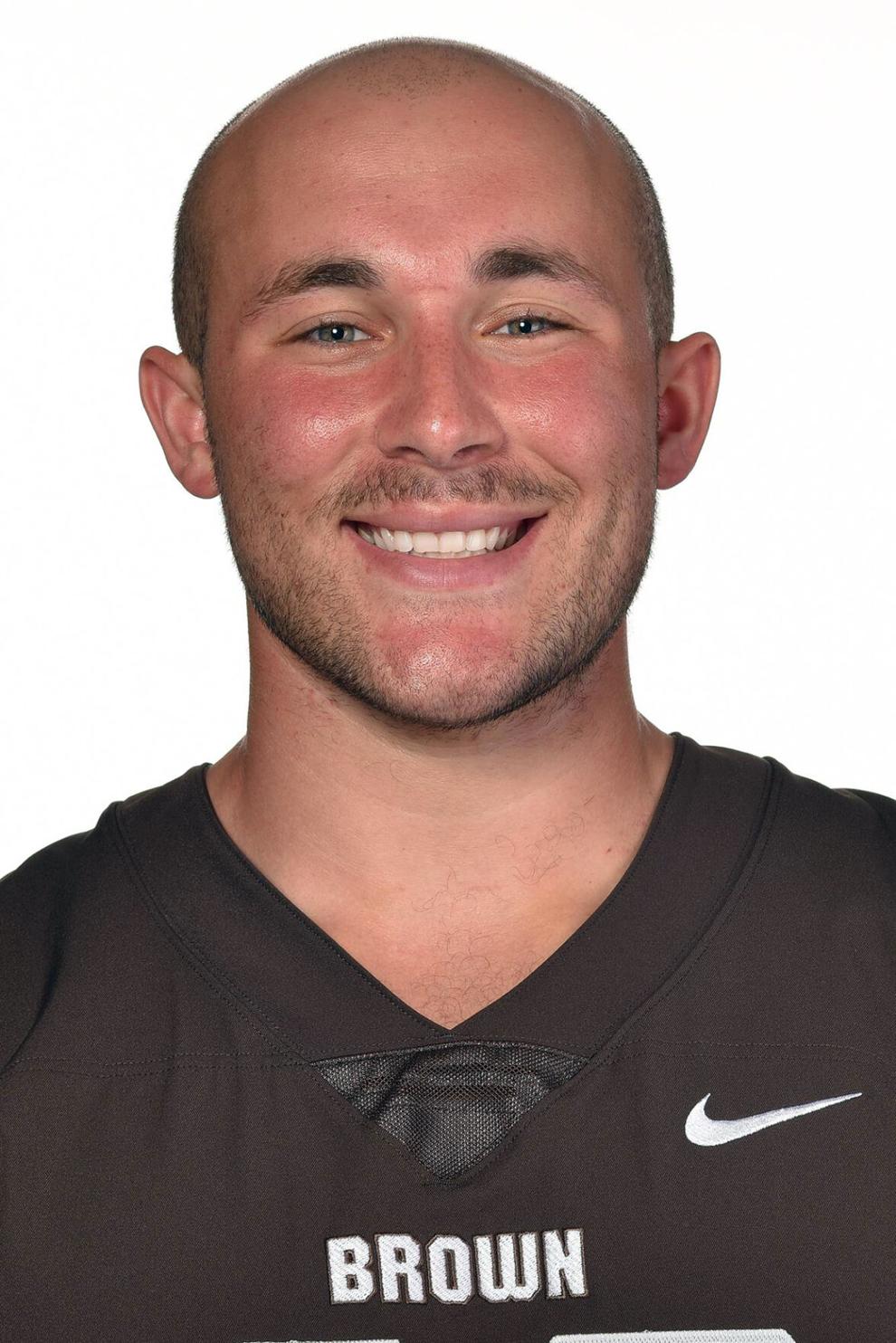 Brown University finished its season taking it on the chin, 52-21 from 20th-ranked Dartmouth on Saturday. The Bears record a 2-8 season (1-6 Ivy). Senior defensive tackle Anthony Mastroni (Monroe/Fairfield Prep) made one tackle versus the Big Green. He played in nine games and had 19 tackles – two for loss, broke up one pass and recovered a fumble.
* * *
Central Connecticut State put an exclamation point on its 4-7 season Saturday afternoon when junior Joe Zoppi kicked a 31-yard field goal as time expired to push the Blue Devils past St. Francis University, 24-21. Red-shirt freshman linebacker Jayden Anderson (Naugatuck) had one tackle for CCSU.
* * *
Matt Hersch (Masuk) took matters into his own hands and the senior quarterback scored on runs of two and 19 yards to pull the Colby College Mules to a 21-10 over Bowdoin College on Nov. 13. He also completed 14 of 22 passes for 143 yards and ended up carrying the ball nine times for 41 yards in the win. The Mules end the season with a 4-5 record. Sophomore offensive lineman Dave Canas (Masuk) played in four games for Colby.
* * *
The football season for Ithaca College ended with a frustrating 28-27 loss to unbeaten Cortland State on Nov. 13. The Bombers had the Red Dragons right where they wanted them, with a 27-14 third-quarter lead, but Cortland did all the scoring from there to eke out the win.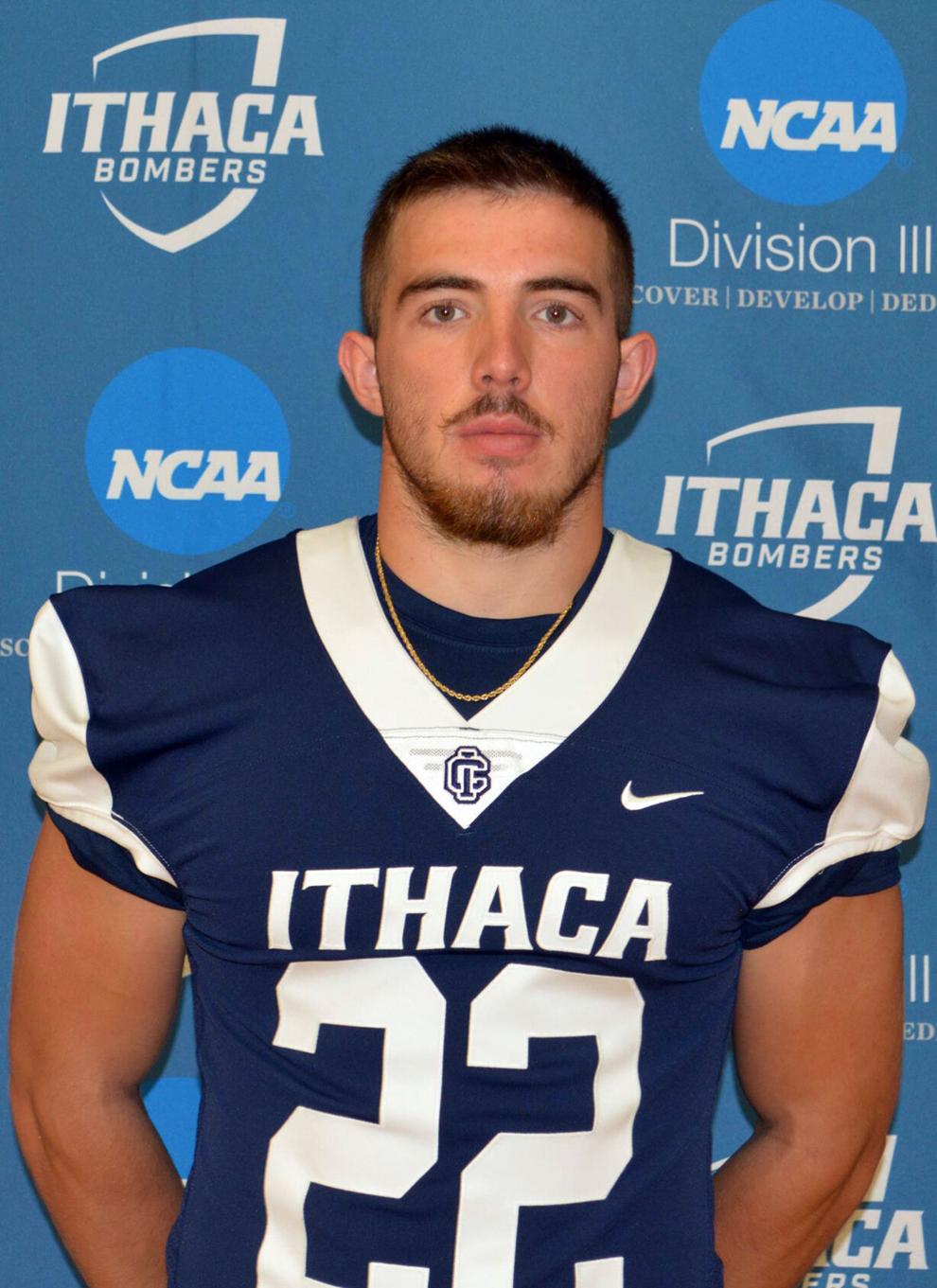 Ithaca junior tight end Dan Mason (Newtown) caught three passes for 13 yards and a touchdown. On the season, he caught 14 passes for 71 yards and that single TD.
* * *
Marist College and Butler were even at 14-all into the fourth quarter Saturday before the Bulldogs went on a spurt and scored two touchdowns to Marist's single TD. The 28-21 result evens the Red Foxes' record at 5-5 for the season.
Red-shirt junior running back Hunter Cobb (Newtown) carried the ball six times for 27 yards and caught three passes for 26 more yards. He led the Red Foxes this season with 498 yards on 98 attempts and caught 10 passes for 52 yards.
* * *
The Massachusetts Maritime Buccaneer football team ended the season on a down note, losing the last three games. The season final was against Bridgewater State, a 35-7 loss. Sophomore defensive back Jack Mulligan (Newtown) had one tackle in that game. He ended up with 10 solo tackles and five assists on the season, two for losses, and one fumble recovery. MMA finished at 4-6.
* * *
Stonehill College ended its season with a surge, winning the last three games, and closing the locker room after pasting Southern Connecticut State, 42-6, in the final contest. Junior offensive lineman David Satkowski (Pomperaug) was a starter for the Skyhawks, who ended up 8-2 on the season.
* * *
Trinity College completed its season with a 14-7 over Wesleyan, compiling an 8-1 record and a runner-up spot in the New England Small College Athletic Conference behind unbeaten Williams College. Junior linebacker Cade Klarides-Ditria (Seymour) made four tackles in the win over Wesleyan. He played in six games, made 15 solo tackles, assisted on nine more and had two and a half sacks.
* * *
Western New England University hosted its first New England Bowl on Saturday and played US Merchant Marine Academy for the first time in it – and the Golden Bears got scuttled, 63-35. The Mariners scored 35 unanswered points right away and WNEU was left gasping, trying to catch up the rest of the game.
Senior defensive end Tom Satkowski (Pomperaug) made six tackles for the Golden Bears, and sophomore defensive lineman Cayden Porter (Seymour/St. Joseph's) made two. The WNEU season ends with a 7-4 record.
Field Hockey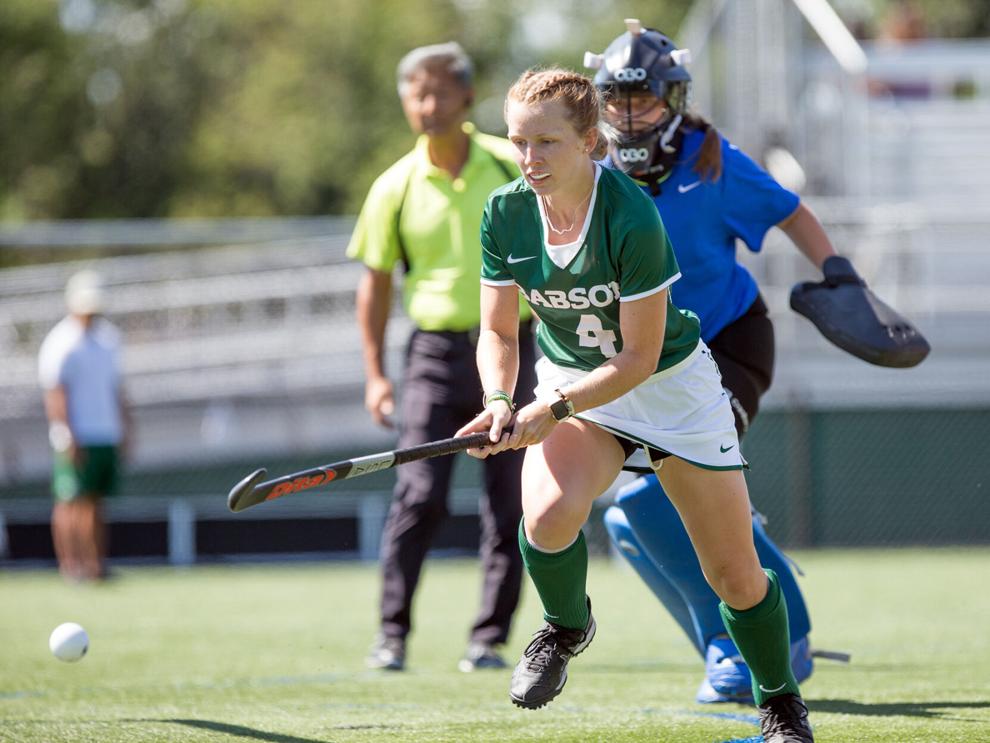 The Babson College field hockey team entered the NCAA Division III big dance after winning the NEWMAC title. In the national playoffs on Nov. 13, the third-ranked Beavers started by downing sixth-ranked Messiah College, 6-1. The Beavers had entered the game with a 20-1 record. Freshman Jessica Evans (Pomperaug), who has started every game for Babson, put one shot on goal in the Messiah win.
Next up, in a quarterfinals match, was a meeting with 10th-ranked Trinity College on the Beavers' home field. The game was tight all the way through, with Trinity able to score on a penalty stroke with 3:24 left to play…and from there gain a 2-0 win. Jessica was unable to get off a shot in the contest.
Soccer
When we left off two weeks ago, Central Connecticut State junior striker Jamie Collimore (Pomperaug) was waiting to take on Fairleigh Dickinson in the Northeast Conference Championship game and she proved she was ready – in the 42nd minute, she intercepted a pass from the Fairleigh Dickinson goalie and sliced the ball in for the second Blue Devil score on the way to a 3-0 win. It was her one shot of the game.
That win put the Devils into the first round of the NCAA Division pairings where they faced Georgetown University in the first round and got bombed, 6-0. Jamie was playing hard: she picked up a yellow card, but could not get off a shot. CCSU finishes its season 11-5.
* * *
Freshman midfielder Angelina Oliviera (Naugatuck) punched through an insurance goal in the Great Northeast Athletic Conference championship game against Lasell University, a 3-0 win that punched the Johnson & Wales University ticket to the NCAA playoffs.
On Nov. 13, the Wildcats met Hamilton College in the first round and tussled but lost, 3-2. Angelina was unable to attempt a shot. J&WU ends the season 17-4-2; Angelina played in all but one game and started eight of them. She scored four goals.
* * *
Western Connecticut State's women certainly finished strongly this fall. In the last two games of the regular season. The Colonials didn't allow a goal. In the Little East Conference playoffs, WestConn shut out University of Southern Maine and UMass/Boston to claim the crown.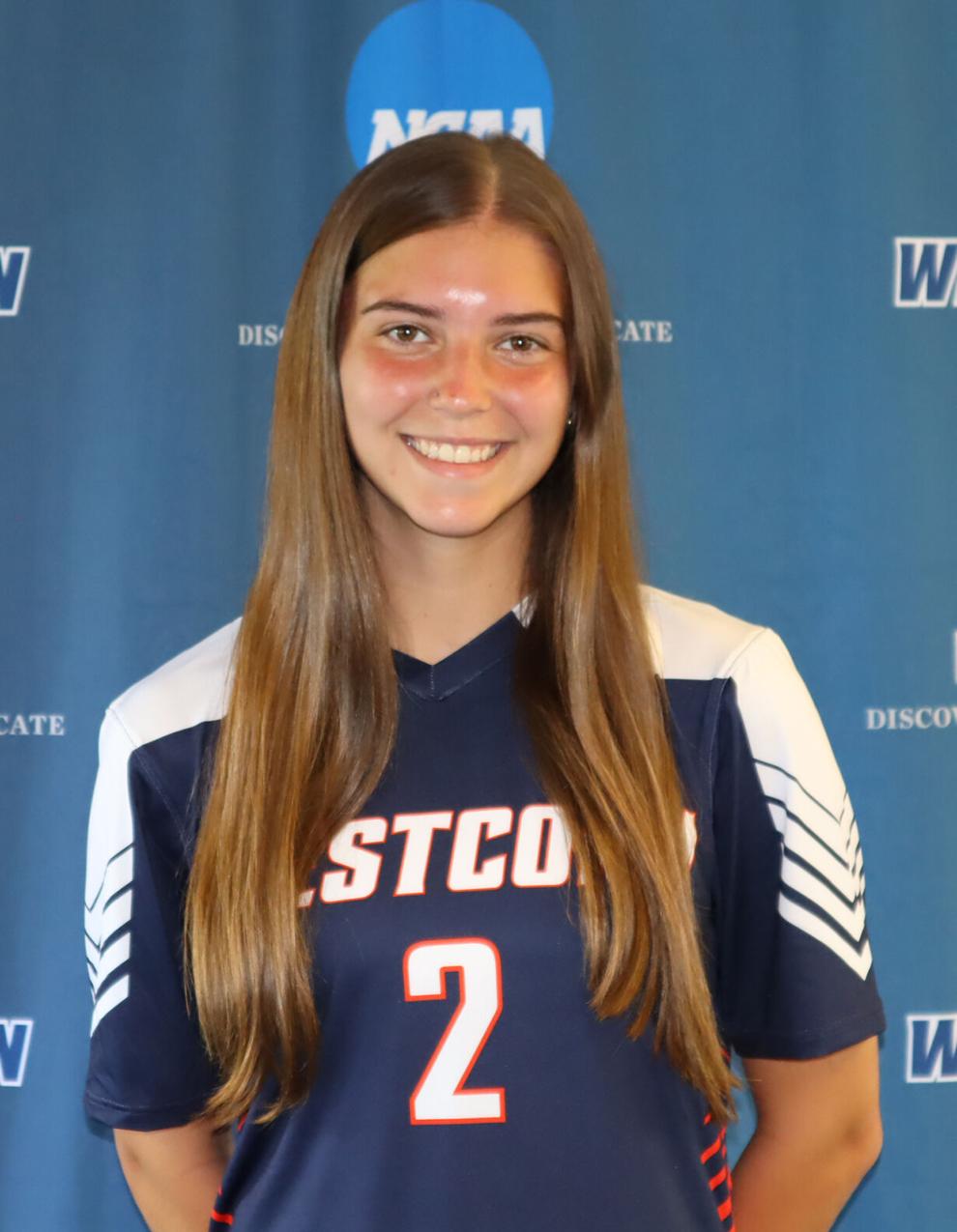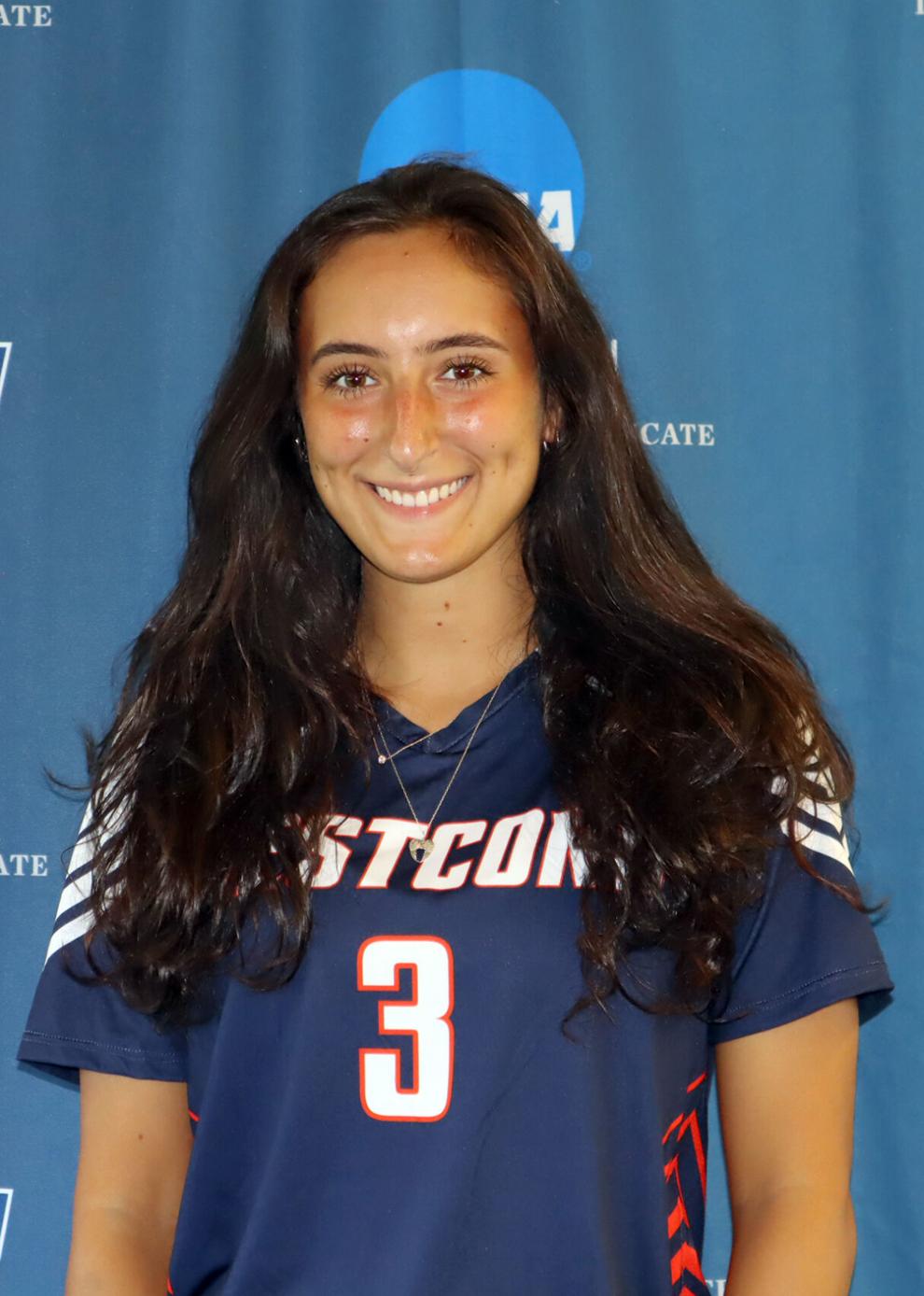 Sophomore midfielder Hannah Daly (Newtown) got the assist on the first, and game-winning, goal against Southern Maine in a 3-0 triumph in the conference semifinal. Freshman striker Emma Sonski (Naugatuck) put a shot on goal in that contest.
In the conference final, freshman midfielder Suzana Imetovski (Seymour) got the insurance goal in the 65th minute, assisted by Myah Croze) in the 2-0 win over the Beacons.
On to the NCAA first round went Western Connecticut, and a meeting with Franklin and Marshall College of the Centennial Conference at Christopher Newport University in Virginia, and a 2-1 loss. Hannah got the assist on the lone Colonials' goal, by Myah Croze, in the seventh minute. WestConn held the lead for 30 minutes, then the Diplomats tied the score and won the game with a second goal in the 49th minute. Suzana fired three shots in the loss and Emma also got into the game but did not launch a shot.
Hannah finished her season with two goals (one game-winner) and four assists. The Colonial women put together a fine 18-2 season.
Volleyball
Post University closed out its volleyball season in the first round of the Central Atlantic Athletic Conference playoffs, losing to second-seeded Wilmington University, 3-0. Post sophomore libero Kim Buttery (Newtown) played in all three sets, getting one assist, a service ace, and scooping five digs.
Ice Hockey
Quinnipiac's women are 13-1-2 after nailing down two ice hockey wins over the weekend, 4-0 over Cornell on Friday and 4-0 against fifth-ranked Colgate on Saturday. Sophomore defense Maddy Samoskevich (Sandy Hook/Shattuck-St. Mary's) got an assist in each win, on the first goal (and the game-winner) by Veronica Bac in the Cornell contest, and on the last goal versus Colgate, by Maya Labad.
Honors
Bentley University sophomore defensive tackle Herve Tshibamba (Naugatuck) was named to the Northeast-10 Conference All-Rookie team. Playing in 10 games this season, he made 32 tackles, four for losses, had two sacks, blocked two kicks and recovered a fumble.
* * *
Corinne Batsu (Masuk), a graduate student cross-country runner at Boston University, has been named to the Academic All-Patriot League Team. She has earned this, her first nod to the Academic All-PL Team, after earning a 3.61 GPA while studying applied business analytics.
To be eligible for the Academic All-Patriot League Team, a student-athlete must have at least a 3.20 cumulative GPA and be a starter or key player in his/her sport.
Corinne finished fourth at the Patriot League Championships on Halloween, her highest-ever finish. That earned her First Team All-Patriot League honors. During the season, Corinne led the Terrier finishers at three events and posted a personal-best time at 5K and 6K distances.
* * *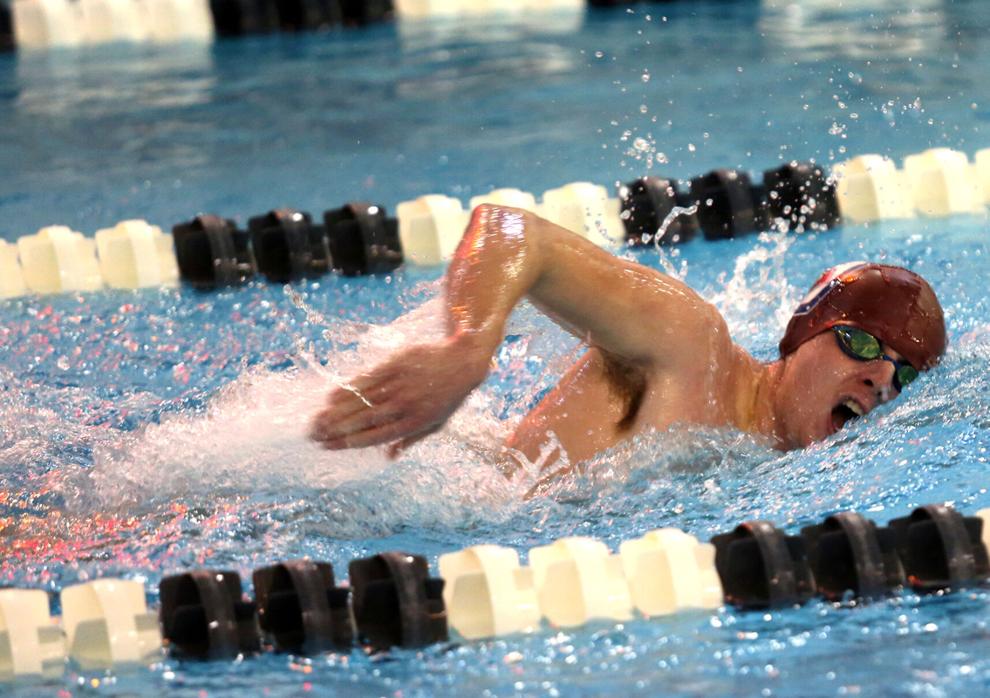 Eastern Connecticut State sophomore swimmer Connor Scully (Oxford) was named Little East Conference Swimmer of the Week at the end of October. At the University of Saint Joseph Blue Jay Pentathlon meet he swam a leg of three winning and record-setting relays and set a record in the 50 breaststroke.
* * *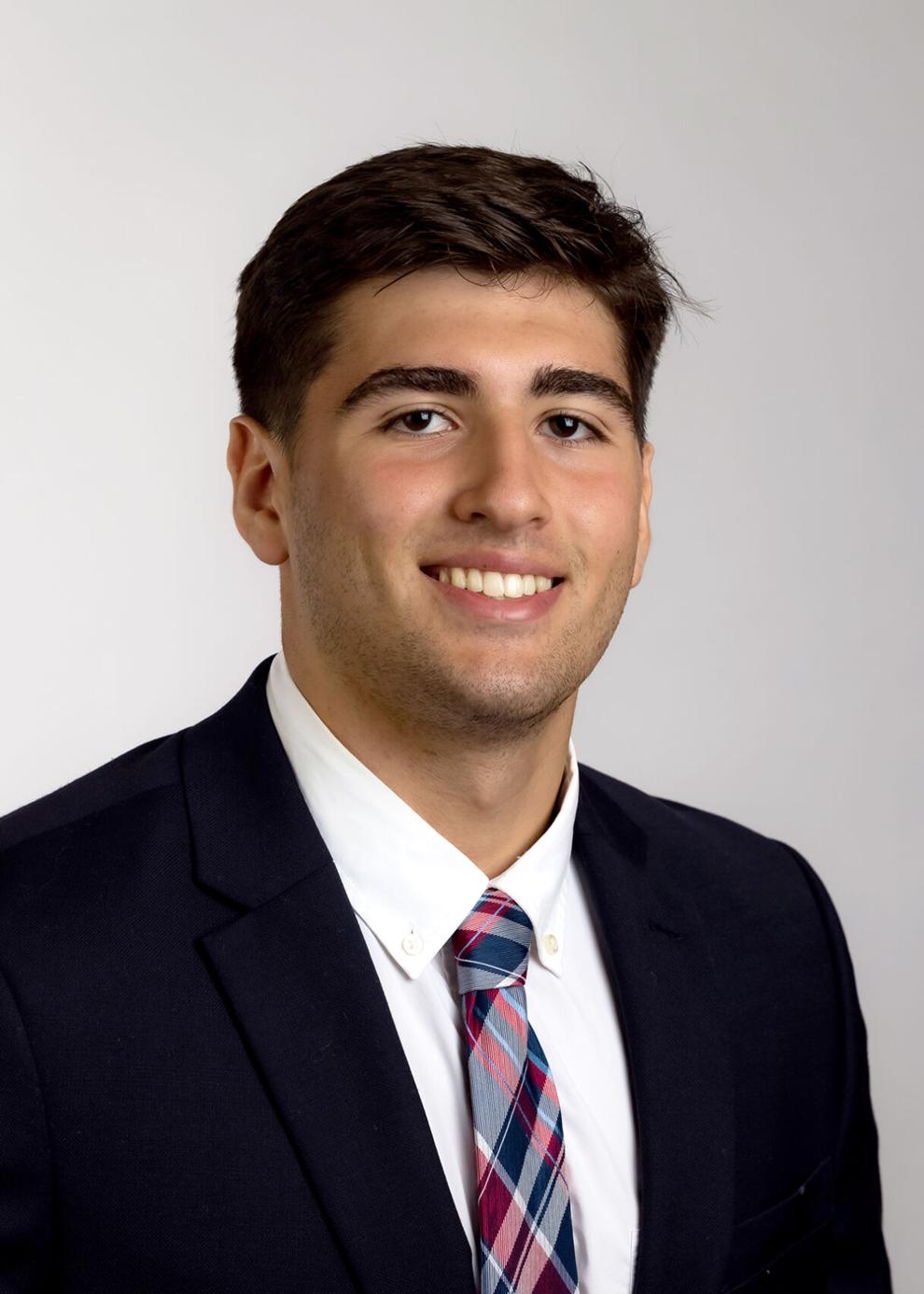 Colin Meropoulos (Masuk), a sophomore defensive end at Endicott College, has been named Second-Team All-Commonwealth Coast Conference and Defensive Rookie of the Year. In 10 games played this season, he made 49 tackles (22 solo, 27 assisted, 4.9 per game, 14.5 tackles for a loss), had a conference-best 13 sacks (83 sack yards, first in the CCC), one forced fumble, and seven quarterback hurries.
Among his fellow NCAA Division III peers, Colin currently ranks fourth overall in sacks and 44th in tackles for a loss. In this, his debut season for Endicott, it's been one for the record books as the defensive lineman's 13 sacks are a single-season program record. His 14.5 tackles for a loss rank tied for fifth all-time in a single season, while his 4.5 sacks against the University of New England on October 30 rank first all-time in a single game (4.5 tackles for a loss second all-time).
* * *
Mount St. Mary College junior tennis player Julia Flynn (Naugatuck/Holy Cross) has been named Second Team All-Skyline Conference. She earned First Team All-Skyline Conference honors in the spring of 2021, following that season up with a 6-4 record for the Knights at the second singles position this fall. Julia started out strong in September, winning her first six decision of the season for the Knights, including triumphs in league matches against Purchase and St. Joseph's-L.I., and was named the Skyline Conference Player of the Week on September 20.
* * *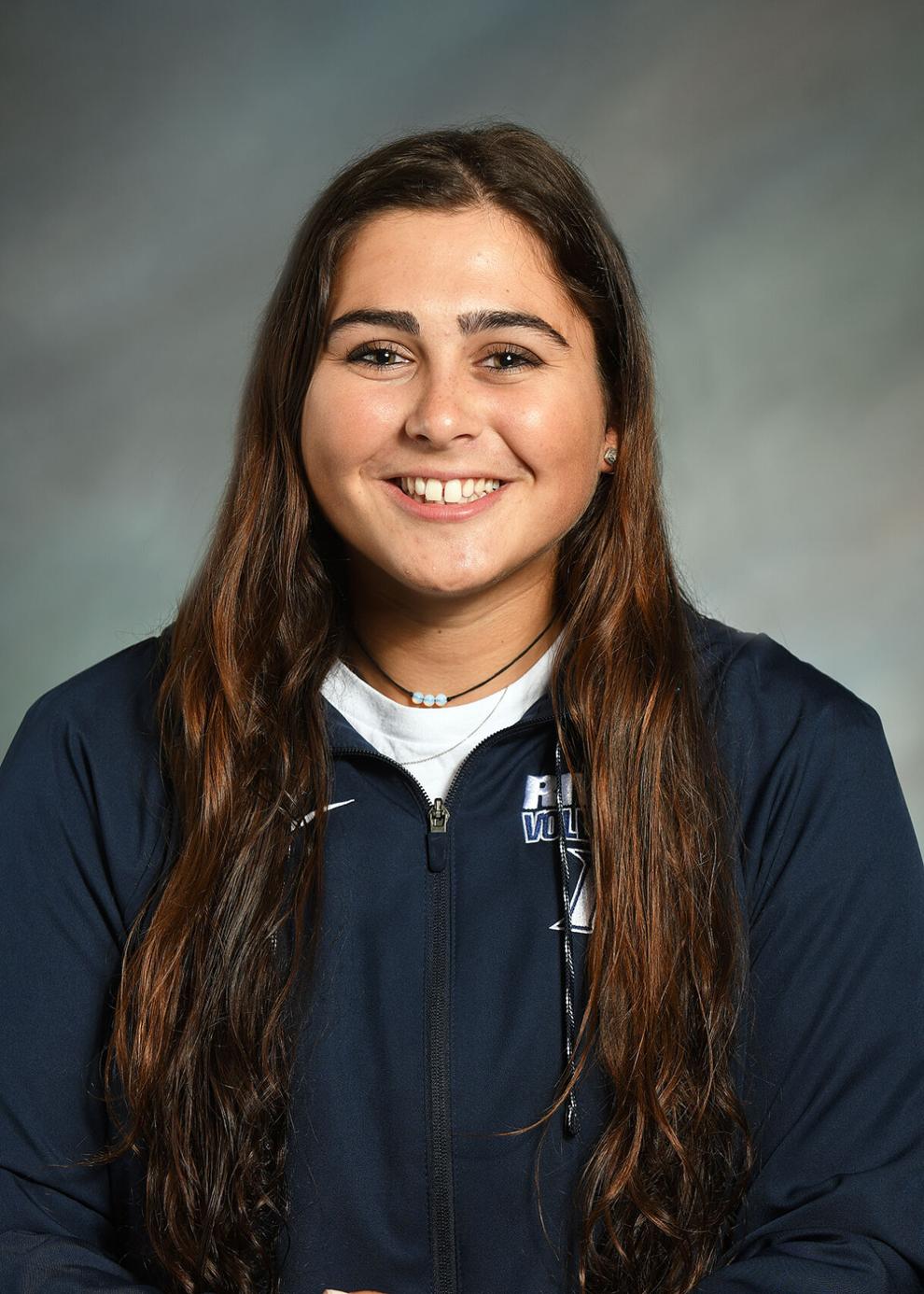 Rivier College senior volleyball outside hitter Sydney Racevicius (Woodbury/Cheshire Academy) has been named Second Team All-Great Northeastern Atlantic Conference. This season she had 140 kills, 17 assists, 26 service aces, 133 digs, one blocked shot and seven block assists.
* * *
Rensselaer Polytechnic Institute senior linebacker Cole McGrath (Pomperaug) has been selected to the 2021 Academic All-District 3 Division III Football Team, selected by the College Sports Information Directors of America (CoSIDA). He is eligible for National Academic All-American consideration.
Cole is a biology major with a 3.65 GPA. He is a patient care assistant at Somers Orthopedic Sports Medicine and Specialty Surgery Center when he's not de-cleating opposing ballcarriers.
* * *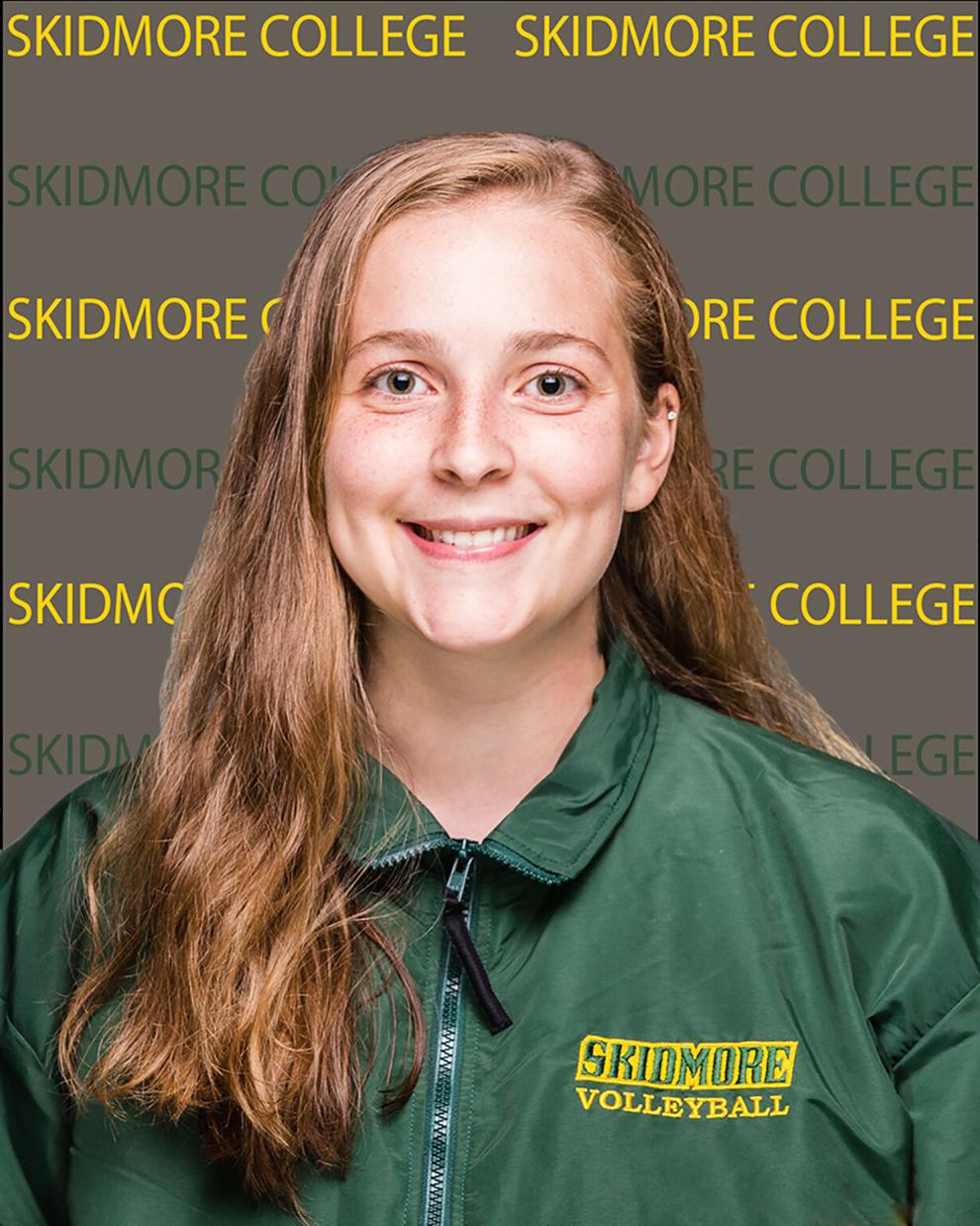 Skidmore College senior outside hitter Zoe Beals (Newtown) has garnered Second Team All-Liberty League honors. In her last season with the Thoroughbreds, she had 3.11 kills per set to lead Skidmore and rank fifth in the Liberty League. She tallied 221 kills in 71 sets on 600 attacks with 98 errors to end the year with a .205 hitting percentage. She was honored on the Liberty League weekly Honor Roll three times (Sept. 27, Oct. 4, and Nov. 1).
In league play, Zoe was sixth in the conference with 2.83 kills per set. She had double-digit kills outputs in 10 matches including four consecutive matches in mid-September. She set her career-high with 19 kills on Oct. 1 versus Massachusetts College of the Liberal Arts.
* * *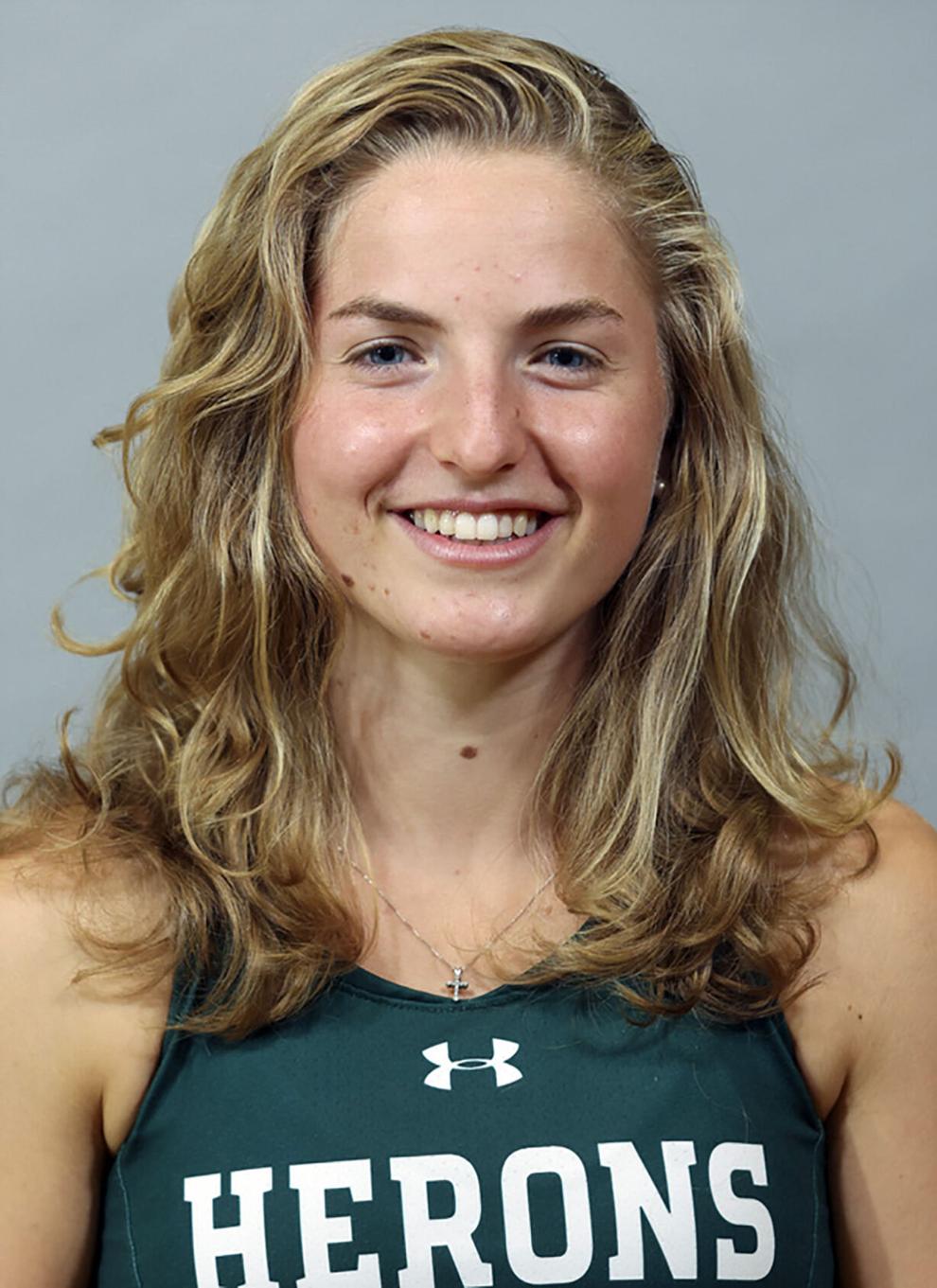 William Smith College sophomore field hockey midfielder Sofia Pattillo (Middlebury/Gunnery) has earned a spot on the Liberty League all-Academic Team. To be eligible for all-academic honors, a scholar-athlete must be at least a sophomore and have a GPA of 3.30. Sofia is an economics major. During the season, she played in every game and was a leading scorer with five goals (one a game-winner) and one assist.
* * *
Olivia Moore (Shepaug) a senior midfielder for Western Connecticut State field hockey, has been named Second Team All-Little East Conference. She started every game for the Colonials, scored one goal and had two assists and put 11 shots on goal. WestConn had a 7-9 season.
* * *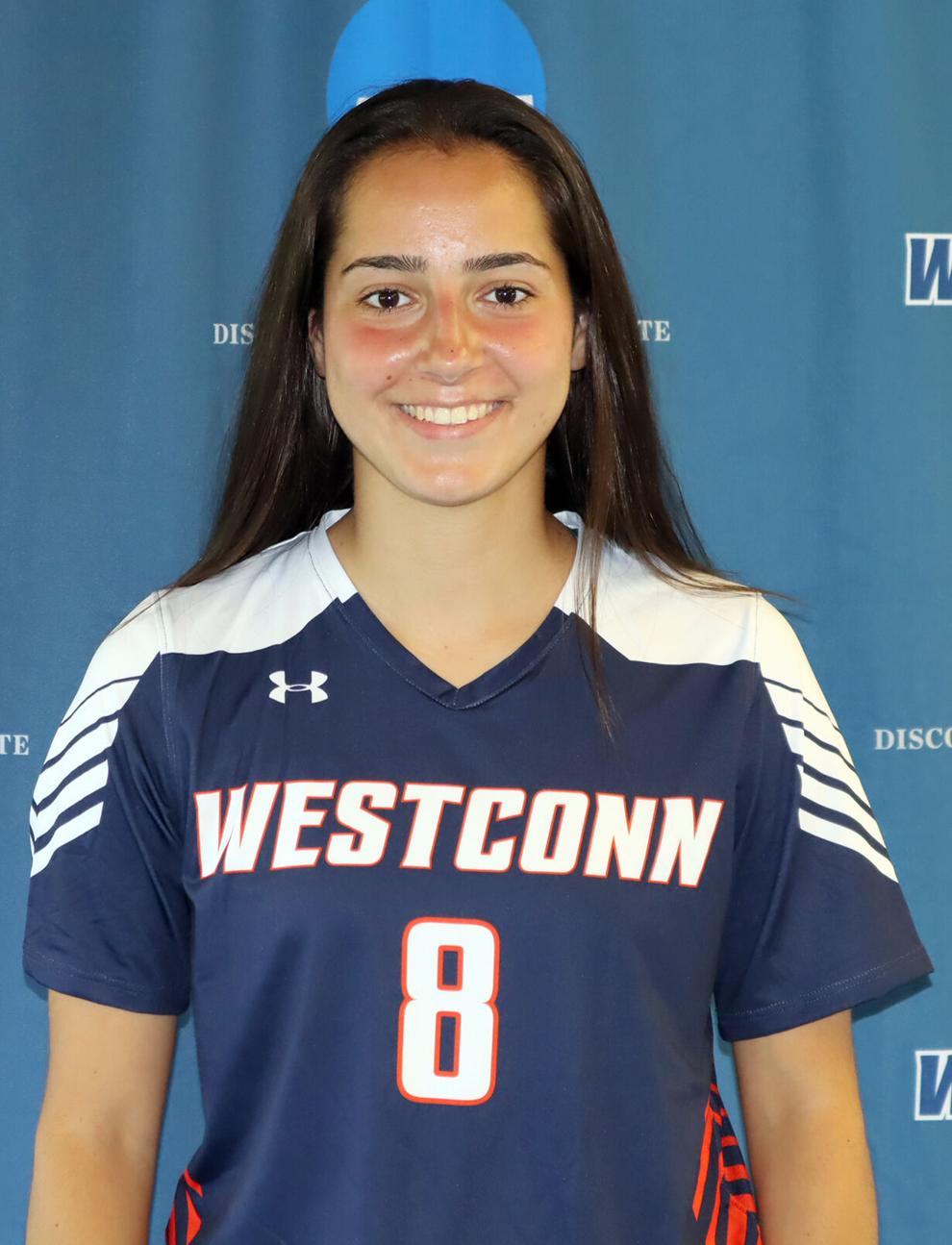 Western Connecticut State freshman soccer midfielder Suzana Imetovski (Seymour) was named Little East Conference Rookie of the Year and was a First Team All-Little East Conference selection. She ended up fourth in the conference in total points with 31 (nine goals and a conference-best 13 assists). She was the Little East Conference Championship Tournament Most Outstanding Player and ranked fourth in the country in assists.
* * *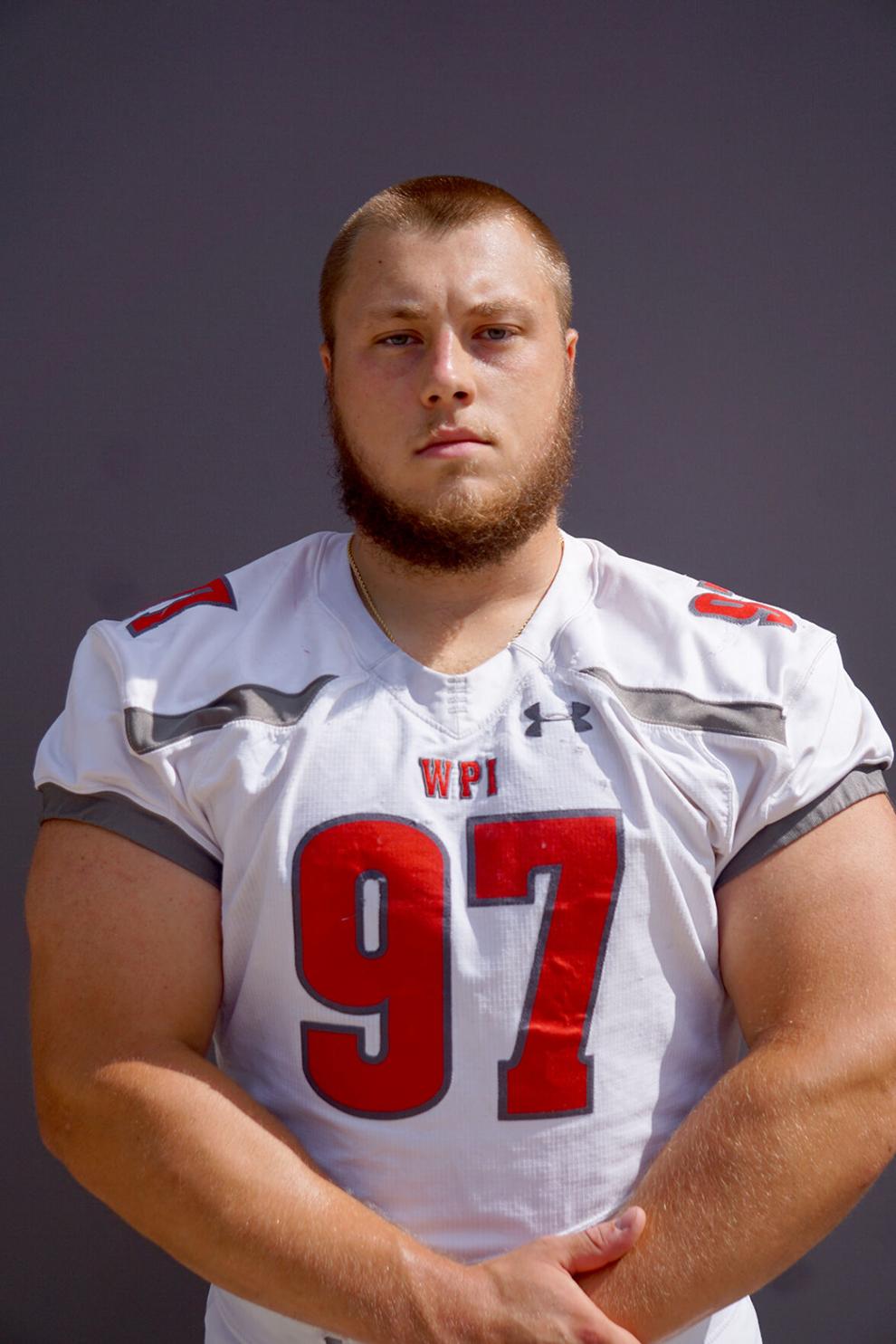 Lou Duh (Masuk), a graduate nose guard at Worcester Polytechnic Institute football, has been named First Team All-New England Women's and Men's Athletic Conference. He finished his season with 28 tackles (19 solo) with a season-high performance of five tackles in the conference opener with Merchant Marine on Oct. 2. This is his third All-NEWMAC award and his second First-Team accolade. WPI posted a 3-7 record this fall.
* * *
Have news about a local athlete who will play a spring sport? Please share it with us at john.addyman@yahoo.com.