Teams that didn't make playoffs ended their seasons over the weekend, while others qualified for their conference's post-season, and some conference sports are already in the second round of playoffs.
We had important and exciting football games in the last week, cross-country luminaries, and the northeast has some powerful field hockey programs demonstrating their capabilities.
Cross-country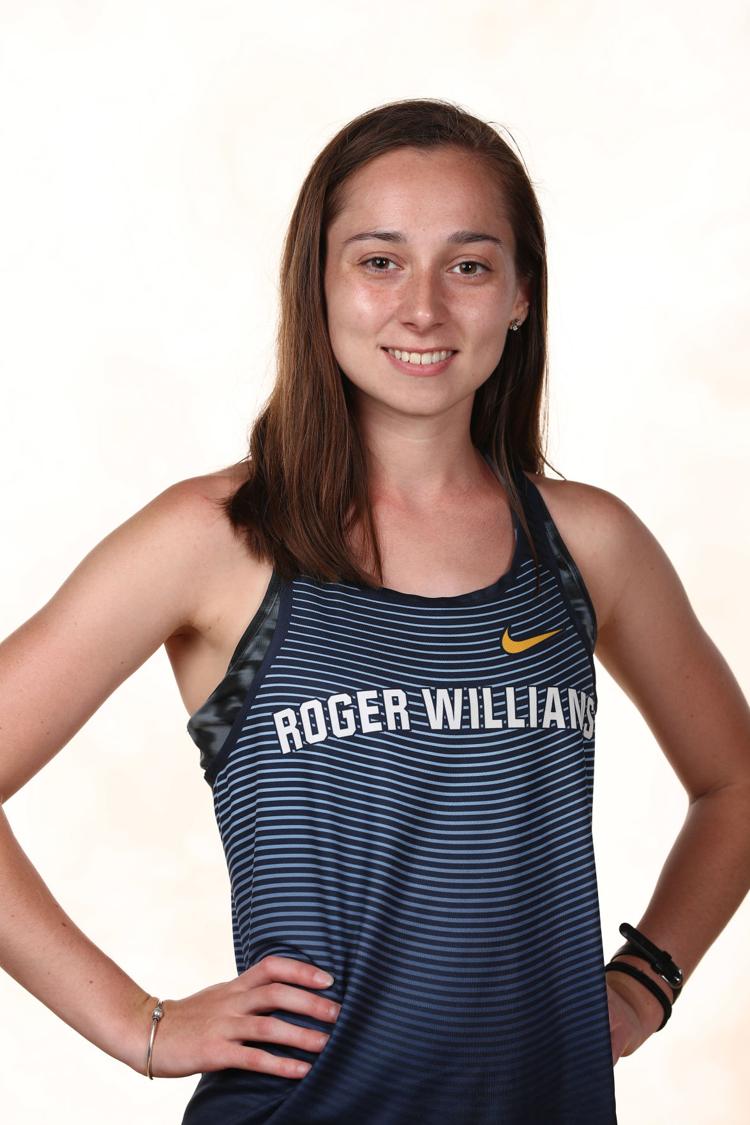 Sarah Mawdsley (Newtown), a junior at Roger Williams University, got out front and stayed there on Saturday afternoon, winning the Commonwealth Coast Conference Cross-country Championship in 22:31.50 and leading her team to a championship finish – and she was named the CCC Runner of the Year. Not a bad day!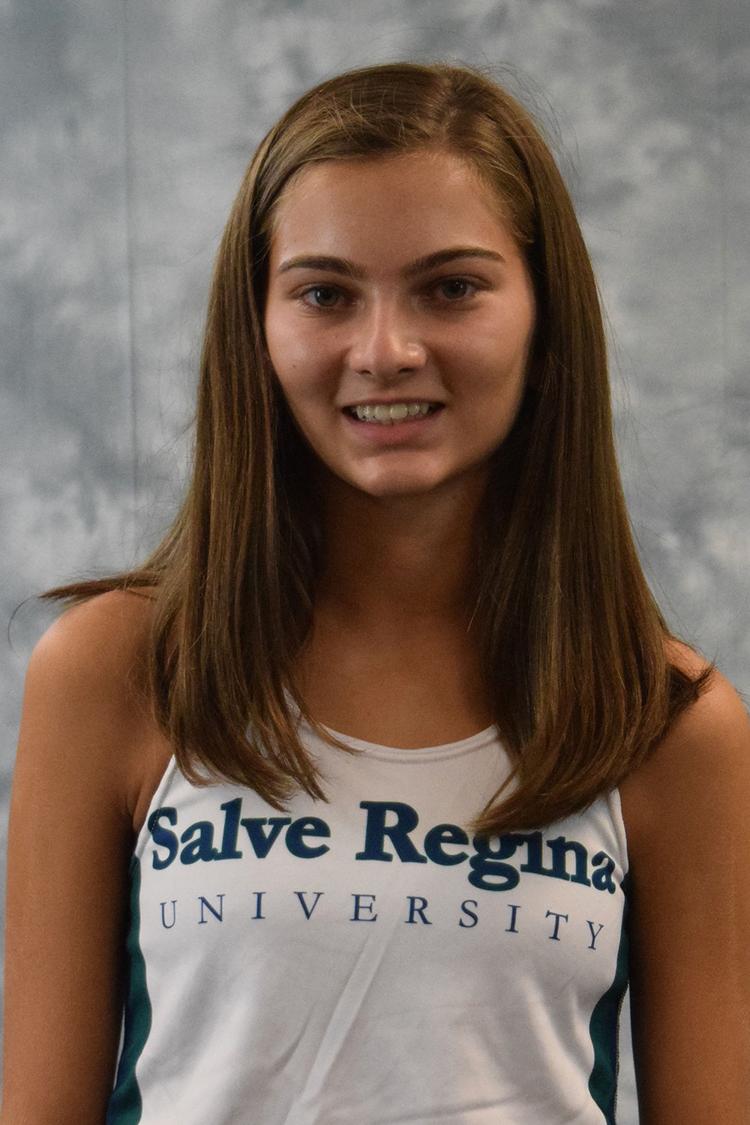 Salve Regina University sophomore Cate Norton (Newtown) finished fifth (23:28.5) in the championships at Colt State Park in Bristol, R.I. 
She helped lead the Hawks to a third-place finish in the team standings and her time was a personal record, an improvement of 1 minute and 21 seconds over the 6K championship distance. She also earned All-Conference honors.
*  *  *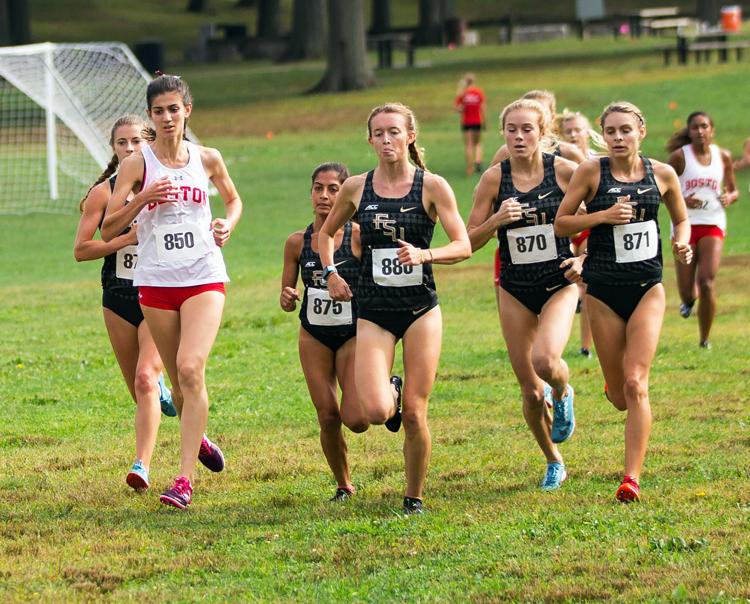 Boston University junior Corinne Batsu (Masuk) was the fourth BU finisher, 13th overall (22:37.2), at the patriot League Championships 6K at Colgate University on Saturday. She competed in a field of 110 runners.
*  *  *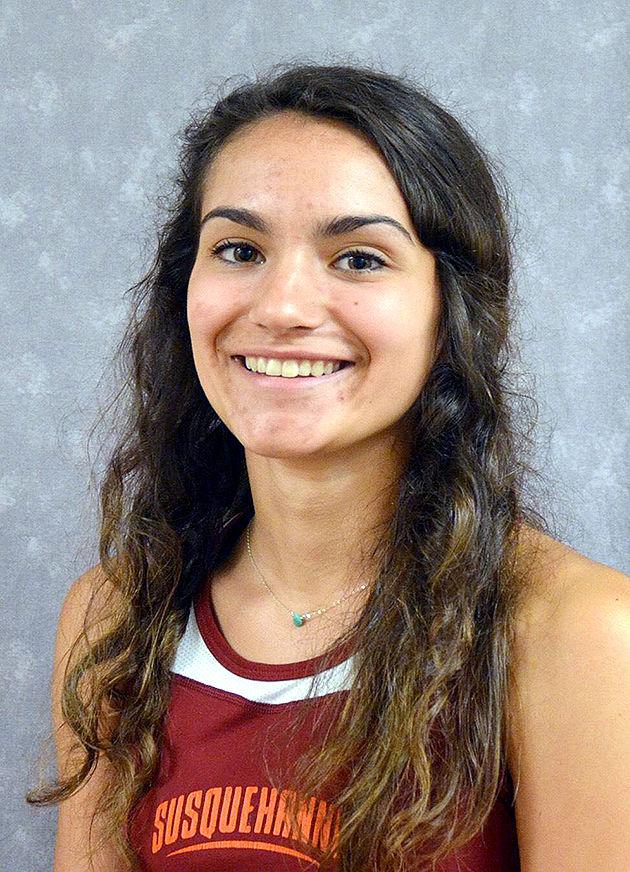 Susquehanna University senior Alexa Pietrini (Pomperaug) was the 45th finisher (26:13.77) at the Landmark Conference Championships, running in a field of 82 competitors. The River Hawks finished fourth as a team.
*  *  *
The Western Connecticut State women finished seventh in the Little East Conference Championships 5K on Saturday at UMass/Dartmouth. WestConn junior Tessa Lee (Seymour) entered the chute 58th (23:39.52) in a field of 72.
*  *  *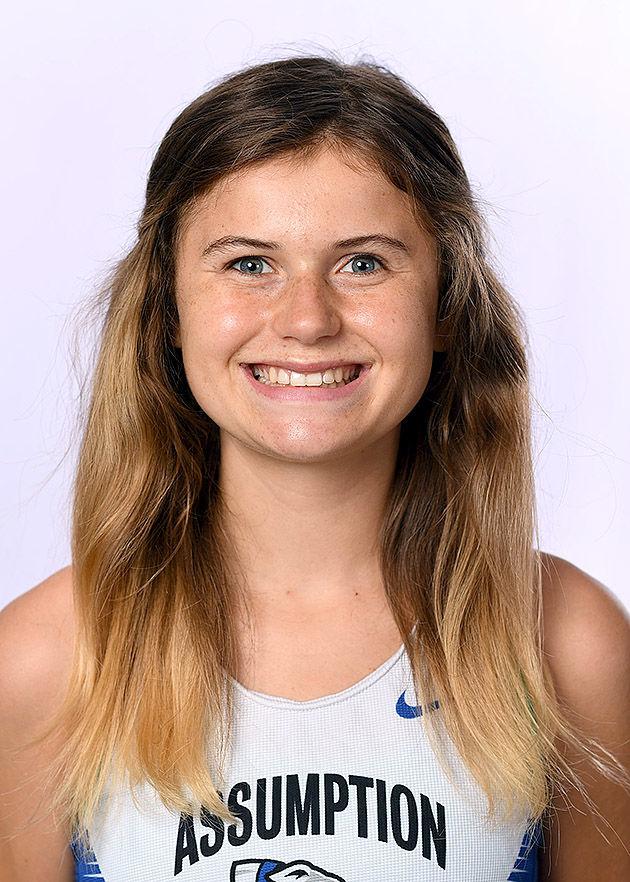 Assumption College sophomore Ashley Wargo (Pomperaug) finished 66th (27:06.4) in a field of 135 at the Northeast-10 championships on Oct. 27 at Jamesville, N.Y. State Park. The Greyhounds were fifth overall.
In the men's 8K, Bentley University sophomore Christian Lestik (Newtown) came in 121st (32:58.4) in a 146-runner field. The Falcons were eighth in the team standings.
*  *  *
Brown University sophomore Mary Bibbey (Nonnewaug) finished 82nd (24:28.6) in a field of 85 at the Ivy League Championship 6K at Van Cortland Park on Friday.
Field Hockey
Babson College, the 16th-ranked field hockey program in Division III, pounded Keene State, 6-1, on Saturday in a warm-up for the NEWMAC playoffs that will begin for the Beavers Thursday, with Babson meeting either Wellesley or Springfield in the semifinals. 
Senior defensive back Haley Pesce (Shepaug) was in the game against the Owls on Saturday. She has started every game for 17-3 Babson.
*  *  *
Western Connecticut State locked up the three seed for the Little East Conference field hockey playoffs on Saturday in a game that portended where the Colonials may have some difficulty down the road. 
WestConn lost to Little East foe Worcester State, 3-1, on Saturday. The Colonials end the regular season with a 14-4 record (10-2 in the LEC). Worcester is 15-4 (11-1 LEC).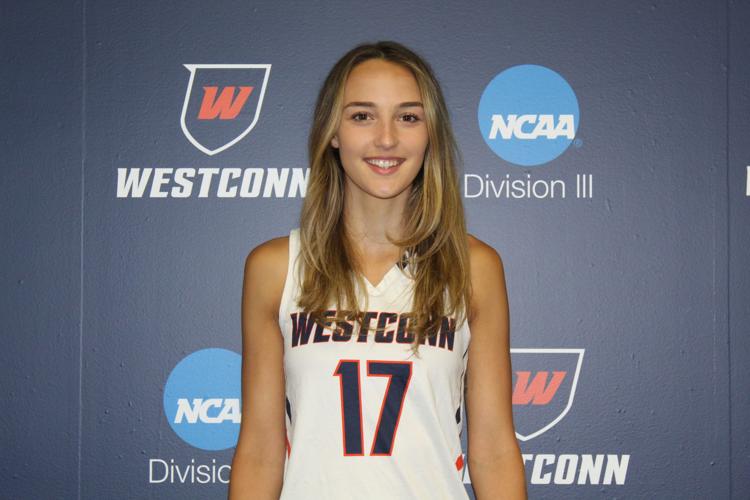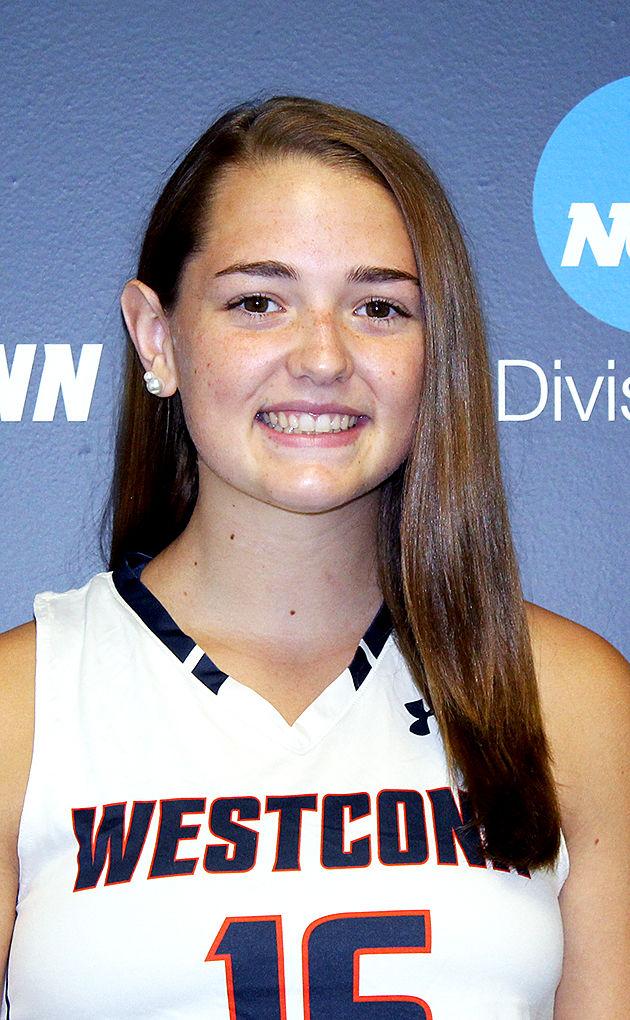 Senior attacker Carly Matasavage (Pomperaug) scored WestConn's lone goal with an assist from sophomore Olivia Moore (Shepaug). The goal was Carly's 12th of the season; she has four assists. Olivia's assist was her sixth.
WestConn played in the quarterfinals of the layoffs yesterday (Tuesday), against an opponent unknown at our deadline. 
If the Colonials win, they'll be action in the semifinals on Saturday, where they could meet Worcester again.
*  *  *
Salve Regina University won its final regular-season game on Saturday, besting Roger Williams University, 2-10, and clinching the third seed in the Commonwealth Coast Conference playoffs, which means the Hawks will have a first-round bye. 
Sophomore midfielder Eleni Kolpak (Washington Depot/Gunnery) got in the game but didn't take a shot. She has appeared in 16 games for the 12-6 Hawks (7-5 CCC).
*  *  *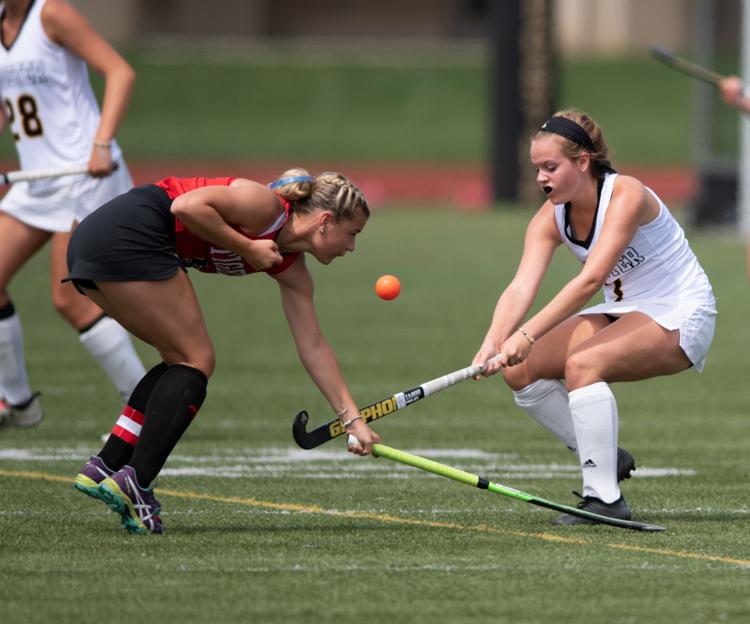 College of Wooster wrapped up its North Coast Athletic Conference schedule on Saturday with a 3-0 loss to Kenyon College. Freshman attacker Jill Murray (Pomperaug) got off one shot for the Fighting Scots in the loss. With one game left to play against nationally ranked Lynchburg, Jill has started 15 games for 5-11 Wooster and scored two goals.
*  *  *
The University of New Haven closed its season with a 3-0 loss to Bentley University on Friday. Junior goalkeeper Natalie Shaker (Newtown) made two saves but took the loss for the 5-13 Chargers (5-9 NE-10).
*  *  *
Senior defensive midfielder Kayla DiSibio (Newtown) and Wesleyan's season ended on Wednesday in a 2-1 loss to Connecticut College. 
The Cardinals compiled a 5-10 record (1-9 NESCAC). Kayla was on the field in 10 games and recorded no stats.
*  *  *
Senior attacker Jana Migliaro (Masuk) played her last game for Southern Connecticut State on Saturday in an 8-0 loss to Adelphi. The Owls had seven shots but none found the back of the net. The ladies put their sticks away for another year after a 1-16 season.
Soccer
The Albertus Magnus College men saw their season ended abruptly on Saturday in the first round of the Great Northeast Athletic Conference cocker playoffs when the fifth-seeded Falcons were eliminated by the fourth-seeded Blue Jays of the University of Saint Joseph, 1-0. Albertus closes the scorebook with a 9-9-1 record.
Senior back Tyler Saad (Naugatuck) contributed two goals and an assist this season; senior midfielder Diogo Cruz (Naugatuck) had one assist.
The Albertus Magnus women had pretty much the same fate on Saturday, coming into the GNAC tourney as the sixth seed and losing in the first round to third-seeded Emmanuel College, 5-2. 
The Saints had a 3-0margin at halftime. Freshman midfielder Janessa Perez (Oxford/Amistad) got an assist on the first Albertus goal in the second half, in the 83rd minute, struck by Katherine Raposo. Janessa  played in 11 games for the Falcons, had two goals, and this one assist.
*  *  *
Western Connecticut State's women and the Beacons of UMass/Boston share the Little East Conference regular-season title after battling to a double-overtime standoff on Saturday, 0-0.
By conference rules, UMass/Boston will emerge as the number one seed in the playoffs because the Beacons allowed four fewer goals than the Colonials. As the second seed, WestConn gets a bye on Tuesday (yesterday), and will host either Keene State or Castleton on Thursday.
Senior back Jasmine Grey (Naugatuck) has started every game for the 13-5-2 Colonials (7-0-1 LEC).
*  *  *
Salve Regina University freshman midfielder Dylan Sock (Newtown) helped the Hawks level Wentworth Institute of Technology on Saturday, 4-0, cementing the top seed in the coming Commonwealth Coast Conference playoffs. 
The Seahawks are 12-4-3 (6-0-2 CCC).
Dylan collected his first goal of the season in the last 18 seconds of the game, Mike Manousos providing the assist.
The Hawks have a first-round bye and will meet Roger Williams University in the conference quarterfinals on Saturday.
*  *  *
Stonehill College's women are wrapping up a strong season. They shut out Saint Anselm College on Saturday, 4-0, and in so doing ran their season mark to 11-3-3 (8-1-3 NE-10) with the last game in the regular schedule against Southern Connecticut State on Tuesday (yesterday).
Sophomore defensive back Ellie Fried (Masuk) has appeared in 13 games for the Skyhawks with four starts.
*  *  *
Utica College's women are 10-5-1 (3-3-1 E-8) after chalking up two wins last week, beating Massachusetts College of the Liberal Arts on Wednesday, 5-0, and conquering Elmira College on Saturday, 4-1. 
Freshman defensive back Alyssa Zarrella (Naugatuck) was on the pitch in the MCLA win but did not record a shot. That was her seventh field appearance this season.
The Utica men are 10-6-2 (2-3-1 E-8) after a 4-1 win over Hartwick College on Saturday. Sophomore midfielder Chris Rosato (Nonnewaug) started for the Pioneers in a 2-1 loss to Alfred University on Saturday. He did not get off a shot. Chris has played in nine games, starting that one at Alfred.
*  *  *
The University of Bridgeport and Molloy College met in an East Coast Conference battle of teams with similar records and in the end it took two overtimes for Molloy to come out on top, 2-1. 
Junior defensive back Vinicius Lelis (Naugatuck) has played in 13 games for the 9-5-1 Purple Knights, and has earned one assist. The Knights have one regular-season game left on Saturday, against Roberts Wesleyan, and hope to do no worst than the second seed for the playoffs.
*  *  *
Wheaton College sent its women's team into the NEWMAC playoffs on Tuesday (yesterday) as the sixth seed, taking on third-seeded Worcester Polytechnic Institute in the first round. 
The Cardinals finished their regular season schedule on Saturday with a 3-0 loss to Coast Guard Academy. 
Junior defensive back Kayla Magalhaes (Naugatuck) made her 17th start in that contest for the 8-5-4 Cardinals (5-4-1 NEWMAC). She has one goal and six assists for Wheaton this season
*  *  *
Babson College is on its third two-game winning streak of the season after downing Wellesley last Tuesday, 3-1, and shutting out Mount Holyoke on Saturday, 5-0. 
Junior defensive back Scarlet Broderick (Pomperaug) got the assist on Maya King's game-winning goal against Wellesley in the 62nd minute. The beavers are 8-8-2 (4-4-2 NEWMAC).
*  *  *
Castleton State senior striker Jack Kingdon (Nonnewaug) scored the last goal of his collegiate career on Saturday when the Spartans lost to UMass/Dartmouth, 3-1. 
He connected on a penalty kick in the 30th minute, chalking up his team-leading 17th score and his career 101st point. 
He is just the seventh player in Castleton history to hit the 100-point mark, and the first in 16 years. His 17 goals this season are the sixth-most in program history.
The Castleton season ends with a 6-12 mark (2-5 LEC).
*  *  *
Southern Connecticut State sophomore goalie Aren Seeger (Naugatuck) got touched for four goals and absorbed the loss to Southern New Hampshire University on Saturday. 
He played 69 minutes, facing the majority of the Penmen's 22 shots. Southern Connecticut is 4-7-4 (3-6-2 NE-10).
*  *  *
The University of New Haven men's soccer team has dropped it's last four games, most recently taking Le Moyne College to double overtime before dropping the decision, 3-2. 
Sophomore midfielder JP Viruet (Seymour) picked up his fourth goal of the season on Oct. 26 against Southern New Hampshire. That four-goal total is second on the team for the 4-10-1 (2-8-1 NE-10).
*  *  *
American International College went 0-1-1 last week, working a 1-1 draw with Southern Connecticut State on Wednesday and losing to Pace University on Saturday, 2-0. 
Senior midfielder Haley Wheeler (Oxford) got off two shots against Southern. The Yellow Jackets are 7-7-2 (5-4-2 NE-10) and finished their season yesterday (Tuesday) against Southern New Hampshire.
Volleyball
Western Connecticut State junior outside hitter Victoria Korzan (Pomperaug) led the Colonials with nine kills on Saturday in a shutout performance against Mitchell College (25-10, 25-16 and 25-19). 
She also served an ace, had seven digs and a assist. WestConn ends the regular season 21-6 and will have either the first or second seed and a first-round bye in the Little East Conference tournament that started Tuesday (yesterday). 
The Colonials will begin playoff action on Thursday.
*  *  *
Sophomore outside hitter Zoe Beals (Newtown) was named to the All- Tournament Team on Saturday after Skidmore College won all three games in its Skidmore Invitational, knocking off Plattsburgh State, 3-0, SUNY Potsdam, 3-0 and New Paltz, 3-2.
Zoe smacked eight kills and had an assist and a dig against Plattsburgh; in the Potsdam win, she fired nine kills and had one block assist, and against New Paltz she hit 10 kills and had one block assist. Skidmore finishes its season 15-10 (4-3 Liberty).
*  *  *
In a double-dual meet on Saturday, Albertus Magnus College lost to both opponents, Rivier College, 3-0, and Emmanuel College, 3-0.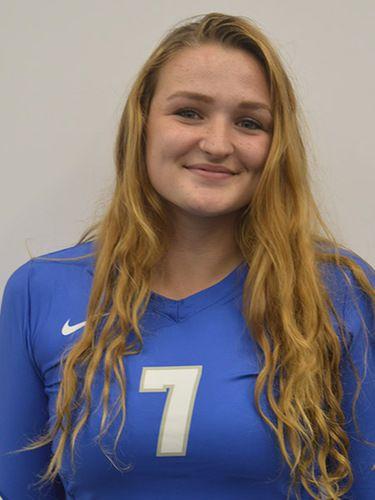 In the Emmanuel loss, Albertus freshman Diana Kalman (Naugatuck) led her team with eight kills, two service aces, 15 digs, a blocked shot and a block assist. For Emmanuel, senior Alex Mezzo (Naugatuck) had three kills. An assist and six digs.
Diana pounded eight more kills in the Rivier loss, added 12 digs and had one block assist. Albertus finishes its season with a 9-21 record (2-10 GNAC).
Rivier beat Emmanuel, 3-0, with sophomore Sydney Racevicius (Woodbury/Cheshire Academy) smacking six kills and three service aces. She also had eight digs and two block assists. Emmanuel sophomore Kelli Haigh (Nonnewaug) battled with six kills, three digs and a block assist. Emmanuel is 7-21 (2-9 GNAC) and the season is complete for the Saints.
Rivier is 22-7 (10-2 GNAC) and seeded third in the conference playoffs, which began Tuesday with the Raiders taking on Norwich University.
Football
The heavy football hitters of the Commonwealth Coast Conference collided on Saturday when Endicott College visited Western New England University. The Golden Bears emerged victorious, but had to withstand a three-touchdown rally by the Gulls in the fourth quarter to prevail, 42-31.
For Western New England, which is now 7-1, junior defensive lineman Tom Satkowski (Pomperaug) made four tackles.
Grad student and strong safety Allen Gibson (Seymour/Fairfield Prep) made eight tackles for Endicott, and freshman free safety Joe Pagett (Newtown) had three tackles for the 6-2 Gulls.
*  *  *
In another huge game on Saturday, MIT scored in the second overtime but Worcester Polytechnic Institute couldn't, and MIT walked off with a 28-22 victory.
For WPI, which was unbeaten coming into the game, starting junior nose guard Lou Duh (Masuk) made three tackles, one for loss. Senior linebacker Nick Samuelson (Newtown) got into the game but didn't record a tackle. WPI is 7-1.
The NEWMAC now has three teams tied for first place – WPI, MIT and Springfield, with two games left on the schedule. Exciting times in the NEWMAC.
*  *  *
Western Connecticut State started its season with six straight wins, but in the last two weeks, the Colonials have stubbed their toes. On Saturday, it was UMass/Dartmouth that got the best of WestConn, 28-12. Junior wide receiver Elijah Brooks (Pomperaug) got into the game for the Colonials but did not record any stats. Western is 6-2 (4-2 MASCAC).
*  *  *
Stonehill College scored in every quarter on Saturday afternoon and Southern Connecticut State didn't. The result was a 41-20 win for the Skyhawks.
Junior inside linebacker Charles Ritchell (Seymour) made five tackles for Southern, one for a loss. The Owls are 2-7.
For Stonehill, junior Derek Ivey (Newtown) started the game at offensive right tackle. The Skyhawks are 5-3.
*  *  *
Trinity College junior defensive end Jimmy Christiano (Middlebury/Avon Old Farms) had a big day Saturday, helping to lead a defense that allowed Amherst just seven points in a 21-7 win. He made four tackles, one for a two-yard loss, forced a fumble and recovered it, and was credited with two quarterback hurries. The Bantams are 5-3 with one game left.
*  *  *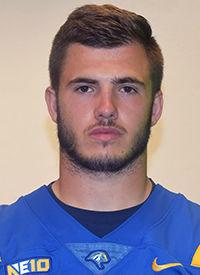 The University of New Haven squashed Franklin Pierce University like a bug on Saturday, 63-0. Junior running back Zach Mauro (Nonnewaug) carried the ball six times for 44 yards, and finished a drive with a three-yard touchdown. His longest run was 16 yards. The Chargers are 5-3.
*  *  *
Brown University lost their sixth game in a row on Saturday, succumbing to the University of Pennsylvania in a 38-36 barn-burner with the Bears scoring two touchdowns in the last period. Sophomore defensive lineman Anthony Mastroni (Monroe/Fairfield Prep) got into the game but did not record a tackle for Brown. The Bears are 1-6.
*  *  *
The University of New England was no match for Salve Regina University on Saturday in a 53-17 pummeling. Junior defensive lineman Alex Morganti (Newtown) made one tackle for the Nor'easters, who are 3-5.
Golf
Manhattan College senior golfer Preston Shortell (Oxford/Holy Cross) lived a childhood dream last Monday, winning his first collegiate golf tournament championship at the Metropolitan Intercollegiate Championship at the Montclair Golf Club in West Orange, N.J., and he had to scrap to become the medalist.
Preston shot a round of 69, but one other player, Fairleigh Dickinson's Melan Dhaubhadei did the same thing – the only two players in the tournament to finish under par. That set up a playoff, which Preston won on the second hole.
*  *  *
William & Mary College sophomore Sarah Houle (Newtown) led the Tribe to a victory in the Hounds Ear Intercollegiate on Oct. 15. She carded a par 72 on the first day of competition and a 76 on the second to end up tied for third place.
Ice Hockey
Babson College opened its ice hockey season on Saturday afternoon, hosting – and losing to – Curry College, 4-2. Beavers' senior defenseman Connor Dahlman (Gunnery) got off three shots in the loss.
*  *  *
Have news about a local athlete who is playing a winter sport in college? Please make sure we know about your athlete by dropping me a quick note to john.addyman@yahoo.com and we'll take it from there.
Thanks for reading College Notebook in Voices!