It's a week to celebrate winners in the college classrooms and on international lacrosse and soccer fields, plus we discover where some minor league ballplayers are now and how they're doing.
Baseball
Western Connecticut State baseball labored through a rough season this spring, posting an 8-23 record (3-1 Little East Conference). Two local freshman players tried to make the squad at catcher – Nick Herbert (Pomperaug) and Zach Edwards (Seymour).
Nick got into four games and had one at-bat: he struck out. Zach did better, earning two conference Rookie of the Week nods while playing in only 12 games. The first year is usually difficult. We'll see how these guys come out next season.
*  *  *
Central Connecticut State rising senior center fielder Dave Matthews (Newtown) is playing for the Keene Swamp Bats in the New England Collegiate Baseball League this summer. As of Saturday, he is third the league in home runs (6) and is 11th in the NECBL with 16 RBIs and 15 runs scored, He's put together two two-homer games, versus Newport and Upper Valley. He has also earned mention on the league's Honor Roll.
Merrimack College rising senior third baseman Joey Porricelli (Masuk), playing for the North Adams SteepleCats, is third in the league in runs scored (21) and stolen bases (14). He was 1-for-3 at the plate with a run scored Friday night in a 6-1 win over the Ocean State Waves.
Softball
Central Connecticut State's softball season got off to a great start – the Blue Devils won their first three games in the Pirate-Spartan Classic in Norfolk, Va. From there on, the results were mixed, and Central ended up with a 17-24 record (4-12 Northeast Conference).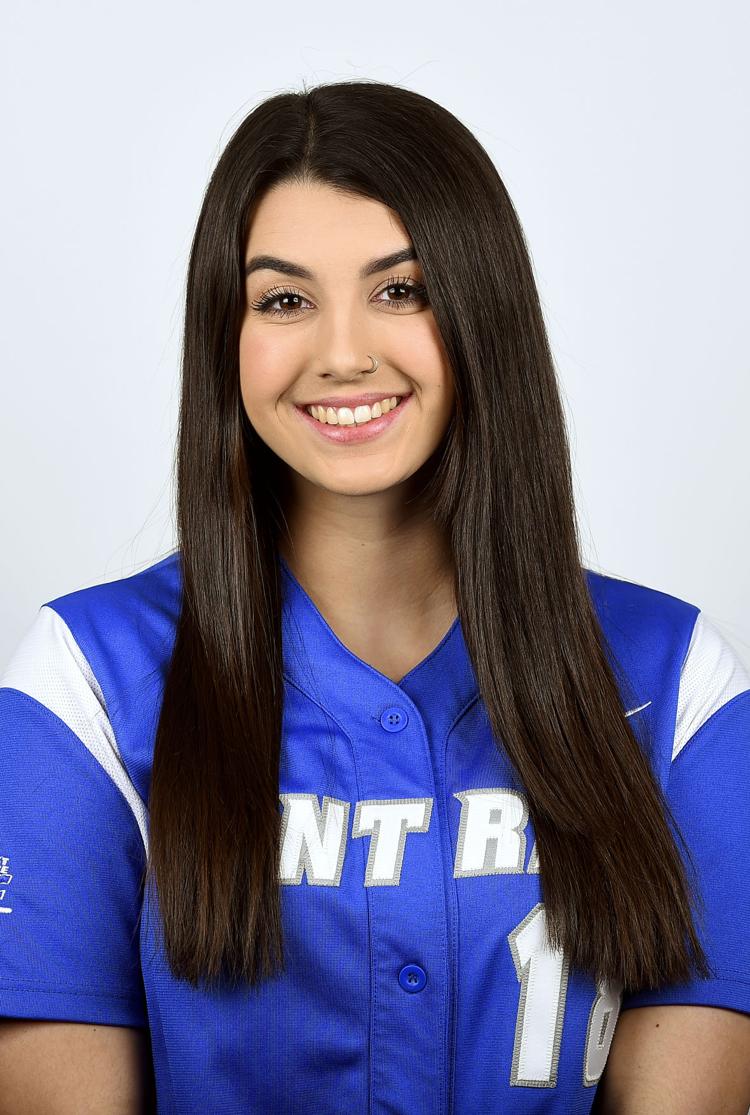 Sophomore pitcher Ashley Antonazzo (Pomperaug) started 14 games for the Blue Devils, and made 25 appearances altogether. She finished her season with a 7-9 record, ringing up 52 strike-outs, walking 36 and allowing 124 hits in 90.1 innings of work. She had a 4.43 ERA and a .900 fielding percentage on the mound.
Lacrosse
York College rising senior lacrosse midfielder and team captain Hayley McCormick (Pomperaug) has just returned from the Lacrosse Prague Cup in the Czech Republic. She played with a team representing the United States in an international competition in the Czech Republic, an event that has gone on for 29 years.
Hayley scored seven goals in the eight games the U.S. played, adding five assists. The American finished third, behind the hosts from the Czech Republic, whom the Americans lost to in the semifinals, 11-9. The USA ended the tourney with a 6-2 record.
Teams were from the Netherlands, Czech Republic, Israel, Poland and England.
Czech National went on to defeat England in final. The U.S. beat The Netherlands National team to take third place medal.
Hayley was on a 10-day tour that involved practices and three days of tournament play. Other days were spent touring Prague, Vienna and Berlin. Hayley was the only York player and only Connecticut player on the team, which was coached by Hayley's York College coach, Jen Muston, who was also named Capital Athletic Conference Coach of the Year this season. York was CAC Champ.
Football
Our summer columns are designed to catch you up on things we may have missed during the collegiate sports year because of more immediate sports results and news.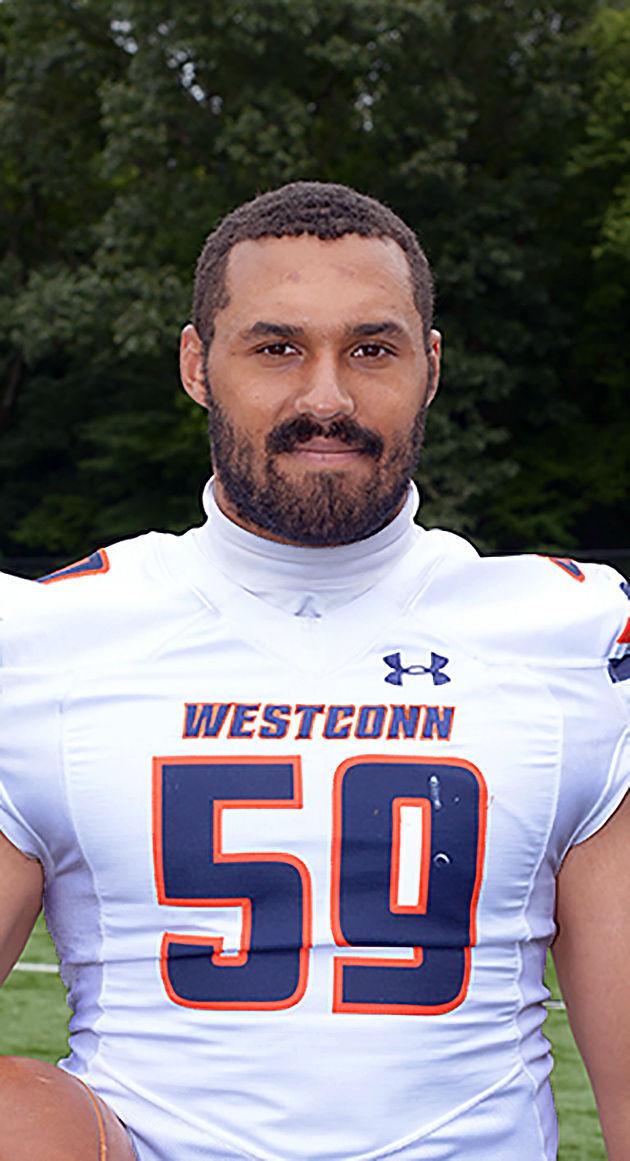 So, here's some important news….Kevin Maxen (Pomperaug) a senior inside linebacker for Western Connecticut State football, was one of two Colonials named to the Massachusetts State Collegiate Athletic Conference All-Conference First Team. He led the 8-2 Colonials with 60 total tackles last season, recording 41 primary tackles and 19 assisted. Kevin led WestConn with 9.5 tackles for a loss of 30 yards, had one quarterback sack and one forced fumble.
*  *  *
Incoming freshman Jayden Anderson (Naugatuck) was described by Central Connecticut State head football coach Ryan McCarthy as "a hidden gem in the state of Connecticut." The Blue Devils will welcome Jayden as a rush outside linebacker. "He has all the physical attributes to be an impact player in the future," the coach said.
Field Hockey
Wesleyan University rising senior midfielder Kayla DiSibio (Newtown) will spend her first practices of the new season getting accustomed to new head coach Christine Kemp, who comes to Wesleyan after a year at Castleton State University, where her women posted a 15-5 record. Kemp was an assistant at her alma mater, Skidmore, for five seasons, when the Thoroughbreds went 80-27 and made the NCAAs two years.
Kemp replaces Patti Klecha-Porter, who retired after 34 seasons at Wesleyan, just last week. The Cardinals were 4-11 last year (0-10 NESCAC), so Kemp has a lot of work to do.
In her junior year, Kayla played in seven games and got off two shots.
Soccer
The Wagner College women's soccer program did not put up good numbers last fall. The Seahawks had a 3-14 record and were 1-7 in the Northeast Conference.
Freshman defensive back Erin Doris (Naugatuck) played in three games, but did not get off a shot.
Wagner welcomes nine freshman to the lineup this fall, and the start of the season is close. The Seahawks have exhibition games against St. Joseph's University and Manhattan College, then on Aug. 23, things start in earnest at Rider University. Two days later, the home opener welcomes Delaware State.
Honors
Western Connecticut State freshman baseball catcher Zach Edwards (Seymour) was one of the nominees for the Colonials' Rookie of the Year Award. He didn't get it, but just being nominated was significant. Lacrosse player Don Schaumloffel was the award recipient.
The Rookie of the Year Award is presented annually to the male and female freshman athlete who contributed the most to his/her team and whose performance indicates future contributions.
Zach was named Little East Conference Rookie of the Week twice during the season. He played in 12 games for the Colonials, hit .417 with four RBIs and a .556 slugging percentage.
In the WestConn Athlete of the Year Awards, sophomore tennis player Matt Carino (Newtown) was one of six who were nominated. Soccer and tennis player Chauncey Almers won the award. 
The Athlete of the Year award recognizes one male and one female athlete for their outstanding performances in the athletic arena. In addition, nominees must have maintained acceptable academic performance.
Matt was All-Little East Conference, named to the Singles' First Team and Doubles' Second Team (with Allers). Matt was 1-1 at first singles and 9-3 while playing at second solos. In doubles action in 2019, Matt was 9-6 overall, and was 9-4 at second-flight pairs.
*  *  *
The Colonial Women of Western Connecticut State had 14 field hockey players – including three from our area – who were named to the ZAG Field Hockey/NFHCA Division III National Academic Squad.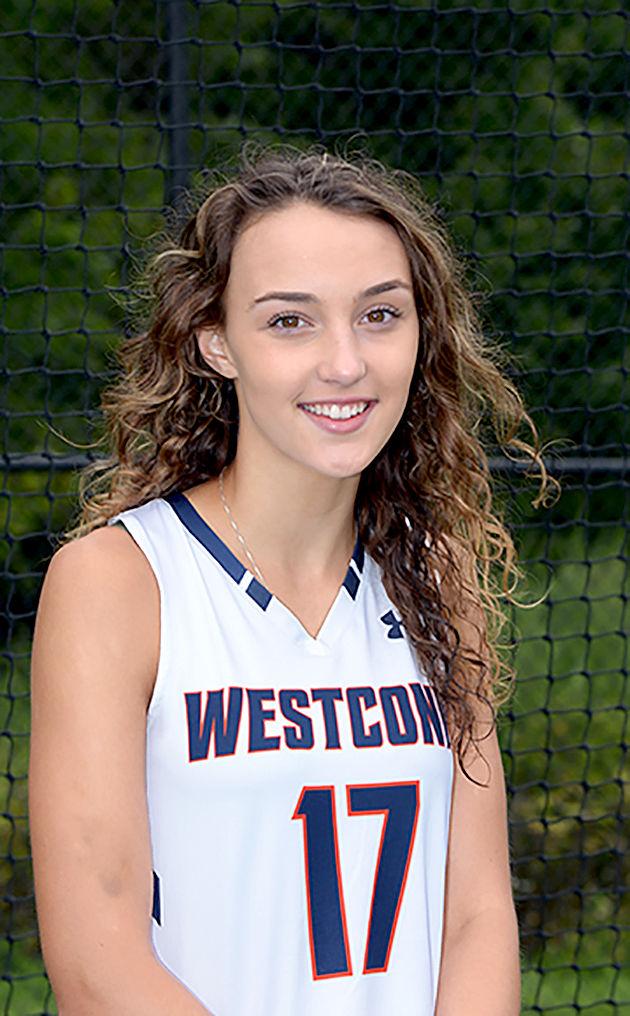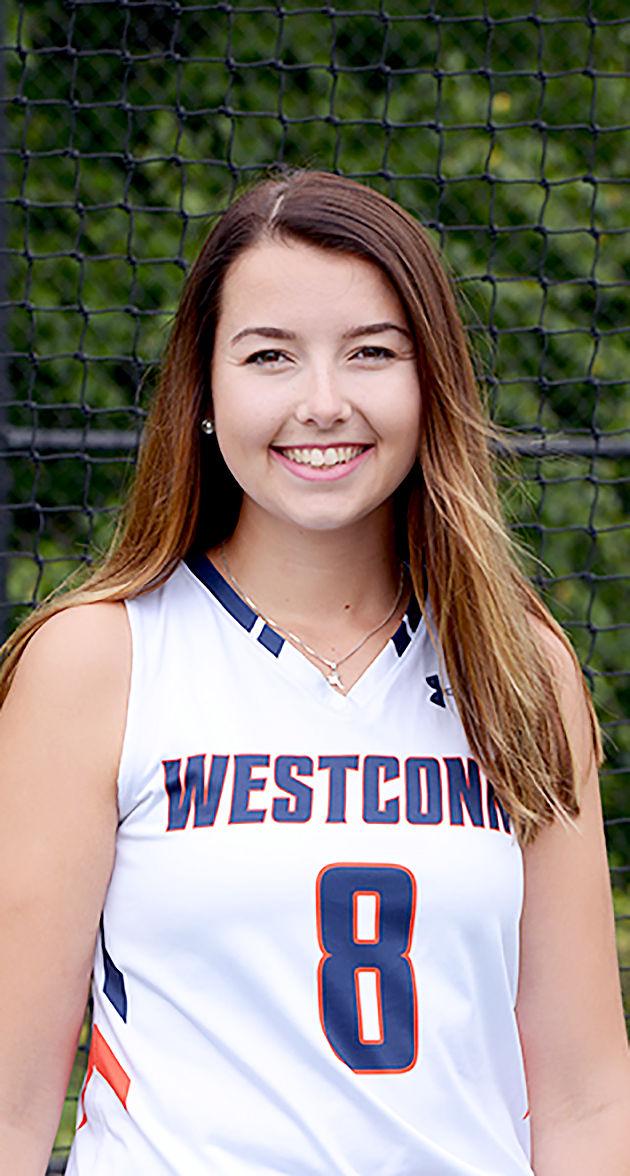 Earning honors were rising senior forwards Carly Matasavage (Pomperaug) and Shannon Lynch (Newtown) and rising sophomore midfielder Olivia Moore (Shepaug). 
The Division III National Academic Squad program honors student-athletes who have achieved a cumulative grade-point average of 3.3 or higher through the first semester of the 2018-19 academic year.
Shannon (a nursing major) and Carly (a health promotions studies major) also made the Little East Conference All-Academic Team.
WestConn opens its season on Aug. 31 against Ramapo, playing William Paterson the next day at home.
*  *  *
Two members of the Western Connecticut State football team, freshman wide receiver Elijah Brooks (Pomperaug) and senior running back Jaret DeVellis (Newtown), earned status on the Massachusetts State Collegiate Athletic Conference All-Academic Team last season. Scholar-athletes who compete in championship varsity sports offered by each of the MASCAC institutions during the course of the Fall and Winter 2018 athletic season and have achieved a 3.20 cumulative or semester-based grade point average during the semester are eligible for selection to the Fall/Winter All-Academic Team.
*  *  *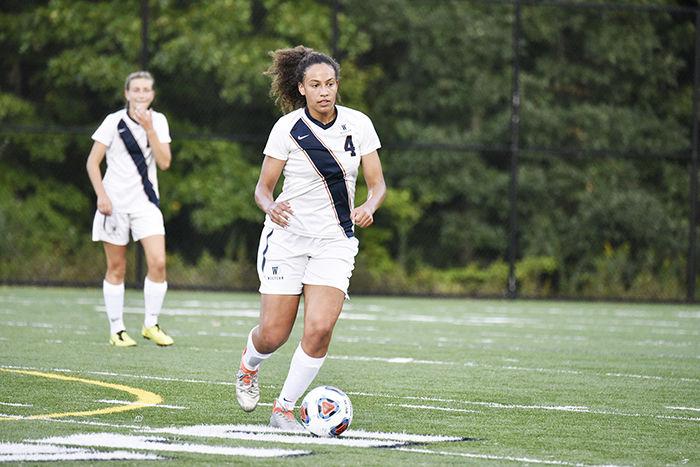 Western Connecticut State rising senior soccer back Jasmine Grey (Naugatuck), a Biology major, earned status on the Little East Conference All-Academic Team for last season. To be named the LEC All-Academic Team, a scholar-athlete must be at least in sophomore standing in the classroom, have a cumulative GPA of 3.30 or higher through the previous semester, and have been at their current institution for at least one full academic year.
Jasmine finished her 2018 season by being named to the United Soccer Coaches All-New England Third Team. She started all 23 games for the Colonials, scored three goals and made two assists. She and her Colonial teammates open their season Aug. 31 at Rensselaer Polytechnic Institute in the RPI tournament, meeting Buffalo State the next day.
Professionals
Does it do your heart good to see a local young woman make a statement on the world stage?
Sure makes me proud to be from this part of Connecticut when I watch goalie Alyssa Naeher (Seymour/Christian Heritage/Penn State) go out on the pitch and fiercely do her job for the US Women's National Team in the FIFA soccer World Cup.
The two huge saves she made against England – the first one was described as her "save of the tournament" in the 34th minute on a rising bullet from Keira Walsh, and then she followed that by stoning Brit Stephanie Houghton's penalty shot in the 81st minute to save the game for the US of A.
In the knockout round of the World Cup, the final eight contenders were comprised of seven European squads and the US team. England was a huge challenge, talented and fast, but the 'Mericans grabbed a 2-1 win, courtesy of that great goalkeeping form Alyssa.
In the lead-up to every game, we got wind of former USA goalkeeper Hope Solo chirping social media-type fodder from the TV commentator sidelines. Hope is a player you loved to see in the game and hated to hear afterwards. That doesn't seem to have changed with age.
Alyssa took the criticisms from Solo, who should spend some time looking up the definition of "gracious," with a neutral and professional attitude.
Good grief, how refreshing.
"We tune out the critics," she said after the England win.
On Sunday morning, the Americans took on the Dutch in the championship cup game. The Dutch were the last team standing and by all accounts, were loose, with nothing to lose. And they had already won the European championships, so the Orange were a team to be reckoned with.
USA got a tough game out of the Dutch: the game was very, very physical as the Netherlands refused to back down, but the USA prevailed in the end, 2-0. Alyssa looked in charge the entire contest and she comes away with a clean-sheet shutout in a World Cup Final.
What was great about this World Cup was the sight of people all over the country, outside, watching the game in big crowds. Alyssa comes home with a World Cup. One of our own.
*  *  *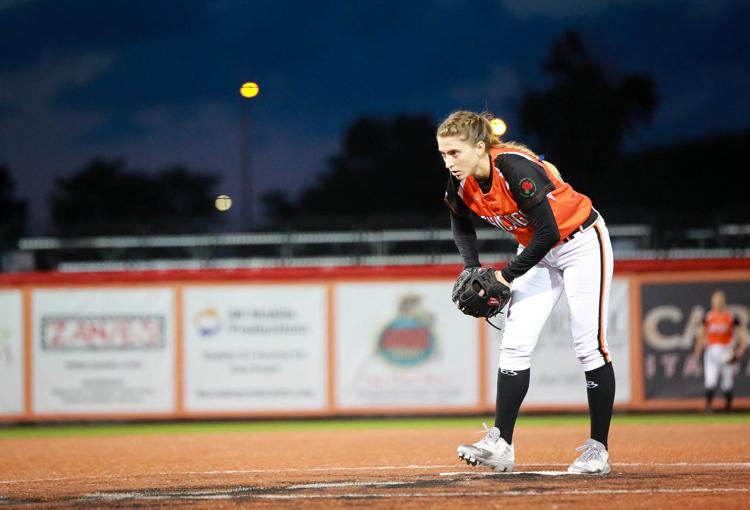 Chicago Bandits pitcher Rachele Fico (Oxford/Masuk/Louisiana State) pitched a complete-game 4-0 shutout against the Cleveland Comets on the Fourth of July. She struck out eight, allowed just two hits and saw only three base runners in a dominant performance.
Rachele gave credit to her catcher, Amanda Chidester. "She did a great job behind the plate and calling a good game. She changed speeds, she worked tunnels and she was able to keep my pitch count down by keeping the hitters off balance."
The Bandits are on a 13-game win streak in the National Pro Fastpitch league after a doubleheader win Saturday against the Comets. Rachele closed the second game, a 3-2 victory.
*  *  *
Pat Dean (Naugatuck/Boston College) is having a tough time getting traction in his stint with the AAA Albuquerque Isotopes affiliate of the Colorado Rockies. He pitched last Tuesday night against the Sacramento River Cats and allowed 11 hits and five runs in five innings, striking out six and walking none. He now has a 2-9 record and a 7.74 ERA.
*  *  *
Tommy Milone (Masuk) playing center field and now the lead-off hitter for the Charlotte Stone Crabs Class A-Advanced affiliate of the Tampa Bay Rays, went 1-for-4 Saturday night with a run scored in a 3-2 win over the Jupiter Hammerheads. Tommy is hitting .310, having a solid summer.
*  *  *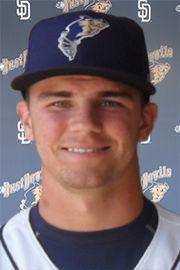 Nick Kuzia (Seymour) is now pitching for the Lake Elsinore Storm, the Class A-Advanced affiliate of the San Diego Padres in the California League. He closed Saturday night's game with the Lancaster JetHawks, a 3-0 loss. He has made 10 appearances, pitched 16 innings and has a 1-0 record and a 0.56 ERA. He has definitely bounced around this summer, playing first for the Class A Full Schedule Fort Wayne TinCaps (where he was 0-1), then with the Amarillo Sod Poodles (which sounds like a great team not to be part of) in AA ball, where he had a 1-1 record.
*  *  *
Have news about a local college athlete to share? Want to make sure we're covering your college freshman this coming sports year? Please send me a note at john.addyman@yahoo.com.