As we go though each college website looking for news about local athletes during the summer, we sometimes find a gem that would have otherwise been missed, and that happened this week, where we found a new All-America athlete, Dayvon Russell (Naugatuck), a senior basketball guard who played for Dean College.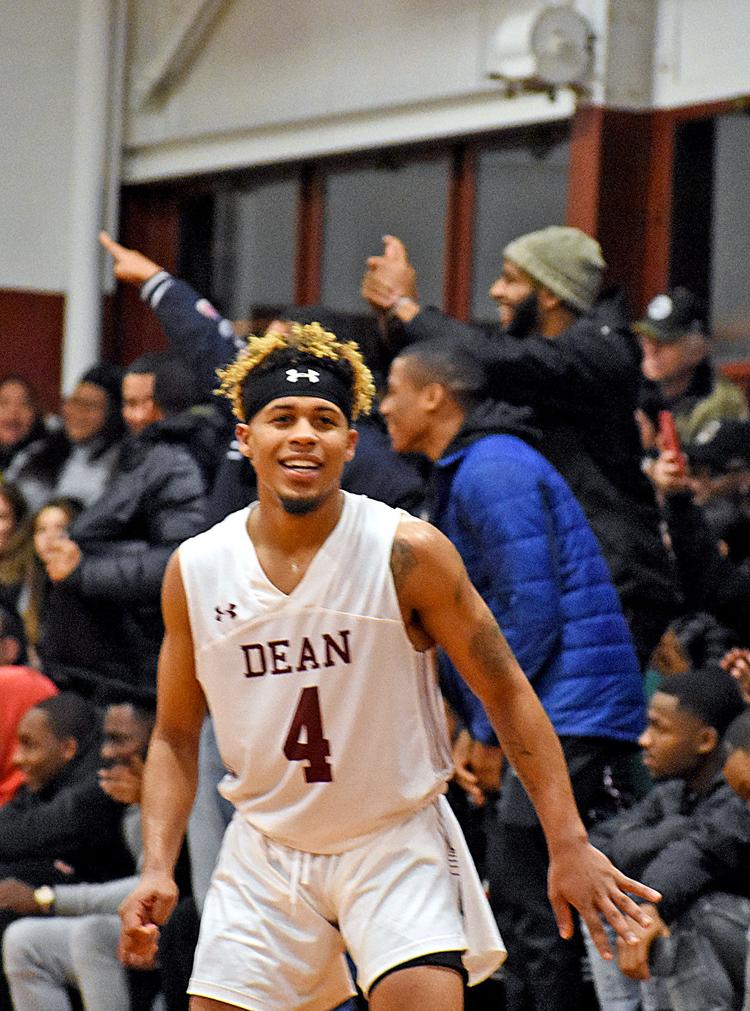 Congratulations to Dayvon Russell (Naugatuck), who has been named to the Second Team, United States Collegiate Athletic Association (USCAA) All-America Team. Dean College has been working on its entry into the NCAA Division III, and the Bulldogs will compete as a full member of the Great Northeast Athletic Conference (GNAC) beginning in 2020.
While going through that process, Dean has been part of the USCAA, a much smaller entity than the NCAA with many small colleges (Patrick Henry College, for instance – enrollment 315) or small affiliates of a large university (Penn State has 14 members at its smaller satellite schools). Many small colleges have dual affiliations with the USCAA and NCAA Division III.
Dayvon had previously collected third-team All-New England Collegiate Conference honor, so the All-America nod puts a cap on a standout three-year career for the Bulldogs as the program's all-time leading scorer with 1,188 points in 77 games. He finished fifth in the NECC in scoring at 18.1 points per game and second in steals per game, ending his career with more than 150 thefts.
He was in double figures in 23 of the 26 games he played in and topped 20 points 14 times – including a stretch where he did that eight games in a row. One of his best games of the season came in a wild 115-110 win over the University of New England when he hit a triple-double: he scored 24 points, made 12 rebounds, and collected 10 assists and four steals. Russell went for 30 points twice in 2018-19 and went over the 1,000-point plateau with 28 points in a 97-71 victory over Elms College in January.
Curry College baseball didn't do well this season, posting an 11-23-1 record. But in Commonwealth Coast Conference play, the Colonels were far from a contender, with a 3-10-1 skein and no chance at a post-season.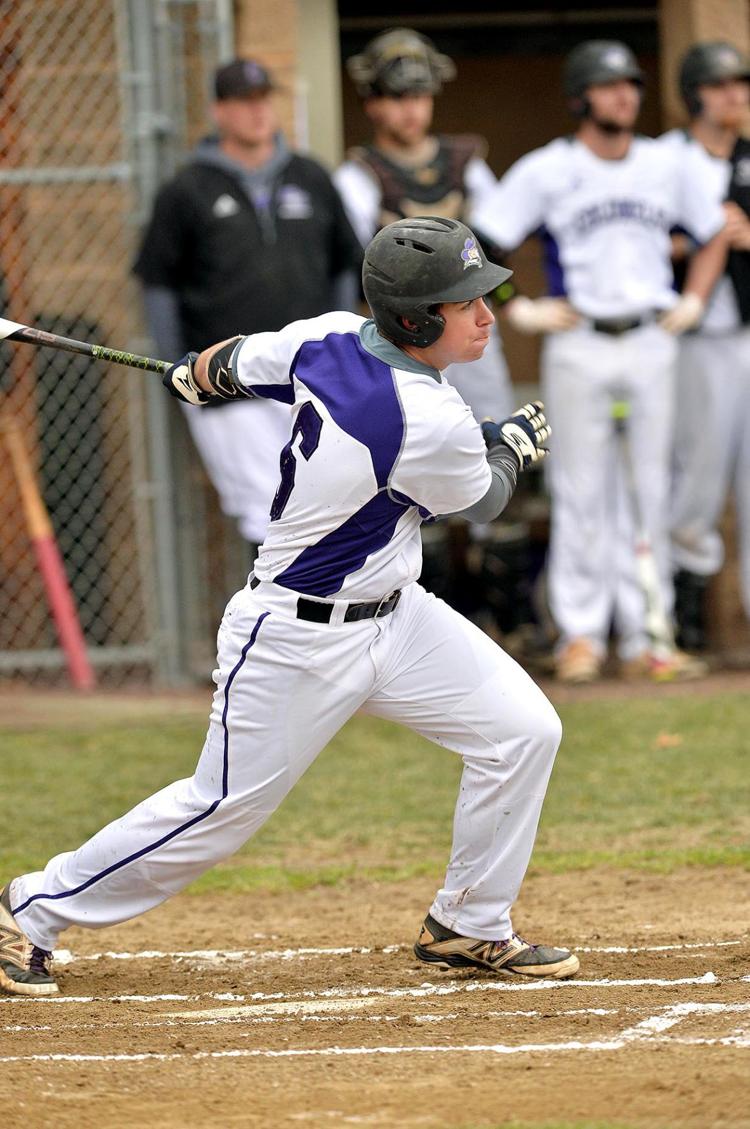 In the midst of all this junior third baseman Jared Keller (Oxford) had a fine season, and when the last pitch was thrown, he was named to the Second Team, All-Commonwealth Coast Conference squad.
Jared led the Colonels in multiple offensive categories. He played in 33 games, hitting .352 (38-for-105). He led the Colonels in hits and RBIs (25) with nine doubles, one triple, two home runs, and 17 runs scored.
Jared also posted an on-base percentage of .435 and a slugging percentage of .514. He hit for 54 total bases and had 12 extra-base hits. Defensively, at a very difficult position, he sported a fine .966 fielding percentage.
The Drew University baseball team watched its chance for a spot in the Landmark Conference playoffs evaporate in the last two three-game series of the season, when the Rangers lost two of three games to Catholic University, then two more out of three to Elizabethtown College to complete the season.
Drew ended up with a 20-17 season (8-10 Landmark), so close to being something more meaningful. Junior catcher Brian Dagostino (Pomperaug) put together a fine spring behind the plate and beside it. He hit .309 in the 18 games he played (14 starts), batted in nine RBIs, and had a .424 on-base percentage. He stole the only base he attempted. On defense, he had a ,966 fielding percentage, 106 put-outs and six assists.
Dave Matthews (Newtown), a rising senior utility player at Central Connecticut State, is playing summer collegiate ball with the Keene Swampbats in the New England Collegiate Baseball League. He played first base and was 0-for-4 Friday night in a 5-3 loss to the New Bedford Bay Sox. Dave's batting average is .202. The summer ball season ends tomorrow (Thursday).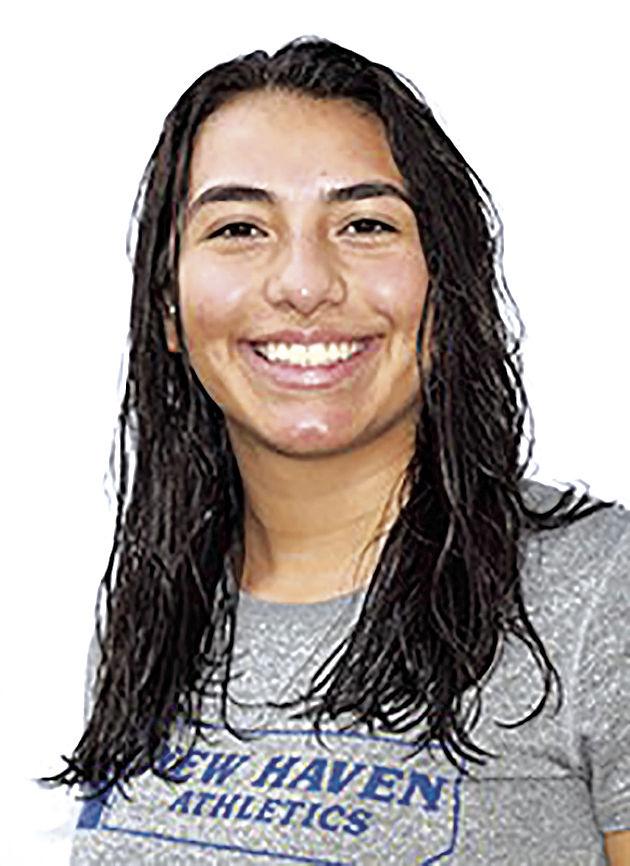 Natalie Shaker (Newtown), the starting goalie for the University of New Haven field hockey team, was named Most Valuable Player at the year-end annual senior and awards banquet. She played in 17 games, starting 15 of them, for 1,164 minutes of action. She made 210 saves (a .714 percentage) and finished with a 2-15 record. The problem wasn't goalkeeping, it was scoring – the Chargers failed to tickle the twine in nine of their losses. Winning is difficult when you don't score.
The Chargers went through a 2-15 season (1-12 NE-10). Natalie and her sisters will begin their new season on Sept. 5, taking on American International College in a Thursday night game.
Delaware Valley University field hockey started its season with three straight wins but finished with 10 straight losses and a 5-11 record (0-7 MAC Freedom), and no post-season.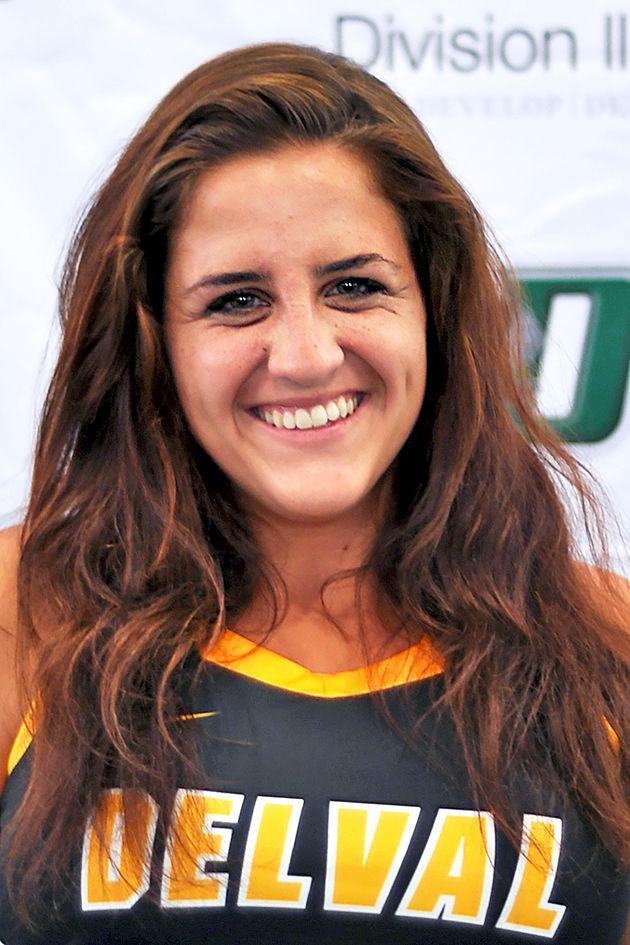 Freshman forward Maiya Wendel (Nonnewaug) was on the field in 14 games, starting four of them, and her season paralleled the rest of the team – she fired two shots in the first game, and had one shot in each of the next two games, then she stopped getting off shots and that was a problem because of her four shots, three were on goal. She's got the capacity to make a difference.
The Aggies begin their season against Neumann University on Aug. 30 – that's the team Maiya got off two shots against last year. We'll see how she does this time around.
Dickinson College senior midfielder Deegan Beauchemin (Newtown) made his last season the best for the Red Devils, who went 11-6 this spring, 5-3 in the Centennial Conference. The season ended for the 15th-ranked Devils in the conference semifinals and a 15-13 loss to eighth-ranked Gettysburg College.
He scored two goals this season – both against Swarthmore in a 19-4 win, and he collected an assist against Elizabethtown College in a 20-3 win. 
He played in 14 games, scooped eight ground balls, caused two turnovers and had five shots on goal.
In his career, Deegan played in 33 games for Dickinson, scored six goals and had one assist, and picked up a total of 11 ground balls.
Freshman defensive back Toby Ketchum (Washington Depot/Pomfret) played in two games for Dickinson this spring, picking up one ground ball and causing one turnover.
University of New Haven freshman Brett Deri (Newtown) had an auspicious beginning to his collegiate career. Competing in indoor and outdoor track, he set the program mark in the 500 meters indoors (1:08.46) and the 400 hurdles outdoors (56.58).
In his last meet of the spring, the New England Outdoor Championships (NEICAAA), he ran the second leg of the eighth-place 4-by-100 relay (42.88), and the third leg of the 12th-place 4-by-400 relay (3:24.40). At the Yale Springtime Invitational, he took the runnerup spot in the 400 hurdles (57.13), with freshman Brendan Moretti (Masuk) third (1:00.05). Brendan was also fourth in the 400 hurdles (59.89) at the Mark Young Invitational at Yale.
Jovanna Hillman (Seymour/St. Joseph's) was an important cog in the University of New Haven softball team that racked up 33 wins this spring and made it to the final game of the NCA East Region Championship.
A sophomore, she split her time playing catcher or entering the lineup as the designated hitter. She played in 40 games, starting 39 of them. The Chargers finished the regular season with a 30-13 record and went into the Northeast-10 playoffs as the second seed. In the first round, New Haven got a walk-off homer from Vanessa Strohm to stun third-seeded Merrimack College, 4-3. But in the championship final against top-seeded St. Anselm College, the Chargers had no answers in a 5-1 loss.
But the NCAA selection committee offered some sunshine to New Haven with an at-large bid, and a week later, the Chargers were on the field against LIU/Post and lost, 2-0. With their backs to the wall and facing elimination, the Chargers put away Wilmington College, 7-4, and Adelphi University, 6-2, to live one more day and face LIU/Post again for a trip to the NCAA super regional. But Post prevailed again, and the Charger season ended in Delaware, 6-3.
Jovanna's season was a solid one. She hit .265 with 30 hits and 16 RBIs with six runs scored. She had a .381 slugging percentage and got her first collegiate grand slammy in the second game of the season, against Felician. In the NCAA Regional, she had four hits and reached base eight times.
Dean College rising sophomore soccer goalie Jennifer Jacovino (Masuk) has earned dean's list status as a scholar-athlete for the fall and spring semesters. To be named to academic list, full-time students must achieve a semester GPA of 3.300 or higher with no grade below a B-. She is an early childhood education major.
In her first year for the Bulldogs, Jen played in five games (started two), and was exceptionally busy, making 36 saves, with a 2.65 goal-against average. Dean opens its season by hosting a tournament beginning Aug. 30 with games against Fitchburg State and Rhode Island College. The Anchorwomen scored five goals against Jen last season.
Five University of New Haven scholar-athletes have earned spring Northeast-10 Conference Academic Honors. Rising sophomore track sprinter and hurdler Brett Deri (Newtown) and rising sophomore soccer midfielder JP Viruet (Seymour) earned recognition on the Academic Distinction level for sporting GPAs of 3.50 – 3.99; rising sophomore sprinter and hurdler Brendan Moretti (Masuk), rising junior softball infielder Jovanna Hillman (Seymour/St. Joseph's), and rising junior football running back Zach Mauro (Nonnewaug) were on the Academic Honors list for their GPAs, which were between 3.00 and 3.49.
At the University of New Hampshire gymnastics end-of-year banquet, senior Nicole O'Leary (Newtown) was awarded the team's Gatos Award for strength and conditioning. She recorded a career-high 9.875 on the floor in February and led the Wildcats vault rotation with a 9.815 NQS (National Qualifying Score).
Nick Kuzia (Seymour/UMass/Lowell), pitching for the Lake Elsinore (Calif.) Storm, the Class A-Advanced affiliate of the San Diego Padres, was in action Saturday night against the Inland Empire in a 4-3 win for the Storm. He threw for 2.2 innings, allowed three hits and two runs and was credited with a blown save. He struck out four and walked one.
He is doing well with the Storm: Nick has a 1-0 record, and is sporting a healthy 0.96 ERA in 28 innings pitched, where he's struck out 32 and walked 10, allowing just 16 hits.
Pat Dean (Naugatuck/Boston College) is still struggling with the Albuquerque Isotopes, the Triple-A affiliate of the Colorado Rockies. He pitched Saturday night against the Salt Lake Bees, went four innings and allowed 11 hits and six runs, striking out two and walking two, and absorbing the loss. Pat's record is now 3-10 and his ERA has ballooned to 7.36.
Alyssa Naeher (Seymour/Christian Heritage/Penn State) needed to make just two stops when her Chicago Red Stars took a 2-1 win over the North Carolina Courage in women's professional soccer. The return of members of the US Women's Team – including Alyssa – to their normal venue pumped attendance up to a new record on July 21.
Jake Walkinshaw (Seymour/Southern New Hampshire University) was on the mound for the Arizona League Athletics Green squad, the Rookie affiliate of the Oakland Athletics. He took the mound with one out in the fifth inning pitched to the end of the sixth, allowing no runs on two hits, striking out three batters. He maintains his 1-0 record, but his ERA is coming down – it's at 1.98.
PJ Higgins (Gunnery/Old Dominion) caught the game for the Iowa Cubs, the big club's Triple-A affiliate in Des Moines, on Friday night and hit 1-for-4 with a second-inning solo home run, his second of the season. His batting average stands at .231.
In two weeks, I start compiling my rosters for all the fall teams. As you get ready to send your athlete off for a first year in college – and a college sport – please drop me a short note so we can initiate coverage on your athlete right away. 
Remember, NOT ONE college or university will send us rosters before the season starts. If we don't know about your athlete, we can't provide coverage. Please send your note to me at john.addyman@yahoo.com. Include your athlete's college, full name, sport, home town and high school.