Golf honors for a Newtown grad, offensive support in field hockey from a Shepaug alum, a third soccer goal for a Navy midshipwoman, a Seymour grad who leads her team in soccer goals, and in football, a big catch from a Nonnewaug grad and lots of tackles by a Pomperaug alum…all that and much more this week.
Soccer
Plymouth State freshmen soccer defender Ethan Bryce (Seymour) got an assist on the winning goal against Curry College last Wednesday. David Nilsson hit paydirt in the 46th minute, and Ethan had his first helper of the season for the Panthers, who conquered Curry 7-1 for their first win of the season. Ethan started and played every minute of a 6-0 loss to Western Connecticut State on Saturday. Plymouth is 1-8 (0-5 Little East Conference).
*  *  *
The University of Delaware men had a 2-1 halftime lead over Northeastern University on Saturday afternoon, but the Huskies mounted a comeback and ended up with a 3-2 win. That leaves the Fighting Blue Hens with a 1-8-1 record (0-5 Colonial Athletic Conference). Senior defender Connor Fitzgerald (Monroe/Fairfield Prep) got off one shot for Delaware. He has played in every game this fall.
*  *  *
Sacred Heart's men jumped off a 10-game schneid on Oct. 3, nailing a goal in the 73rd minute to get their first win of the season, besting St. Francis University of Pennsylvania, 2-1. Sophomore defensive back Matt Machan (Masuk) is a starter for the Pioneers, who improve to 1-7-3 (1-1-0 Northeast Conference).
The fortunes of the distaff Pioneers are a little better: they're sporting a 4-6-1 (2-3 NEC) record, but lost two games last week, to Central Connecticut State on Oct. 3 and to Fairleigh Dickinson on Thursday, both by 2-0 deficits.
Junior Elyssa Kipperman (Pomperaug) made five saves against the Blue Devils and three versus Fairleigh Dickinson. Junior forward Azria Malloy (Nonnewaug) came into both games off the bench, sending three shots against the Knights, one on goal; she is still looking for her first tally this season.
*  *  *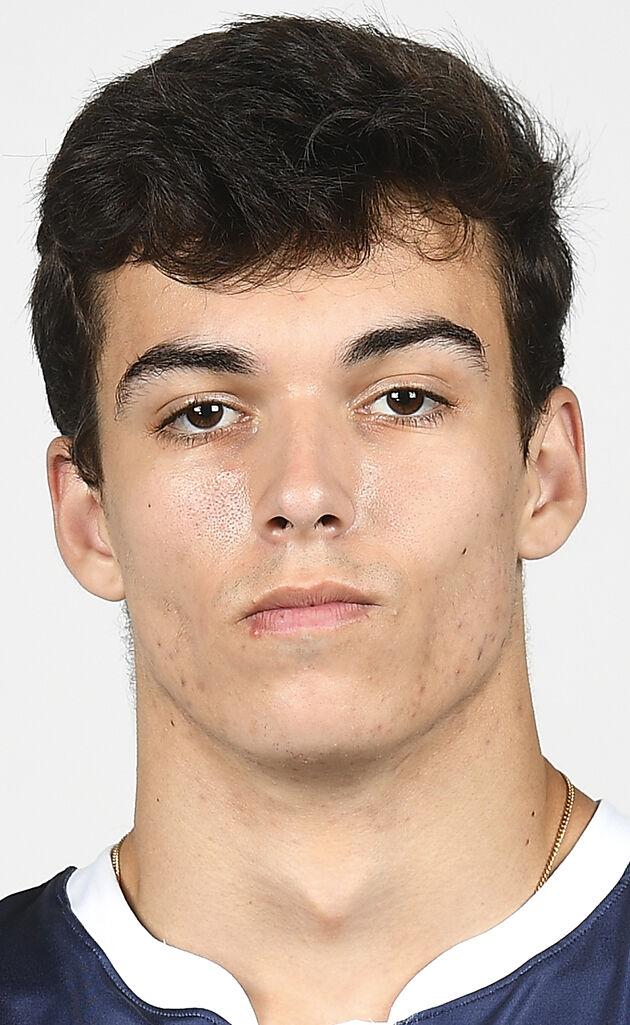 The Blue Jay men of the University of St. Joseph have a 7-3-1 record (4-3 Great Northeast Atlantic Conference) after splitting last week's games, a 6-0 win over Fisher College on Tuesday and a 3-2 loss to Norwich University on Friday. Sophomore forward Brian Silva (Naugatuck/Holy Cross) launched three shots (one on goal) against Fisher but was quiet against Norwich.
*  *  *
Navy freshman striker Amanda Graziano (Middlebury/Taft) scored the third goal and got the assist on the first tally last Monday when the Midshipwomen bounced Delaware State, 5-0. Her goal, in the 20th minute, was unassisted and her second score of the season; the assist, on Emma Frommelt's tally in the 13th minute, was Amanda's first. Amanda finished her week on Friday night, helping her teammates get past Lehigh, 2-1, with a shot on goal. Navy is 7-5-2 (2-2-1 Patriot League).
*  *  *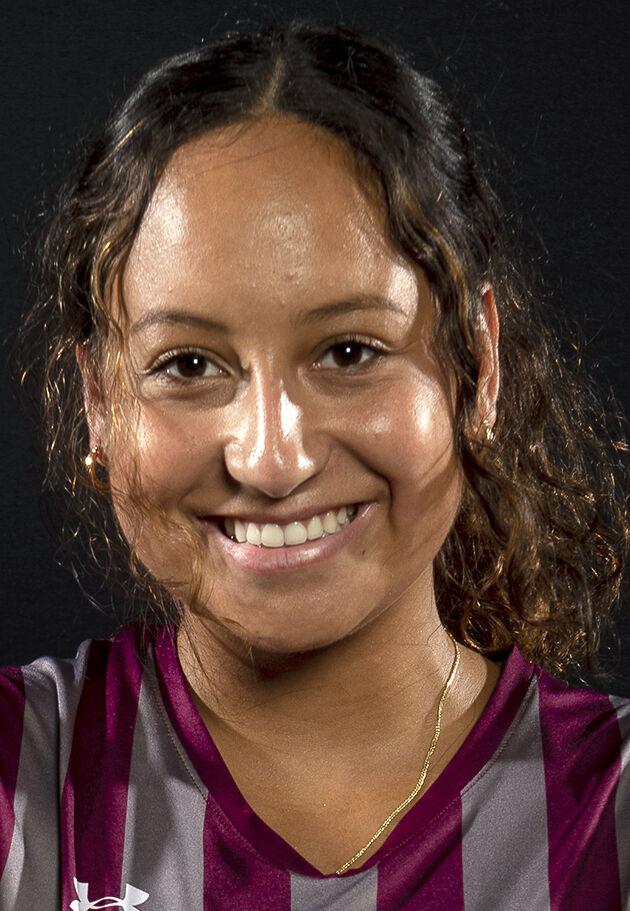 Springfield College's women won their first game last week, a 3-1 affair over Smith College on Wednesday, then lost on Saturday to MIT, 3-0. Both games were conference contests, so the Pride is 6-4 (4-1 NEWMAC). Senior midfielder Alyana Sosa (Naugatuck) got into the Smith game but didn't get the opportunity to get off a shot for the Pride.
*  *  *
The University of Bridgeport men's soccer team had a frustrating week, losing two games, on Wednesday to Nyack College, 6-2, and on Saturday to Roberts Wesleyan, 1-0. Senior defender Vinicius Lelis (Naugatuck) started both games for the 3-5-2 Purple Knights (3-2 East Coast Conference).
*  *  *
Western New England University's women took a 3-1 loss to Westfield State on Wednesday last week but came back with a 6-0 win on Saturday over Curry College. Freshman midfielder Emma French (Masuk) put a shot on goal in each contest. The Golden Bears are 7-5 (3-1 CCC).
*  *  *
Look at the 4-9 overall record for Maine/Farmington's women and you can easily make the wrong assumption. The Beavers only have four wins, it's true, but they started the season by losing eight of their first nine games. Since then, they've won three of the last four games, including a 3-0 victory over Cazenovia College on Saturday. Freshman midfielder Grace Mahmood (Oxford) has been on the pitch in 12 games, starting four of them, and has one assist to her credit.
*  *  *
Going in the opposite direction is Villanova. The Wildcat femmes were 5-0 out of the gate in September, then someone turned the lights off. 'Nova has lost its last six contests, falling to DePaul and Providence last week. Freshman midfielder Maddie Fried (Monroe/St. Joseph's) has played in 12 games for the 6-7 (0-5 Big East) Wildcats and has eight shots to her credit; no goals yet.
*  *  *
The University of New Haven men's soccer team was scoring goals in bunches in the first three games of the season, but since then goals have become dear – the Chargers haven't scored in their last two games. Senior midfielder JP Viruet (Seymour) for 6-3-1 UNH (3-3-1 NE-10) has started every game and has one goal and an assist to date.
*  *  *
Wentworth Institute of Technology's women haven't had a win in a couple of weeks but not for lack of trying – they've run into two draws (the latest a 0-0 affair with Salve Regina on Saturday) and two one-goal losses. Sophomore striker McKenzie Collins (Seymour) put shots on goal in the last two contests, she leads the team with three goals. The Leopards are 1-7-3 (0-3-1 Commonwealth Coast Conference).
*  *  *
The Western Connecticut State soccer men have a blazing 12-3 record (4-1 LEC) and are riding a six-game win streak, including two 6-0 triumphs last week over St. Joseph's College of Long Island and Plymouth State. Freshman midfielder Lucas Silva (Naugatuck) got into the St. Joseph's game last Wednesday but did not launch a shot.
And while the WestConn men are blazing, the Owl women have gone nuclear with a 12-0 record (5-0 LEC). Last week they slapped down Worcester State, 2-0, and Plymouth State, 5-0. Half of the Owl wins are shutouts.
Freshman striker Emma Sonski (Naugatuck) has worked herself into a starter's role for WestConn, and she was first on the field in both games last week.
*  *  *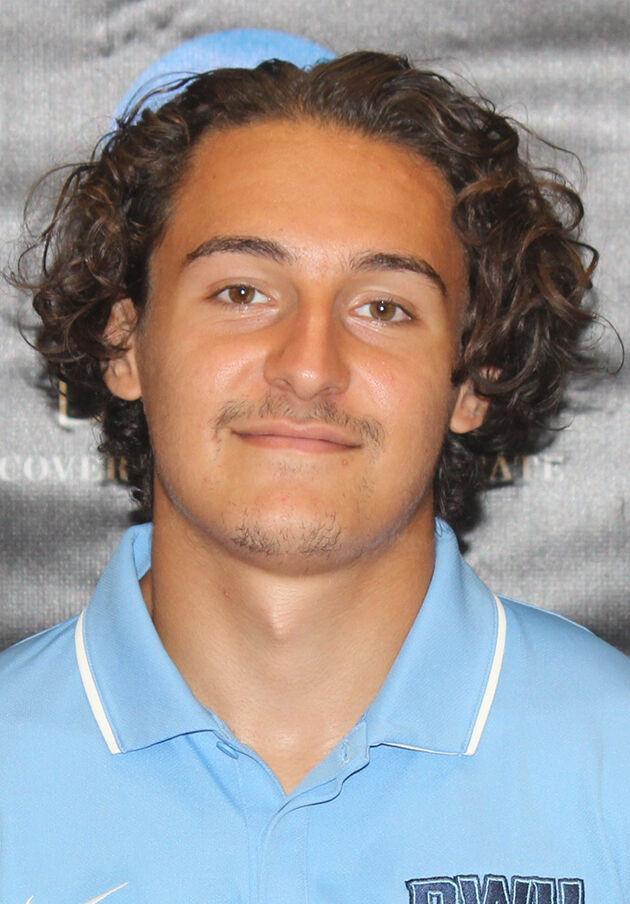 The Roger Williams University men have won four of their last five games, including three conference contests, to bump their season mark above.500 at 6-5-2 (3-1 CCC). Sophomore midfielder Christian Aja (Masuk) is getting more time on the field, playing in both games last week.
*  *  *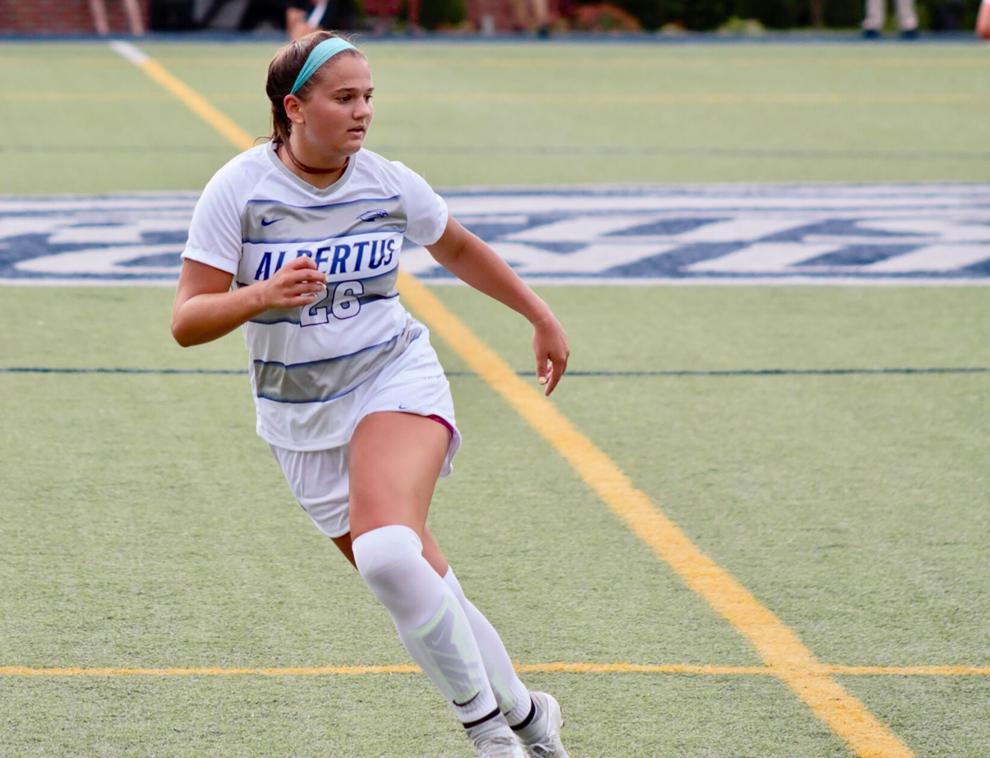 Albertus Magnus College women's soccer is enjoying a three-game win streak, two of those victories coming last week and both involving all our local players: junior defender Bridget Rosikiewicz (Naugatuck), junior midfielder Janessa Perez (Oxford/Amistad) and sophomore forward Erina Ismaili (Pomperaug).
Bridget got the second Albertus goal, taking a feed from Keegan Riccio in the 73rd minute, in a 3-2 Wednesday win over Lasell University. That was her first career goal for the Falcons. In Saturday's 2-0 win over Colby-Sawyer, Erina fired two shots.
Albertus is 7-4 overall, 5-3 in the GNAC.
Volleyball
Post University picked up a 3-1 volleyball win over Caldwell College on Thursday evening, breaking off a two-game losing street. Sophomore libero Kim Buttery (Newtown) had three digs in the win for the 7-11 Eagles (4-2 Central Atlantic Collegiate Conference).
* * *
Senior outside hitter Sydney Racevicius (Woodbury/Cheshire Academy) smashed seven kills for Rivier University in a shutout win over Norwich University on Saturday morning, adding four digs and two service aces in the effort. In the afternoon, the Raiders smothered St. Joseph's of Maine, 3-0. She had five kills in that victory and added two digs. Rivier improves to 8-5 (5-0 GNAC).
* * *
The three-game win streak Skidmore College was enjoying came to a halt over the weekend when the Thoroughbreds visited, and lost to, Ithaca College on Friday and Rochester Institute of Technology on Saturday.
Senior outside hitter Zoe Beals (Newtown) led the 'Breds with four kills when they were smothered by Ithaca (25-5, 25-13 and 25-16). She and the rest of the team had a much better showing against RIT – she smacked 16 kills and had one dig in the 3-1 loss. Skidmore is 9-10 (2-2 Liberty).
* * *
Western Connecticut State volleyball is looking awfully strong. The Owls are 12-6 (3-2 LEC), but in a Saturday matchup against unbeaten Plymouth State, WestConn showed its got some firepower developing, winning the first two games and forcing Plymouth to come from way back for the 3-2 win – 25-17, 25-16, 16-25, 20-25 and 17-19.
Grad student Victoria Korzan (Pomperaug) made nine kills, an assist and 17 digs in the Plymouth State marathon. On Saturday, in a 3-0 win over Mount St. Vincent College, she had four kills, a service ace and 17 digs.
Football
Rensselaer Polytechnic Institute football is unbeaten and defense is a big part of the Engineers' 6-0 record, with senior linebacker Cole McGrath (Pomperaug) a pinion of that defense. He made a game-high 11 tackles, two of them for seven yards in losses as RPI withstood a late Buffalo State rally to overcome the Bengals, 24-16 on Saturday. Cole has made 30 tackles this season. RPI 2-0 in the Liberty League.
* * *
Trinity College is also unbeaten, sweeping aside Hamilton College on Saturday, 34-7. Junior linebacker Cade Klarides-Ditria (Seymour), playing in his first game this fall, made five tackles for the Bantams, and he shared in a sack for a three-yard loss. Trinity is 4-0 (4-0 NESCAC).
* * *
Salve Regina University has a 5-1 record after casting aside University of New England on Saturday, 48-6. Sophomore safety Jack Zingaro (Newtown) made one tackle for the Seahawks in the win.
For UNE, senior defensive lineman Alex Morganti (Newtown) was credited with one solo tackle. The Nor'easters are 3-2.
* * *
With a 25-0 crushing of American International College on Saturday, Stonehill College now has a 4-1 record (2-1 Northeast-10). Junior David Satkowski (Pomperaug) is the starting right tackle on offense for the Skyhawks.
* * *
The miseries continue at Worcester Polytechnic Institute. The Engineers won their season opener, then dropped the next give games. On Saturday, Catholic University worked up a 23-0 margin before finally winning 30-7. WPI grad student nose guard Lou Duh (Masuk) had one tackle for a 4-yard loss and one quarterback hurry in the loss.
* * *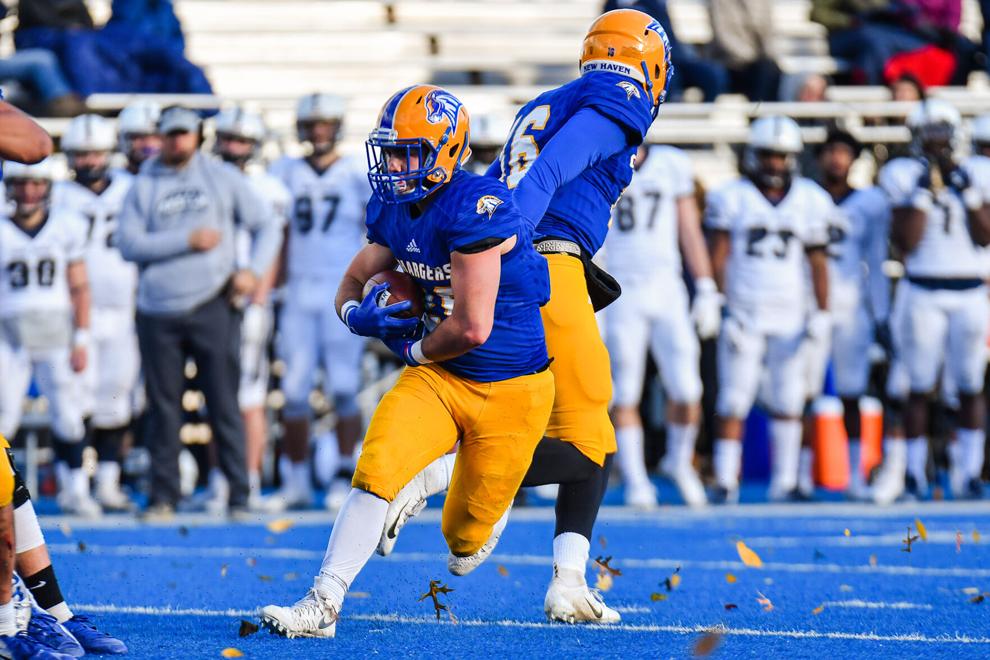 Grad student running back Zach Mauro (Nonnewaug) carried the ball eight times for 23 yards and caught two passes: one for a touchdown that started the onslaught at the outset of the third quarter, as the New Haven Chargers mounted a second-half surge that carried them to a 56-7 win over St. Anselm College. The big stat for the day was the six interceptions New Haven grabbed. The Chargers are 4-1 (Northeast-10 Conference).
* * *
Western Connecticut State spotted Plymouth State a 9-0 first-half lead before mounting a comeback that would fall apart late in the game in a 16-13 loss. The Owls are now 3-3 (2-2 MASCAC). Sophomore defensive lineman Alek Tolboe (Seymour/Woodland Regional) got into the game for WestConn but did not record a tackle.
* * *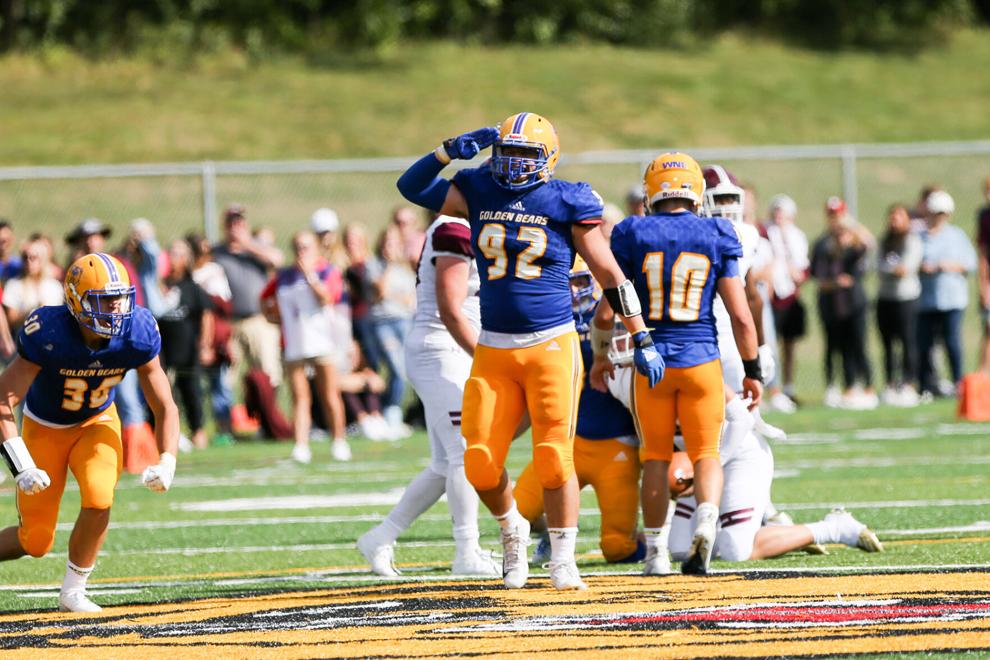 Coming away from the contest a little worse for wear, Western New England University let this one slip away while Endicott College scored 21 first-quarter points and never looked back sin a 45-21 loss. Golden Bear starting senior defensive end Tom Satkowski (Pomperaug) made four tackles (one for a three-yard loss) and was credited with a quarterback hurry. Sophomore defensive lineman Cayden Porter (Seymour/St. Joseph's) had one tackle. WNEU is 3-3.
Crew
The Rochester Institute of Technology varsity 8 boat finished fourth on Sep. 27 at the Findlay Lake (N.Y.) Autumn Classic with grad student Andrew Cuomo (Oxford) onboard in the season opener for the team.
Cross-country
Salve Regina University senior Cate Norton (Newtown) ran to a second-place finish at the Tri-State Cross-Country Invitational in Lincoln, R.I. on Oct. 2. She completed the 5K course in 20:59.2 and led her team to the overall title
* * *
The New England Cross-County Championships were on Saturday at Franklin Park in Boston. Sacred Heart University grad student Moetiz Shilleh (Masuk) came in 84th (26:40.3) in a field of 161 in the varsity 8K race. The Pioneer men finished 21st among the 24 teams competing.
Southern New Hampshire University sophomore Sabrina Hancock (Sandy Hook/Derby) came in 64th (20:52.0) in a field of 148 in the women's 5K sub-varsity event.
* * *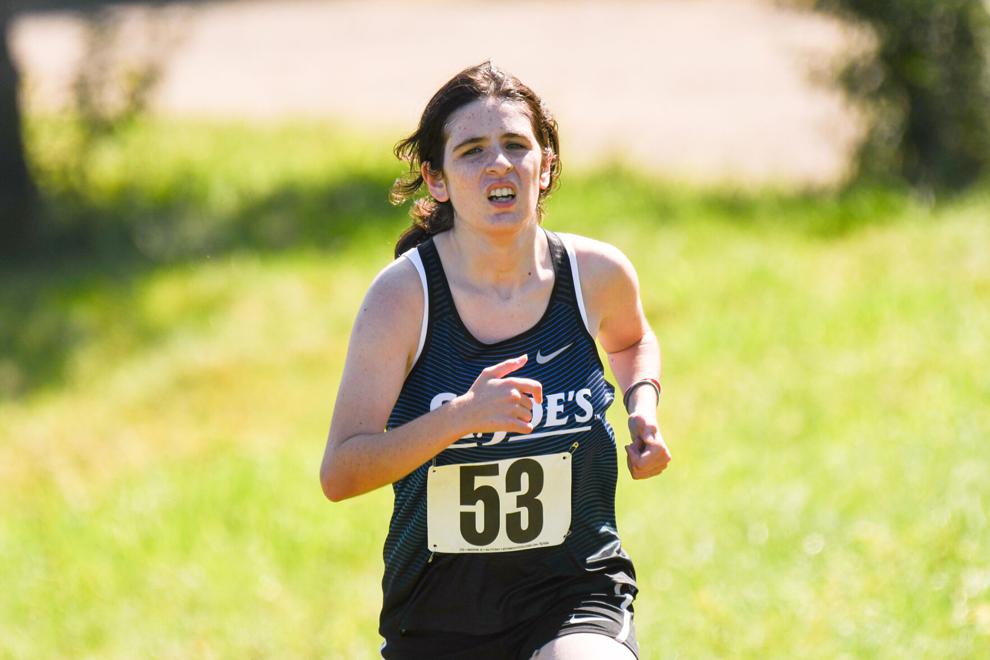 St. Joseph's of Maine freshman Terry Cassetta (Newtown) competed in the hometown Runnin' Monks Invitational 6K on Saturday and came in 47th (33:25.2) in a 60-runner field. The Monks as a team finished fourth.
* * *
At the James Earley Cross-Country Invitational at Westfield State University, Springfield College sophomore Sophia Andrew (Newtown) finished ninth overall (21:08.93) in the sub-varsity race, the second finisher for the Pride.
Roger Williams University sophomore Trey Generali (Pomperaug) finished 53rd (27:54.5); his team was fourth overall.
* * *
University of Bridgeport junior Alexandra Toth (Newtown) finished 25th (30:18.7) at the Mount St. Mary's Knight Invitational 6K on Saturday in the Hudson Valley. The Purple Knights were the ninth-place team in a field of nine. Alexandra was the second Bridgeport finisher.
Swimming
Seton Hall University opened its swimming and diving season on Friday at Rider College – the Pirate women won, 174-88, but the men lost, 169-129. Sierra Cripps (Seymour) won the 200 butterfly (2:07.35) and the 100 fly (58.31), swam the third legs of the winning 400 free relay (3:38.57) and the second-place 200 medley relay (1:48.65).
For the men, junior Tom Minar (Oxford) won the 50 free (21.35), was third in the 100 free (47.73), swam the second leg of the winning 400 free relay (3:11.32) and anchored the second-place 200 medley relay (1:34.54).
* * *
Southern Connecticut State teams contested the Fairfield University Invitational on Saturday, with the men finishing second and the women taking third place.
Grad student Evan Bombery (Naugatuck) took third place in the 800 free (9:16.31), seventh in the 100 free (58.14) and was 10th in the 50 free (26.96). He also swam the third leg of the second-place 400 free relay (3:50.50). Freshman Mike Aiello (Masuk) finished eighth in the 200 free (2:07.88). Senior Emily Darroch (Oxford) came in 18th in the 100 free (1:07.24), 19th in the 200 free (2:25.44) and 22nd in the 100 butterfly (1:21.0).
Field Hockey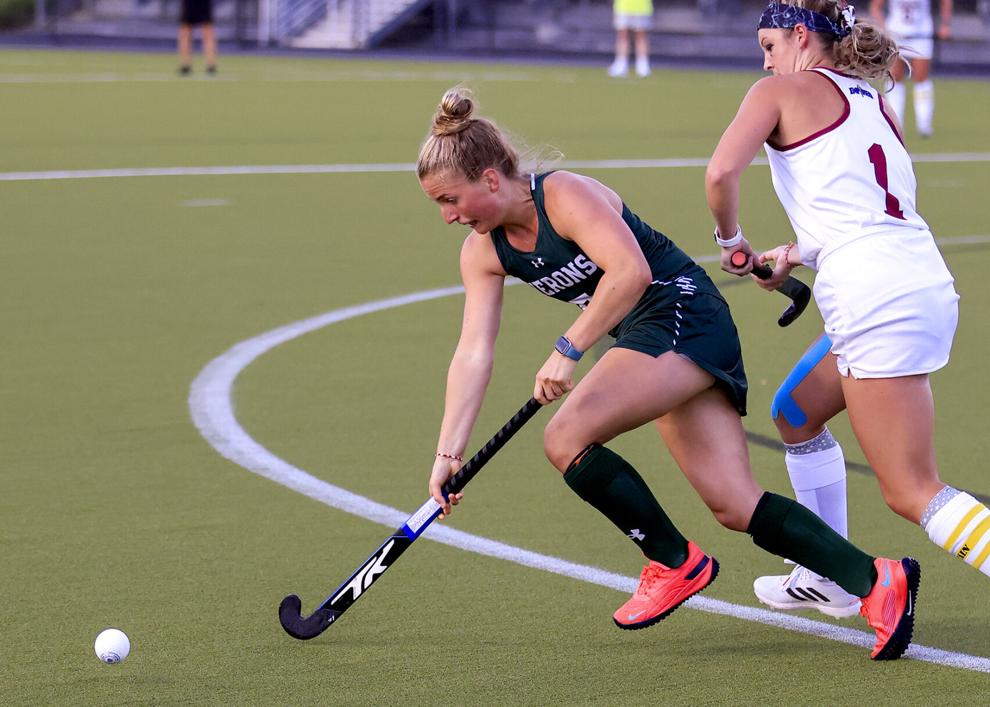 William Smith College is 4-7 overall and 0-3 in the liberty League after splitting its two field hockey games last week. The Herons handled Nazareth College, 3-0, on Tuesday, then lost to Ithaca College on Saturday, 2-1. Sophomore forward Sophia Pattillo (Middlebury/Gunnery) was a starter against Naz, and put three shots on goal; against Ithaca, she came into the game off the bench and fired one shot. She has five goals so far this season.
* * *
The University of New Haven had won three of its last four games, including two last week – a 6-0 whitewashing of Southern Connecticut State on Wednesday, and a 2-0 win over Southern New Hampshire on Saturday night. Sophomore forward Kat Trammel (Newtown) launched shots in both games last week. She has played in 11 games for the 7-5 Chargers (7-1 NE-10) and has one assist to her credit.
* * *
Senior Olivia Moore (Shepaug) has been an offensive force from the infield for Western Connecticut State. The Owls beat out a 1-0 win over UMass/Dartmouth last Wednesday, and she peppered the goal with three shots. In a 3-1 loss to Worcester State on Saturday, she fired four shots, two on goal. Olivia has started every game for WestConn and leads the team with 15 shots. The Owls are 4-6 (3-4 LEC).
* * *
The Fighting Scots from the College of Wooster have a 5-4 record after a win and a loss last week. On Tuesday, they beat Wittenberg, 1-0; on Thursday, Denison beat them, 3-1. Starting junior midfielder Jill Murray (Pomperaug) put a shot on goal against Wittenberg. She has four goals and has put 12 shots on goal this season.
Boxing
Air Force Academy sophomore Walker Morris (Pomperaug) won a decision at 178 pounds over Devonte Jackson of Moreau, N.M. in a competition against regional boxing amateurs in Albuquerque on Sep. 25. Not many colleges still have boxing programs.
Honors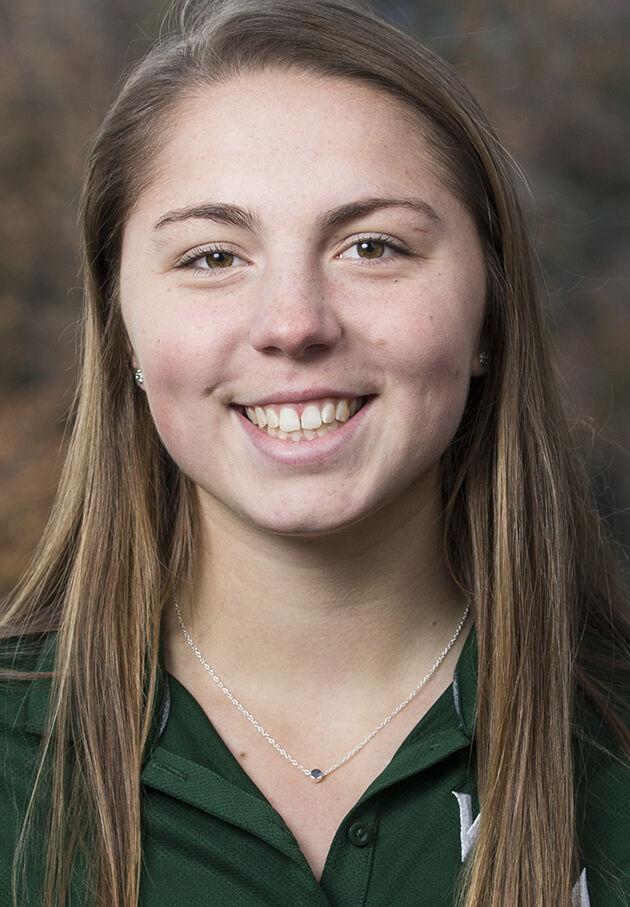 William & Mary College senior golfer Sarah Houle (Newtown) has gotten her fall season off in a splendid way. She won the Elon College Invitational in September at the Alamance Country Club in Burlington, N.C. and led the Tribe to the team win in the event. Right after that, she was named the Colonial Athletic Association Women's Golfer of the Week. It was the first time a William & Mary player had won the award in five years.
Sarah fired a 2-under-par 211to win the Elon Invitational and led the Tribe to the team crown as W&M shot the third-best 54-hole total in school history to outdistanced conference foe Elon.
She had opened the event with a 72 and shot a 1-under 70 in round two to share the lead after 36 holes. On the second day, Sarah carded a career-best 2-under 69 to win by four strokes. Her 54-hole score of 2-under 211 is tied for the fourth-best in school history. The title was the first for the Tribe as a team since 2019 and the first for an individual since 2018.
Golf action heated up for Sarah over the weekend at the Edsito Island Invitational, Oct. 10-12, in South Carolina.
* * *
Have news about a local athlete who will play a spring sport? Please share it with us at john.addyman@yahoo.com.