The grass on baseball and lacrosse fields is really looking nice. And the stadiums that host track meets are pristine and ready to go. But this is the kind of silent spring Rachel Carlson never envisioned. We continue our review of the beginning of spring college sports seasons and the aborted winter playoffs that succumbed to the coronavirus.
At this point, who knows what's waiting for us this fall in college sports – or any kind of sports?
On the positive side of things, this is our chance to highlight in a little more detail the seasons our local athletes have enjoyed.
The Colby College men's ice hockey team finished the season in February by winning one of its last seven, the only game in the month where the Mules scored more than two goals. Colby closed its season with a 7-14-3 record (3-13-2 NESCAC).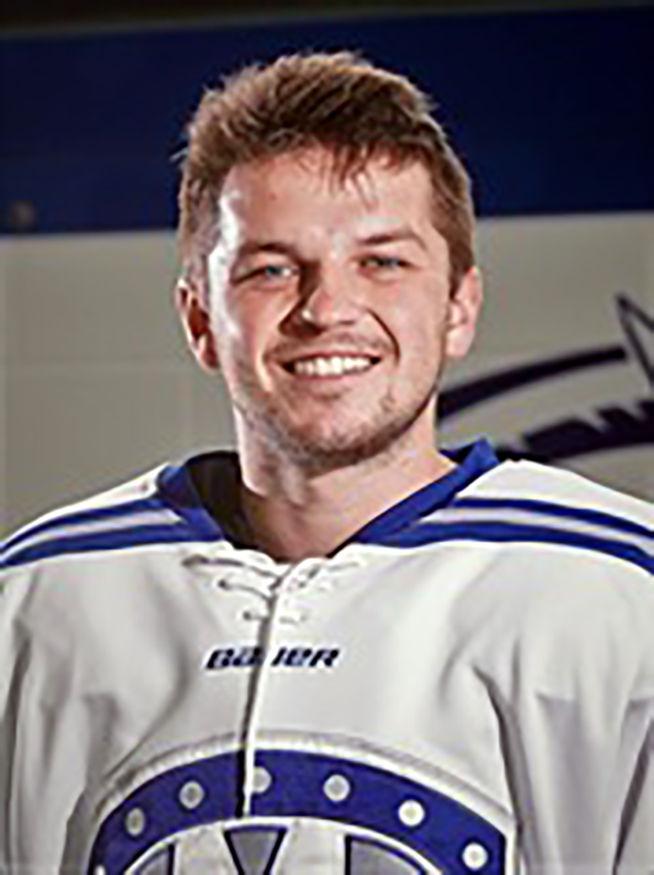 Senior center Robert Cerepak (Gunnery) go off one shot in the final game, a 2-1 loss to Connecticut College. He played in every game this season and scored one goal, the final tally in a 3-1 win over Endicott College on New Year's Eve, with assists from Mark Leprine and Michael Thomas.
The highlights for Robert's Colby career came in the 2017-18 season when the Mules won their first-ever NASCAC championship and went all the way in the NCAA championship playoffs to the Frozen Four, where they were stopped by St. Norbert's College, 4-3, a team that went on to win the national championship.
In the opening round of the NESCAC playoffs on Leap Day, Connecticut College and Amherst battled to a 0-0 draw in regulation, with the Mammoths finally getting the upper hand with a goal just 1:42 into the extra period, scored by Jillian Mazzocca, the conference's top-scoring freshman.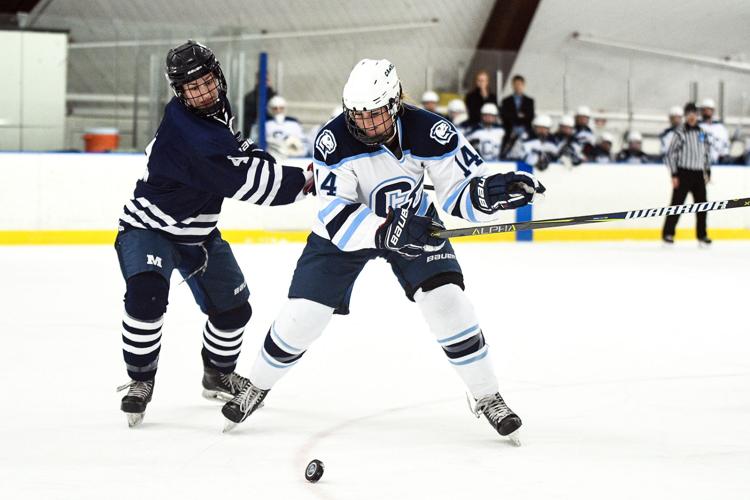 That loss ended Connecticut's season with a 13-8-4 record. Sophomore Catherine Lawrence (Gunnery) played in 23 games, scoring three times (against Manhattanville, Salem State and Suffolk) and being credited with two assists.
But Catherine was also a lacrosse defensive back. The ice hockey season ended on February 29 with that loss to Amherst; it was also the first day of what would be a very brief lacrosse season. It would be have been something if she skated off the ice and ran onto the lacrosse field, but that didn't happen.
She did make her debut as a starter on March 4, Connecticut's second game, a 12-6 win over Keene State. She picked up two ground balls.
Three days later, in the Coaches vs. Cancer game, a 16-5 loss to powerhouse Middlebury College, she picked up three ground balls and forced two turnovers.
On Wednesday, March 11, the Camels beat up the Merchant Marine Academy in Virginia Beach, Va., 14-5, with Catherine scooping four ground balls and causing two turnovers.
The next day, the season was over, with the Camels sporting a 3-1 record and really looking forward to a big spring.
Colgate softball got a strong start to its season in North Carolina, winning three of five games in the Gardner-Webb Tournament, then picking up three more wins in the Madeira Beach (Fla.) Invitational, taking four of five games in the Stetson Invitational in Delano, Fla., and heading back north after winning two games in the stiffer Alabama/Birmingham Tournament. The 12-8 Raiders were looking for big things this seas
Sophomore center-fielder Rebecca Johnson (Seymour) started every game for the 'Gate and ended up hitting .200 with two RBIs, six stolen bases on seven tries and a .938 fielding percentage. She batted second in the lineup.
The last game the Raiders played in Alabama was on March 8, a 2-1 loss to Jacksonville.
Colgate was due to start a three-game set in Maryland on March 14, but the season ended before the team could get there.
After winning three of their first five games, the Golden Knights of College of St. Rose men's basketball proceeded to drop the next 10 games and never quite get their stride.
St. Rose finished with a 6-22 record (3-6 NE-10), but freshman forward Josh McGettigan (Southbury/Williston Northampton) showed some spark that may portend better years ahead for the Knights.
Josh played just two games as a freshman last year, so when he came back this fall, he still had four years of eligibility left. He played in 28 games this winter and started 18 of them, scoring 246 points (8.8 per game), pulling down 91 rebounds, blocking eight shots, making nine steals and 18 assists.
He was in double-digit scoring in 10 games, including the last four games of the season. He hit 23 points against Adelphi and 18 versus Roberts Wesleyan.
Connecticut College senior squash player Davis Lemay (Westover) was one of the first athletes to be asked what her years at Connecticut have meant to her, through a program on the college website.
The Economics major and two of her senior squash teammates were noted for their contributions by Coach Michael MacDonald: "The seniors on the women's team led us this season through their incredible attitude and effort. At practices, they worked hard, encouraged, and pushed each other.
"The rest of the team followed their example, each raising their own bar and competitiveness which ultimately culminated with an unforgettable team performance to conclude the season. Our seniors have helped set a new standard for the program next year and moving forward."
Davis said she chose Connecticut College "because I would be able to receive an amazing education and participate in two sports I love – squash and sailing."
Her favorite sports moment was when the team won the Epps Cup at the College Squash Association nationals in February. She also said something we often hear from collegiate athletes: "My teammates mean everything to me. They are some of my best friends and I could not imagine my time at Conn without them."
She also said something about the NESCAC conference: "The best thing about being in the NESCAC is getting to play other really competitive teams. Another plus is that the conference understands that we are also students and that our academics are very important."
And she learned something else important: "Learning how to manage my time. Being on two sports teams, having a job and being involved in other groups on campus as well as balancing my academics was challenging. However, over my years at Conn, I mastered this."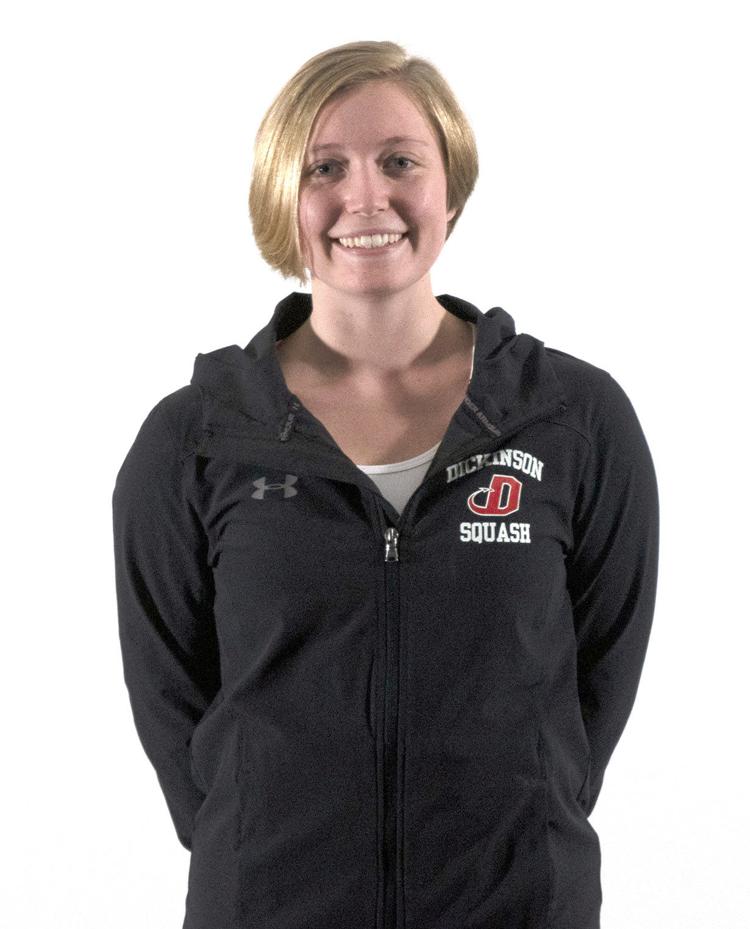 Dickinson College sophomore Sarah Wojtczak (Woodbury/Westover), in what appears to be her first season of competition for the Red Devils, posted an overall 3-13 record while the team completed its entire season, ending with a 9-12 record and ranked 23rd in the country.
Sarah was 0-5 at seventh position, 0-4 at eighth and 0-1 at ninth; in 10th position, she was 3-3. The Devils won the consolation bracket of the College Squash Association Walker Cup (C Division) in the last team meet, besting 21st-ranked Bowdoin College, 7-2.
Drexel University junior Dylan Kachur (Nonnewaug) completed his season with two March post-season contests.
On March 1, the Dragons ended up eighth in the Potter Cup competition, losing to Yale, 8-1, in the match to decide seventh place. Dylan, playing at number two, lost to Eli Nadav Raziel (11-6, 11-5 and 11-3).
On March 6 and 7, Dylan competed at the College Squash Association Individual Championships, with a chance to earn All-American status. He got two wins on the first day of competition, putting him in the semifinals on the second day.
Dylan started with a come-from-behind win over Columbia's Aditya Kankariya (9-11, 11-3, 11-6 and 11-8). Then he needed five games to finally wear down Thijs Van der Pluijm of the University of Rochester in an exciting up-and-down quarterfinals match (12-10, 6-11, 11-5, 2-11 and 11-4).
Playing at the University of Pennsylvania Squash Center, Dylan needed two wins on the final day of competition in the Molloy North Bracket to earn second-team All-America status.
In the semifinal match, Dylan got a 2-1 lead on St. Lawrence University's Enzo Corigliano, but then dropped the last two games – both very close (11-7, 6-11, 11-4, 10-12 and 8-11).
Dylan's season ends with a 13-8 record (1-1 at first position, 5-4 at second, 3-2 at third and 2-0 at fourth, then 2-1 in individual (tourney) games. The Dragons finish their season ranked eighth in the country.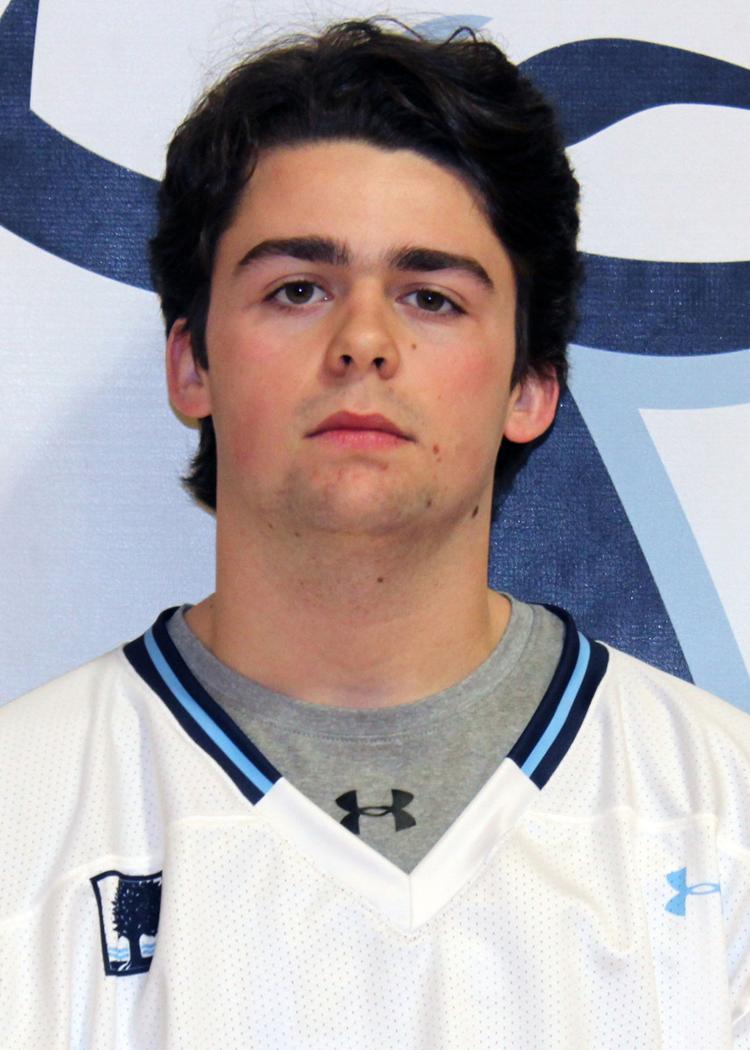 Connecticut College freshman attacker Jared Rainville (Gunnery) didn't get on the field until the second game of the season, but he showed the coaches he could be productive right away.
He scored his first collegiate goal with 7:09 left in the final period against Middlebury College in his debut on the grass, Jack Rutter getting the assist. He took four shots while he was in the game and picked up one ground ball. The Camels lost, 20-8.
In the next game – and what turned out to be the final contest for this year – Jared contributed assists on Justin Boes' goal in the second period and on Sean Smith's tally in the third period.
Wesleyan broke open a 9-9 draw in the fourth period to score twice and win, 11-9. The NCAA closed the season the next day.
Jared got his lacrosse career off to a great start, a goal and two assists in two game appearances.
You have to feel for the Curry College baseball team. The lads saw their season end after a five-game win streak and a 7-2 record. They had goals to achieve this spring.
The Colonels literally played their last doubleheader on March 12, the day the NCAA decided that going any further with the season was risking players and spectators. Curry beat Medaille College 10-3 and 9-7 in Auburndale, Fla.
Senior third baseman Jared Keller (Oxford) hit four-for-five in the first game, scoring twice. In the second contest, he batted 1-for-3 with another run scored.
Jared's season will show he hit .406 in eight games (13 singles), had an on-base percentage of .457, and knocked in two RBIs (he batted second in the lineup).
He was ranked among the top players in the Commonwealth Coast Conference – tops in the conference in at-bats (32), second in hits (13), third in runs scored (8) and batting average (.406) and total bases (13). In the game against Anna Maria College on March 8, he chalked up his 250th career plate appearance.
In Jared's 2019 season he was selected All-Commonwealth Coast Conference Second Team, leading the team in just about every offensive category (hits, triples, RBIs, walks, batting average, on-base percentage, slugging percentage and on-base plus slugging.
Dominican College freshman catcher Brian Parzyck (Naugatuck/Holy Cross) didn't have to wait a minute to get his collegiate career off and running. In the season opener against Franklin Pierce University, he grabbed a bat in the bottom of the ninth inning with one out and his team behind, 10-1, and promptly singled in a run.
The Chargers lost that game, 10-4, but Brian got the rally started. He played in seven games before the season ended and hit .333 with two RBIs and an on-base percentage of .467.
Drew University's baseball team began its season with tremendous promise before the Covid-19 pandemic ended that promise.
The Rangers began their spring by defeating several high-caliber teams, including a pair of impressive season lid-lifter wins, thanks to some outstanding pitching performances.
Drew started the year with a 3-2 victory over Alvernia, followed by a 3-1 upset at Kean, ranked fifth in Division III by Collegiate Baseball Newspaper. The team would play two more games in New Jersey before going 3-3 during its spring break trip to Florida, closing out the year with a 5-5 record.
Senior catcher Brad Dagostino (Pomperaug) started the last game of the season, a 9-7 win over Wilkes College in Fort Pierce, Fla., on March 7, and he had a pretty good game, batting two-for-five with two runs scored.
He played in five games this spring – all starts – and batted .176. He has a career .277 batting average and last season, batted .309 with nine RBIs in 18 games played. He also tacked up his solo career stolen base last season. The Rangers were 20-17 last season (8-10 Landmark Conference).
Dickinson College senior James Cummings (Pomperaug) finished his swimming career at the Centennial Conference Championships in February, where the Red Devils took fourth place.
He started out the four days of competition by swimming the third leg of the 12th-place 800 free relay (7:32.65). He then came in 15th in the 500 free (4:59.63) and came in ninth in the 1650 free (17:09.47).
For an outstanding effort in the last contest of the season, Drew University field hockey junior goalkeeper Joie Slossar (Nonnewaug) was named the Landmark Conference Defensive Athlete of the Week.
Joie made 12 saves and carried a shutout into the fourth quarter in Drew's 1-0 conference loss to Susquehanna University. Facing a 33-shot attack, she kept the visitors off the scoreboard before the River Hawks struck 24 seconds into the final period.
She was also credited with her first career shutout in a 6-0 victory over Bryn Athyn College in the second-to-last game of the season, when the defense prevented the Lions from attempting a shot.
For the season, Joie finished with a 3.27 goals-against average and a .709 save percentage over 13 games and 10 starts. She posted double-digit save totals in five different games and tied a career-high with 14 stops versus Catholic University.
Have news about a local athlete who competed in a spring college sport this spring – baseball, softball, track, rowing, lacrosse? If so, please share that with us at john.addyman@yahoo.com. Provide the name of the player, sport, hometown and high school – and what your relationship to the athlete is (it helps to know who's contacting us) and we'll take it from there.
We'd also like to hear about local athletes who have signed letters of intent to play a sport in college in the 2020-21 sports year.
To see more of College Notebook, go to www.VoicesNews.com where you can review issues of the column all the way back to 2003.