For those of us hungry for some college sports – any college sport – you'd think some college sports information departments would dust off video broadcasts of some of the great games of the past, football, field hockey, basketball, ice hockey, baseball, softball, why not? The NBA and NFL and MLB are doing it.
Personally, I'd like to see just about any game Babson College's three-time All-American Lauren Drakeley (Woodbury/Taft) played in or watch Central Connecticut State outfielder Dave Matthews (Newtown) run into the phone booth and put on his Superman costume in the NCAA playoffs last spring.
For pitchers, how about Central's Evan Scribner (Shepaug) or Boston College's Pat Dean (Naugatuck)?
Or how about St. Anselm College field hockey All-America Anna Drakeley (Nonnewaug) trying to lead her team to a national championship while hobbled by a leg injury?
Wouldn't you like to spend a pleasant hour watching Springfield College football defensive end Max Nacewicz (Newtown) humbling an opposing offense or spectate as Worcester Polytechnic Institute nose guard Lou Duh (Masuk) implodes the center of an offensive line?
How about an afternoon of binge-watching Dean College guard Dayvon Russell (Naugatuck) drop in baskets from all over the court or Cornell forward Clare Fitzpatrick (Southbury/Canterbury) do the same?
If lacrosse defense is your dish, how about viewing Haverford College goalkeeper Joe Banno (Monroe/Notre Dame) at work? On offense, there's Dickinson College attacker Christian Beitel (Newtown) and Sacred Heart's Amanda Williams (Masuk).
Soccer your thing? Messiah College striker Amanda Naeher and Penn State goalkeeper Alyssa Naeher (Seymour/Christian Heritage) were certainly worth watching in their college years.
And ice hockey? Spend a day marveling at Plattsburgh State ice hockey All-American Kayle Meneghin (Gunnery) and Elmira College All-American Sarah Hughson (Gunnery).
And there are so many more names we could review. The chance to see these local athletes in action again would be wonderful, and it would seem an easy thing for colleges to do.
For us, we continue our coverage of the seasons of local athletes whose sports year ended abruptly with the arrival of Covid-19.
The Fairfield University baseball opened – and played its entire truncated season – in North Carolina and Florida, coming home three days early when the switch got turned off on the season because of the coronavirus.
As it turned out, the Stags were struggling, having won two of 11 games, the victories coming over Harvard (11-2) and Stetson (7-4).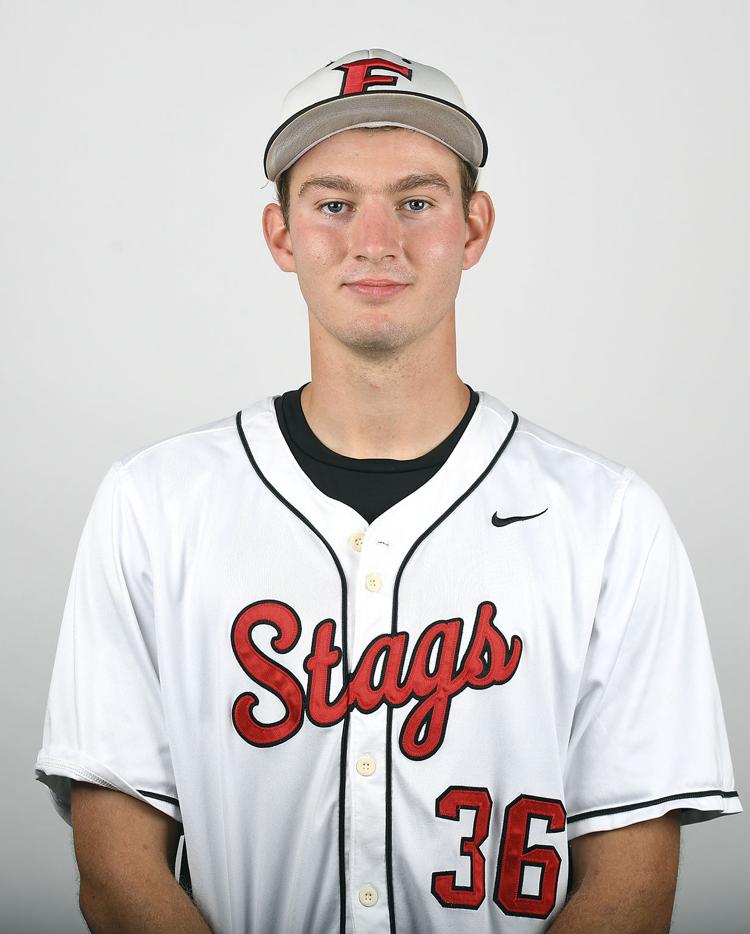 Junior Jason Hebner (Newtown) took the mound in relief in the seventh inning against Stetson and got one out but allowed three hits and a run in a short visit.
That was his fourth appearance. He pitched two innings against Harvard and allowed no hits nor runs; earlier against Boston College, he threw for two innings and was touched for seven hits and eight runs.
When the scorebook closed on the Fairfield season, Jason had a 7.71 ERA and a 0-0 record.
Franklin & Marshall College didn't make the southern swing many teams do, staying at home in southern Pennsylvania and taking on local teams. The Diplomats dropped three of those first four games, but finished the next four with a three-game win streak.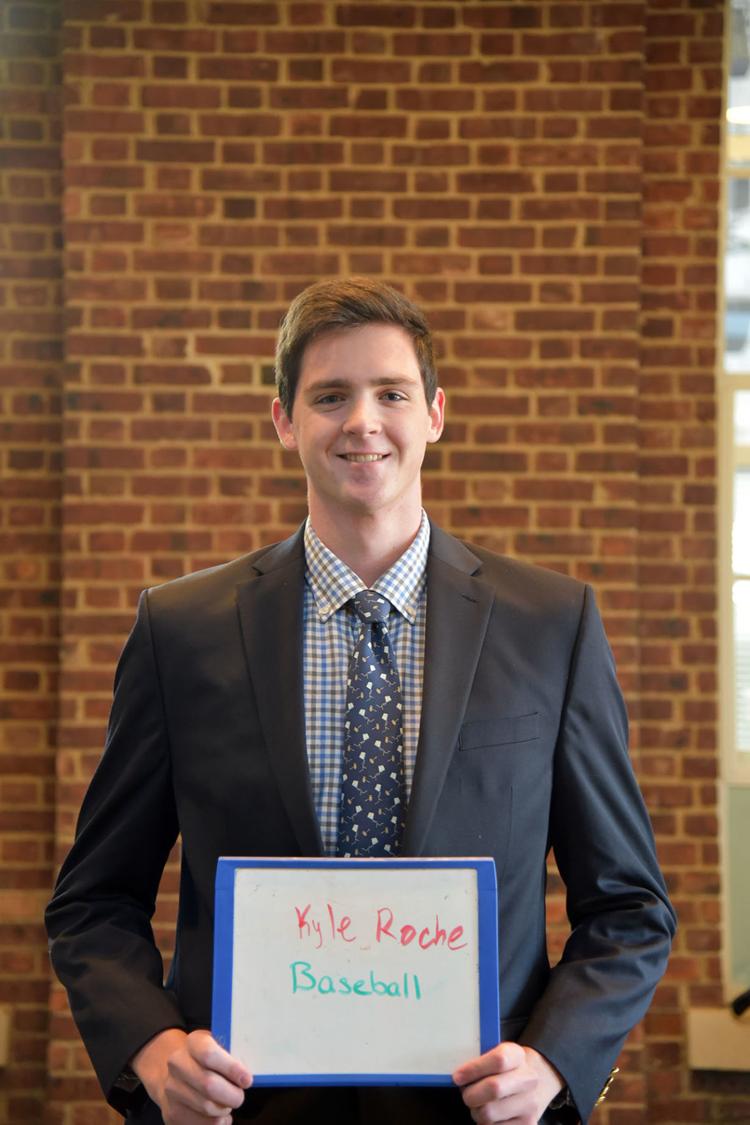 Sophomore pitcher Kyle Roche (Newtown) began his season by coming on in relief in the second game of the season-opening doubleheader against Penn State/Harrisburg. He threw for three innings, allowed three hits and two runs, struck out three, walked one and give up the homer that won the game for Penn State.
In his second outing, against William Paterson University, Kyle only pitched long enough to allow two hits and the winning run. In two trips to the mound, he had lost both games.
Retribution came in what turned out to be the last game of the season, on March 10 against Elizabethtown College. This time he was more dominant, coming to the mound as the starting pitcher and throwing seven strong innings, scattering seven hits but just one run – and getting the win.
Kyle's spring closes with a 1-2 record and a 3.48 ERA.
The Eastern Connecticut State men's lacrosse team got off to just the kind of start they wanted for their season – two wins right out of the box, a season-opening 12-6 triumph over Gordon College. 
Then a week later, a 14-6 victory over Johnson & Wales University.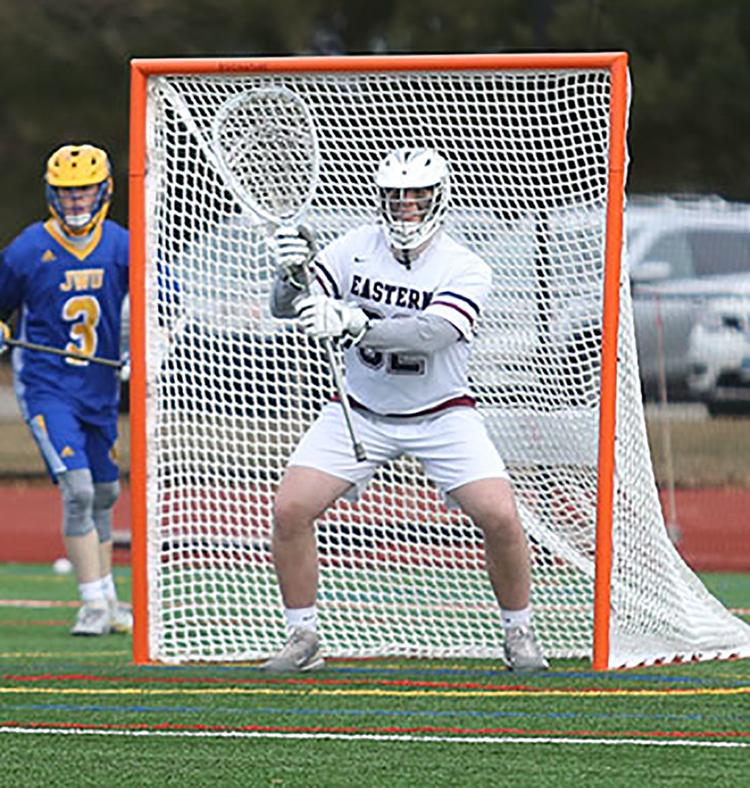 Freshman goalkeeper John Funk (Pomperaug) got his collegiate baptism in the fourth quarter of the second game, taking over in front of the net with 16:28 left to play and his Warriors ahead, 13-4.
He saw two shots and got nicked for two goals, but his teammates got one of those scores back for him. Eastern's season ended four days after that with a 2-0 mark.
The Elms College women went the opposite direction in their two-day season, losing the season opener to UMass/Dartmouth, 12-5, then trading goals but ending up with the short end of the stick versus Albertus Magnus College, 16-15.
Blazers' sophomore starting defender Jalyssa Howell (Naugatuck) snagged four ground balls and caused one turnover in the loss to the Corsairs; against Albertus, she picked up one ground ball and caused two turnovers.
Embry-Riddle Aeronautical University struggled getting its season underfoot through the first seven games, with a record of 2-5. In the last game before the NCAA ended the season, the Eagles got things together for a 16-6 win over the Walsh University Cavaliers.
Senior Mark Urso (Newtown), a senior face-off specialist, had a solid game, winning 16 of 23 face-offs and coming up with a game-high 12 ground balls. He also scored at 14:41 of the second quarter, with Mitch Cody getting the assist. Mark's goal made it a 6-3 game, the Eagles' favor, at that point.
Mark scored four goals during the season and led the team in ground balls (883) and nobody else was close in face-offs (122 for 178).
He began his collegiate career at Cleveland State, where he helped initiate that program. He started all 17 games as a junior at Embry-Riddle and set program records with 237 face-off wins. With 8.18 ground balls per game, he was ranked third in the conference and 10th in NCAA Division II.
He leaves Embry-Riddle owning the single-game records for face-off wins (24) and ground balls (19).
The women's team at Emmanuel College played its first game of the season on February 29 and garnered a 17-9 win over Wentworth Institute of Technology.
Emmanuel's next game was scheduled for two weeks hence, on March 12, and it never happened, with the NCAA cancelling play.
The Saints have two local attackers on the squad – senior Kylie Rice (Bethlehem/Holy Cross) and sophomore Jessica Borduas (Woodbury/Holy Cross) — and they both had a huge opening game.
Kylie got her season kicked off right away; she scored the first goal of the game in the fourth minute, unassisted, then on to score four more times.
Her second score came with 8:07 left in the first half, also unassisted. Number three was four minutes later, with Kathleen Brooks assisting and Kylie got her fourth tally to end the first half, unassisted, with 35 seconds left until half-time.
In the second half, with the ladies from WIT moaning, "Not her again!" she scored her fifth goal, in the third minute. She also had two assists, on goals by Emily Saef in the first half and Jessica Borduas in the second.
And let's look at how Jessica did. She pounded in four goals herself and had one assist. Her first strike came with 2:42 left in the first half, unassisted. Her second score was in the sixth minute (with Kylie assisting), followed 10 minutes later with another goal, Chandra Franca assisting.
Jessica racked up her fourth goal with 9:50 left to play, unassisted. She, too, assisted on an Emily Saef goal.
Who knows what the Saints could have done this spring? It's clear Jessica and Kylie were certainly ready for strong seasons.
Endicott College's men got five games deep in their see-saw season. The Gulls would lose a game, win a game, lose a game, win a game, then lose another game.
Following that pattern, Endicott was due to win its March 14 gate at Springfield, except it never happened. You know, NCAA, Covid-19…all that.
The Gulls started with a 12-2 loss to 11th-ranked Union College, then put up a win against Nazareth. Next was a close loss to always-tough Babson and a win over Skidmore. Finally, in the last game of the season, the Gulls were outpointed by seventh-ranked Amherst.
Endicott senior attacker Mike Sudora (Monroe/St. Joseph's) started the first four games and scored in the second through fourth games, eight goals total.
He had hat tricks against Babson and Skidmore (with an assist). At Skidmore, four of his five shots were on goal and two of the assists were from Will Clark.
As a junior, Mike scored 43 goals and added two assists.
In the Endicott women's camp, freshman midfielder Katie Schenk (Pomperaug) has her college career off to a strong start and is lifting her teammates to excellence. The Gull femmes stormed to four wins in their virus-shortened season, with only the 11-10 win at 16th-ranked Trinity a tight tussle.
Katie didn't waste any time letting the opposition know she was here to stay and be reckoned with. In her debut in the season lid-lifter at Springfield College, she was a starter and got her first assist, on Morgan Pike's goal, just 26 seconds into the game.
Then Katie scored her first collegiate goal at 19:09 of the first half, with a feed from Gabriella Prisco. She scored again in the second half this time off a free-position shot, at 18:12, and then she turned heads with her third goal, with 15:21 left in the game. A first-game hat trick for a freshman: how often does that happen?
In the second game, against ranked Trinity, she was held to one assist.
But in Endicott's third game, against St. Lawrence University, Katie again scored a hat trick, and she did it again in the fourth game, a 16-15 win over MIT.
In four games, she had nine goals and two assists, and her shots-on-goal ratio is an unconscious 100%. This is a freshman! Holy mackanoli!
Eastern Connecticut State played its first and last softball games of the season on the same day, March 11. The Warrior women won both ends of the season-opening doubleheader with Wesleyan University, 7-2 and 13-2 (five innings).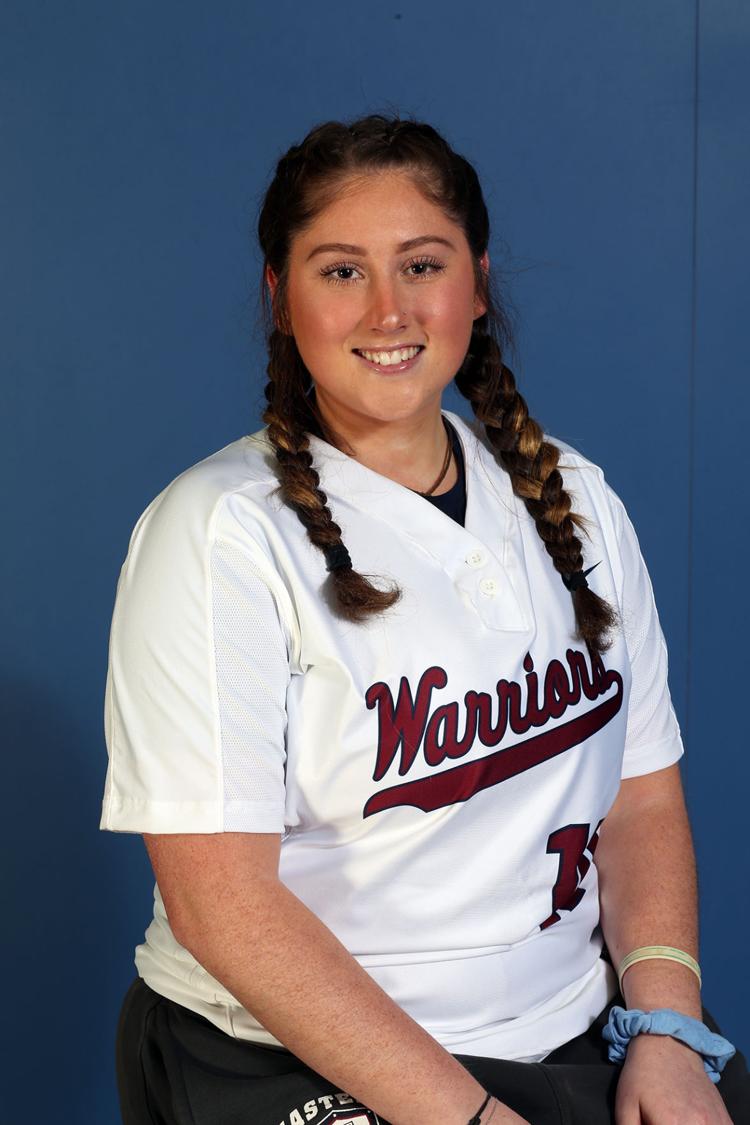 Junior outfielder Kamdynn Moroney (Newtown) was the designated hitter in the opener, going 0-for-2 with a walk, and that was it. She wasn't needed in the nightcap and the NCAA closed everything down by the next day.
Fairfield University men's swim team was ready to take a small contingent to the College Swimming & Diving Coaches Association of America National Invitational after the Stags finished sixth in the MAAC Championships . The CSCAA event is kind of swimming's NIT for the teams that don't qualify for the NCAA big dance.
Competition was to start on Friday, and freshman Chris Ford (Middlebury) was tapped to represent Fairfield in the 200 breaststroke, and in the 1000 free and 1650 free.
Unfortunately, that Friday was March 13, and the NCAA pulled the plug on competition on the 12th.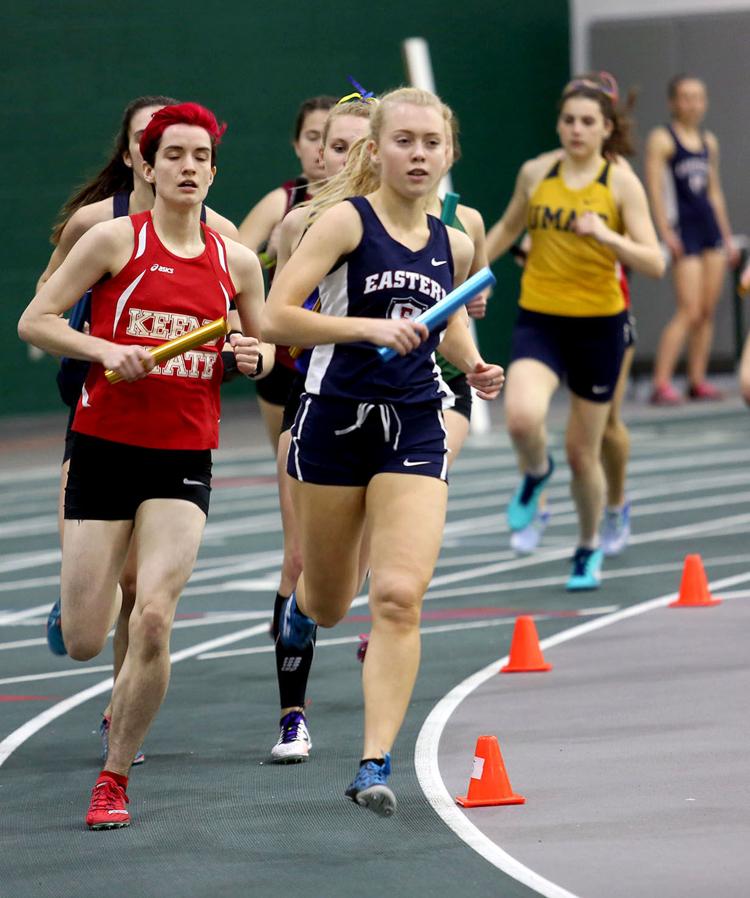 Eastern Connecticut State junior middle-distance runner Lauren Bresson (Shepaug) has earned a place on the Little East Conference Winter Academic All-Conference Team. To qualify for Academic All-Conference, a scholar athlete must have a cumulative GPA of 3.30 and be at least a sophomore. Lauren is a health sciences major.
Lauren also received a Little East Conference Relay of the Week for her work in Eastern's 4-by-800 relay at the New England Division III Championships at Middlebury College.
Lauren ran the third set of laps as the Warriors finished ninth in 10:04.66. She also came in 23rd in the 800 meters (2:27.66) at the event.
Mark Urso (Newtown) a senior face-off specialist for Embry-Riddle Aeronautical University, was named the Sunshine State Conference Lacrosse Specialist of the Week for the third time in his career after he won 17-of-22 face-offs at Montevallo in the Eagles' lone game in the middle of February.
He collected a game-high 13 ground balls and also scored a goal. With the season just four games old, Mark was winning nearly 70 percent of his face-offs and had scored twice.
Endicott College freshman lacrosse midfielder Katie Schenk (Pomperaug) earned the Commonwealth Coast Conference Rookie of the Week award the week after the season ended, on March 17.
She had scored three goals in the Gulls' 16-15 victory over MIT, all three of her goals in the first half. Her first two scores tied the game up for the Gulls, while the third gave Endicott an 8-7 lead late in the first half.
In addition to her offensive numbers, she secured four ground balls, two draw controls and caused a turnover.
Have news about a local athlete who competed in a spring college sport – baseball, softball, track, rowing, lacrosse? If so, please share that with us at john.addyman@yahoo.com. Provide the name of the player, sport, hometown and high school – and what your relationship to the athlete is (it helps to know who's contacting us) and we'll take it from there.
We'd also like to hear about local athletes who have signed letters of intent to play a sport in college in the 2020-21 sports year.