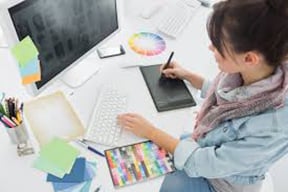 Prepress - Graphic Design
Display advertising, preprinted inserts and other forms of advertising or promotion appearing on or within the pages of our publications can be created by our Production Department. All creative is proofread and checked for proper color separation and print reproduction before being sent to press.
Those wishing to send us their creative files are encouraged to review the following requirements and guidelines.
Production File Requirements & Guidelines
Because your ad or print job is important to us, we have written this brief guide to help you obtain the maximum quality when we print it.
All files must be submitted in a PDF format with the following requirements:
All fonts must be embedded.
Photos and artwork should be at least 300 dpi. We cannot be responsible for the quality of any photos or artwork with less than 300 dpi.

All color must be set up in either spot color or CMYK. We cannot accept RGB colors.
All black type must be black only, not Rich Black or Registration.
All color photos must be converted to CMYK with a total ink limit of 240%. Dot gain should be set for 30%.
All black and white photos must be converted to grayscale with a 30% dot gain.
Documents should be set up to the correct final size.
Transparencies must be flattened.
It is recommended to use the Adobe PDF preset: PDF/X-1a:2001 when creating your PDF file. This setting is an industry standard for printing.
Color Type
For optimum reproduction and clear and sharp copy, use sans serif fonts such as Futura, Helvetica or similar for small type. Reverse type reproduces best with large bold sans serif fonts. The same is true for color type. Thin serif fonts are difficult to read in color or reverse type. It is recommended that four color type and/or small four color reverse knock-outs be avoided. Black type that uses four color blends should never be used.
Submitting Ads or Print Jobs
Ads or print jobs may be submitted via email attachment (preferred), CD/DVD, Flash Drive, Memory Card or USB Portable Hard Drive.
When emailing an ad or print job, please include an explanation of the file(s) included and the run date and make sure the email is sent to the attention of your marketing representative. Include in the file name the Advertiser or Company and the run date (e.g. ABC Company 06152017).